Get engagement insights delivered to your inbox
Email address
Web Unleashed is an annual conference for front-end developers and designers held in Toronto. Many hot topics such as the state of the industry and future trends are discussed by developers, designers, freelancers and everyone in between.
I attended numerous sessions, including panels, tip-&-tricks talks and inspiring monologues at this year's event. Here, I've put together a list of the three lessons I learned over the course of the conference. So let's jump in.
Lesson 1: Think outside of the browser
The first lesson and one of the biggest eye openers for me is that the future of web technologies isn't in the browser. We're seeing a rising trend of web-enabled technologies that don't use a browser to interact with the internet. This idea isn't necessarily a new one, but it's starting to gain some real momentum.
Talks like "Thinking Outside The Little Black Box: Interaction Design in The Post-Mobile Era" given by Jonathan Stark and "What Pokemon Go and Smart Kitchens Taught Us About Design" presented by Ron Edelen gave a small glimpse of what the future holds. With the growth of the Internet of Things, there are more ways to interact with products than a mouse/keyboard or touchscreen, but all of those products are built on top of the same web technologies we are already familiar with.
The industry really started moving away from traditional inputs with responsive and mobile-first design and development. The rise in touch screen interfaces broke the boundaries of what we can do and we're starting to see user input devices diverge further into AR/VR and screenless interfaces like voice commands. The future of web technologies looks bright, but will be shaped into a vastly different landscape by the simple truth we all need to accept; web technologies aren't confined to just the browser anymore. There's still a place for web designers & developers in this brave new world, but we're going to need to adapt or die.
Lesson 2: The people you work with are people too
This lesson wasn't so much of a revelation for me, as it was a reinforcement of many things I believe and try to practice every day. I am a very social person, both in my personal and professional settings. I see compassion as part of my job when working on any team. I currently work on a cross-functional team with people representing a wide variety of personalities and job roles. I often go out of my way to ensure the people I work with feel trusted, respected and free to speak their minds.
I was able to attend a talk entitled "Design & Front-End: Couples Therapy" presented by Liam Oscar Thurston. As the title suggests, Thurston took a light-hearted approach to the issue of effective communication between designers and developers. I believe his topic isn't only limited to those two groups but could be applied to everyone's day-to-day interactions.
At one point during his presentation, Thurston defined a term, radical candour, taken from Kim Scott the co-founder of Candor, Inc. Radical candour comes from the intersection of caring personally about someone and being able to challenge them directly. I believe we should strive to provide guidance and feedback with this in mind. We work with humans, and should be caring personally for one another, but should also feel safe to speak our minds. Challenging ideas or proposing alternative solutions do not create conflict as long as you are as respectful of their ideas as you want them to be of your own. This intersection allows us to provide clearer feedback while trying to give co-workers a sense that any criticism they receive is for their overall gain and is not personal. This is all easier said than done, but it's something that resonated with me and will be constantly striving to provide for my colleagues from now on.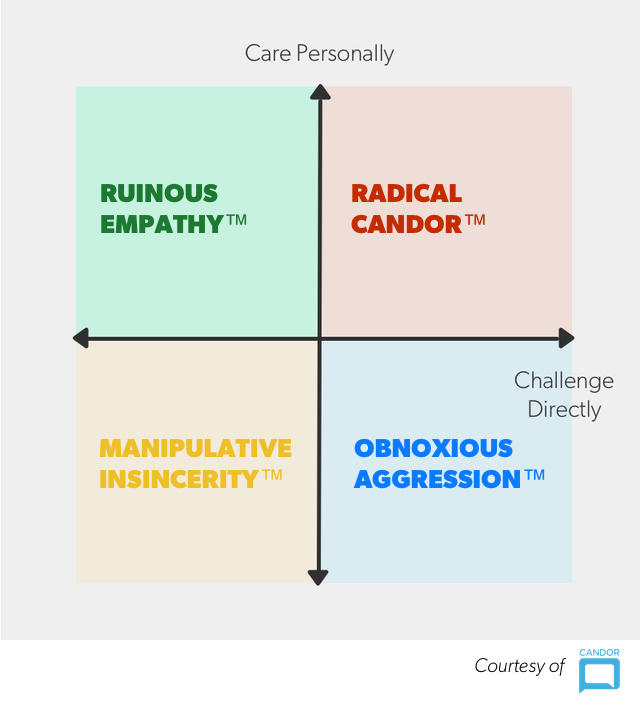 The intersection of caring personally about someone and challenging them directly
Lesson 3: Your time should be YOUR time
A theme that often comes up when talking with other developers and designers is workflows and how to manage your time effectively. There are a lot of approaches to this and everyone needs to find the solutions that work for them. During "A Day in The Life of a Developer Bo$$," a panel with Robyn Larsen, Haris Mahmood and Wes Bos, they discussed some of the softer skills like time management and project planning and gave some tips and tricks that have worked for them.
When it comes to emails and my inbox, I've tried to follow the 2-minute rule; that when processing through your inbox, if an email request would take 2 minutes or less, you do it now and get it out of the way. This has been helpful, but I've gotten into the habit of using my inbox as a todo list. Haris Mahmood pointed out that using your inbox this way allows others to add to it without any type of consent from you. Your to-do list ends up being out of your control since your tasks are defined by others and you're not able to effectively prioritize them alongside your own goals. He suggested getting it out of your head and into a system. Any tasks from emails or other sources should be logged into a calendar or a time management app of your favourite flavour like Wunderlist or Google Calendar. You get a few benefits from this approach: firstly, it gets it out of your head and into a more reliable form of memory; your app won't forget to remind you that you haven't completed a task. Secondly, it allows you to prioritize your tasks, and then re-prioritize your tasks as you inevitably add to the list and priorities shift. Lastly, it gives you control over the list of your todos to be able to get what you want to get done in a day.
The notion that 'context switching kills productivity' is something I've believed in for many years. Context switching can be caused by meetings, emails or any interruptions that disrupt what you are currently working on. Switching what you're working on every time there is a distraction is detrimental to your workflow and effectiveness. Each time you switch what you're focused on, your brain takes time to adjust and reload context. We should strive to work on tasks we set out for ourselves continuously until completed. One method suggested was to schedule time in your calendar to work on something. Other people will typically respect that you are booked for that time period and if they need you, will try to schedule around your booked time. This approach also allows you to control your own schedule and affords you uninterrupted time to work on the tasks that are important to you.
I, like many others, am still figuring out an optimal time management strategy for myself, but I have a starting point to try to maximize my efficiency. I encourage you to start with a todo list curated by yourself and evolve your process over time with what works for you.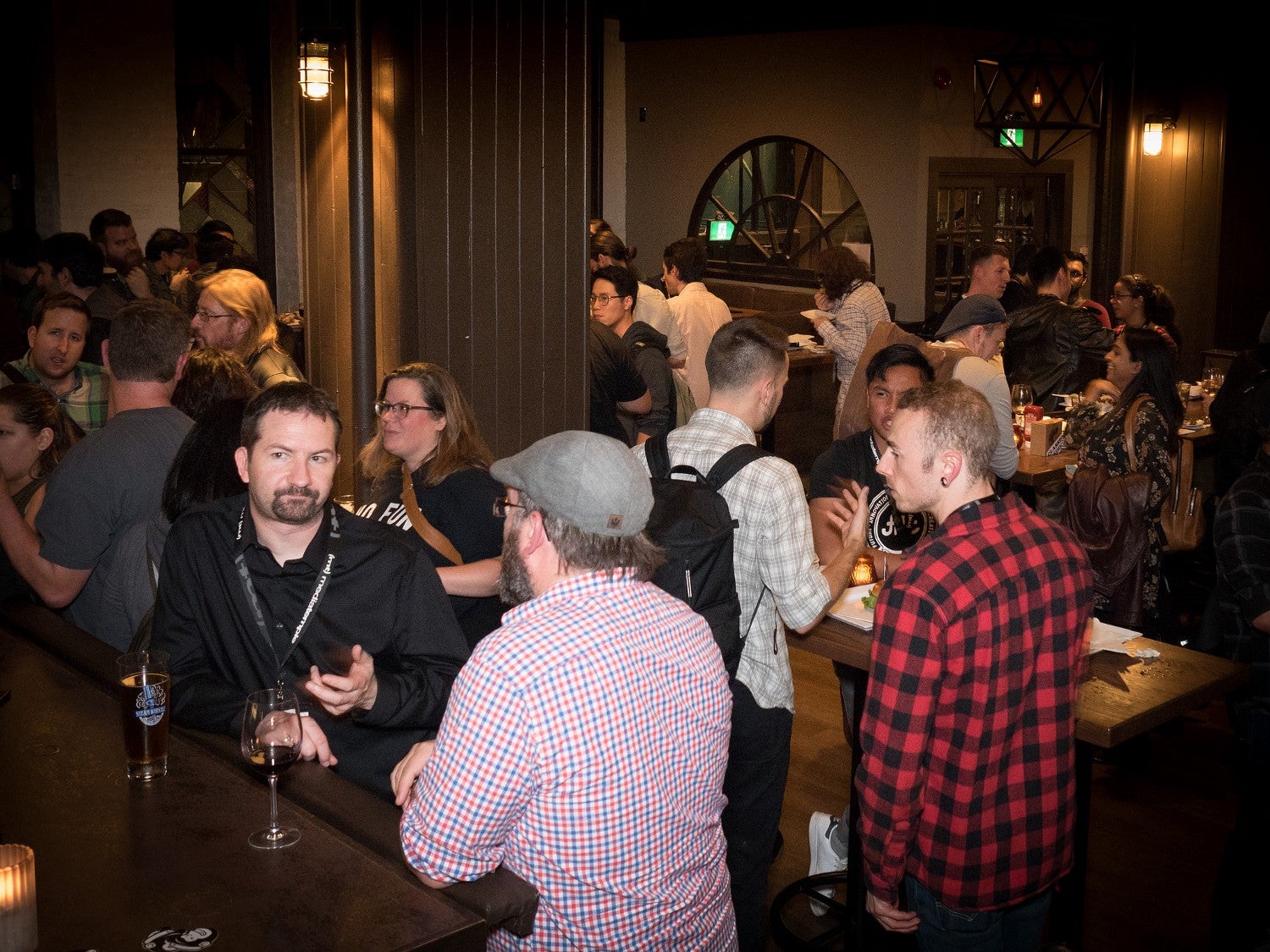 Web Unleashed provides a unique experience for designers and developers; not being strictly a technical, design or management focused conference allows it to reap the benefits of all three. We're allowed to share, not only the newest and freshest technology but also best practices on softer topics like time management, leadership and people skills. It reminds me that while day-to-day we can get bogged down in the nitty-gritty of the details of work, we're still human beings at heart, working together with other human beings. There's a lot to be gained by design/development/scrum teams in remembering that simple fact.
Web Unleashed is one of my favourite events to attend because I get to talk to other people about all of the things I love. I get new ideas, new perspectives and new solutions to problems I'm faced with, all while getting to interact with a fun and weird industry of awesome professionals. I can't wait to see you all again next year.