A couple of years back, I downloaded one of the most popular CRM apps for iOS thinking this was going to triple my productivity, "Now I can work while on the train to the office. This is awesome!" But I quickly realized the app was less than I'd hoped for. It was clunky and difficult to navigate. After several attempts to squeeze even an ounce of value out of the tool, it was promptly deleted and I haven't attempted using it since.
Now when prospective customers ask me, "can the Achievers native apps do everything that the desktop version can?" my immediate response is, "Why would you want to burden your employees with that kind of experience?"
And this isn't unique to this particular company. Many organizations evaluating enterprise applications are overlooking some basic needs for users when determining what to put in front of their employees. Although I'm not a developer, I've tested my fair share of apps. As someone who frequently has conversations with HR leaders on the topic, here's where organizations are missing the mark with their enterprise apps:
1.  Feature overload
Think about the consumer applications that have been wildly successful from the start. Instagram, Snapchat, Twitter. Their focus from day one has been a delightful, wholly native mobile experience. Product design for each is focused on doing one thing really well; sharing photos, newsfeed of mini blog posts respectively. Over the years they've compounded their initial success, slowly layering-on features that continue to enhance that experience.
But that isn't what I experienced with my CRM app. It was packed with "features" that were more congesting than they were useful. Because it was so overloaded, it was frustrating and difficult to navigate.
Ray Wang did a great job cataloging what many of us have experienced with business applications on our mobile devices. He notes that first and second generation mobile experiences failed us,
Instead of crafting new experiences, first and second-generation apps, mostly mimicked the same experiences as the systems of transaction they replaced.
Lightbulb moment. We don't need everything from desktop versions of software on our apps. If we're on the move and using our phones, that probably means we just need some of the basics to "get it done." Look at email apps for example. They're pretty basic. Read, reply, draft and send. And you know what? That's all we need when we're away from our desks. The complicated things can wait until we're back at our desks.
If enterprise apps released themselves from the shackles of desktop replication, their customers would have a much more productive, enjoyable mobile experience.
2. Utilization and adoption
I can tell you the top five apps that I open up daily, why they fit into my routine, and what value I derive from them personally and socially. Now take a look at what business applications are on your phone today. I'd wager a bet that email is the only one that sees any serious traffic on a regular basis. Why is this?
If a tool isn't useful to the majority of your workforce, they're not going to use it. My CRM company didn't factor in how different users would most value the app, so it was targeted at a small, specific user persona, essentially alienating everyone else—including me.
Take stock of what your employees are using, and figure out how to cater to as many of them as possible. If you're having trouble identifying value in business apps across the organization, it's because too few employees are deriving meaningful value from the tools they're provided.
For HR leaders, the biggest task is to be champions and enablers of culture. A big piece of that monstrous, constantly shifting puzzle—empowering individual contributors and people leaders with the right tools to execute on engagement and leadership strategies. At scale. If what you're putting in front of them isn't enabling this to happen, employees will continue to cobble together what they need to get the job done.
If done correctly, utilization and adoption doesn't become a means to an end for enterprise tools, as in, "I have to use this tool because HR says I have to" but a natural result of users finding the app makes their lives easier.
3. The user experience
In a world of system overload, well documented by Josh Bersin, software tools find they become lost in the mix, plagued with 30% adoption rates across the organization. Demand for employees' attention comes from so many directions, so when it's difficult to see immediate value, they'll quickly move on.
My CRM app was anything but enjoyable to use. I was frustrated with the first tap, and was more inclined to write a scathing review in the App Store than ever use it again. They could learn from companies like Evernote, who continues to deliver a positive user experience. They lured me with it's simple to use note-taking feature, and over time, I discovered new uses that made the mobile experience uniquely valuable, while also complimenting the broader features and functionality of the desktop version.
Mobile can't just be a box that's checked. The user experience must be one that employees want to use because they love the experience—not one they have to use. And the bonus side-effect of loving your mobile app, is that your users are more likely to get attached to the desktop version, too. Win win.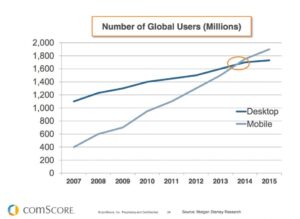 Talent strategies are quickly becoming people strategies. In the same way, talent focused technologies that are doing it right, are focused on the value the individual user derives from the tool. With mobile usage quickly eclipsing that of desktop, it's more important than ever to make sure the tools you're providing to your employees make their work life easy, connected, and seamless.
Now when prospective customers ask me, "can the Achievers native apps do everything that the desktop version can?" my immediate response is, "Why would you want to burden your employees with that kind of experience?"
To learn more about Achievers' latest product release, read the press release.