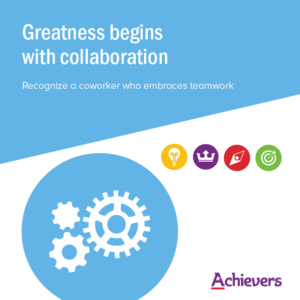 Put a few great minds in a room together and see what happens. You already have talented, motivated, and creative talent in your organization. What do you think will result when you encourage them to collaborate in new ways?
Appreciating employees is an everyday thing here at Achievers, so in honor of Employee Appreciation Week 2015, we thought we'd share some of our favorite links on collaboration to inspire recognition—and collaboration—today!
Are you a collaborative leader? – Harvard Business Review
What jazz soloists know about creative collaboration – 99U
Thomas Edison's keys to managing team collaboration – FastCompmany
Standing improves group collaboration – Mashable
How are you recognizing your colleagues for employee appreciation week?