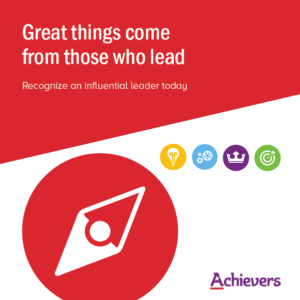 A good leader can make all the difference in a team's success—and longevity. And one key to encouraging a culture of recognition lies within your leaders. Leaders come in all shapes and sizes, too—they're not just managers.
Appreciating employees is an everyday thing here at Achievers, and in honor of Employee Appreciation Week 2015, we thought we'd share some of our favorite links on leadership to inspire recognition—and leadership—today!
Between Venus and Mars: 7 traits of true leaders – Inc.
Become a better leader by thinking like Swiss cheese – Lifehacker
You don't have to be a CEO to develop leadership qualities – Entreprenuer
5 Ways to transform yourself into a leader – The Daily Muse
How are you recognizing your colleagues for Employee Appreciation Week?