Are you a Workday customer looking for a recognition and rewards platform? Do you like when things just work out of the box? You have come to the right place because Achievers is committed to bringing employee engagement into your HR technology ecosystem! The Achievers Workday connector delivers a highly configurable and proven solution to help Workday customers measure and drive employee engagement. Achievers built this bi-directional integration to bring the power of these two platforms together, ensuring that it works with your systems of record, performance management, and payroll. Achievers offers ongoing support and updates to the connector.
Here are the top five reasons you should select Achievers as your recognition and reward solution if you also use Workday.
1. Certified select partner
First, Achievers is a Workday Select Partner. We offer a fully built and managed solution to bring the Achievers and Workday platforms together, offering a seamless experience for your workforce. Achievers has been a fully certified Workday Select Partner since 2016.  Through the Workday partner program, we have developed the full integration lifecycle that meets the unique needs of our 80+ joint customers. These integrations have gone through Workday's extensive Certification Program to ensure quality and consistency with Workday's products and release cycles. ​
This means that the solution is:
Fully built and supported by Achievers​
Tested and reviewed by Workday​ for backward and forward compatibility
Deployed and validated by multiple Workday clients​
2. Access to employee data from Workday HCM
The Achievers Connector is a highly configurable and customizable way to sync your employee data from Workday to the Achievers platform on an ongoing basis. The Achievers professional services team will support you with the one time set up in Workday to start sending all the required employee data for your workforce to access our platform. Our services team will help you identify all data attributes for you to report on the program effectiveness and include them in the data file. All employee additions, data updates and terminations are synced periodically, without requiring any manual work from you. We have successfully deployed the connector for 80+ Workday and Achievers joint customers around the globe to help our customers optimize the union of these two platforms.
3. Workday homepage worklet
Once your entire workforce is synced, the Achievers Workday Connector has a custom worklet that can be added to the Workday homepage to help your workforce easily find their recognition program. This also allows for single sign-on, the easiest option to allow everyone access to Achievers through Workday. The worklet icon is fully customizable and can be branded with your logo and label.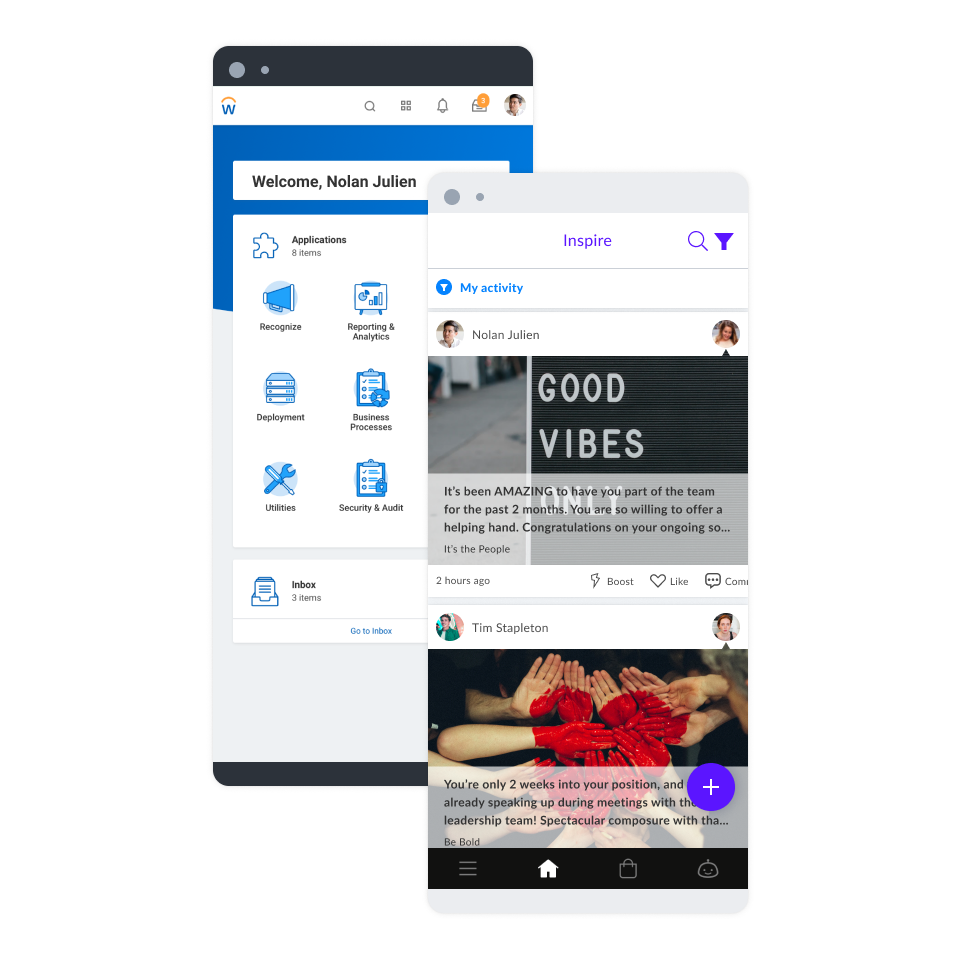 4. Recognition as feedback in Workday
The Achievers Workday connector provides a streamlined way for employees to share important recognition activity from Achievers to their Worker Feedback profile in Workday.
Allows people leaders in your organization a powerful and complete view of their team member's performance
Allows a 360-degree view of the team member's performance and supports continual performance discussions between a leader and their team member.
Supplies a more accurate picture of employee performance by incorporating "real-time" and contextual feedback from peers.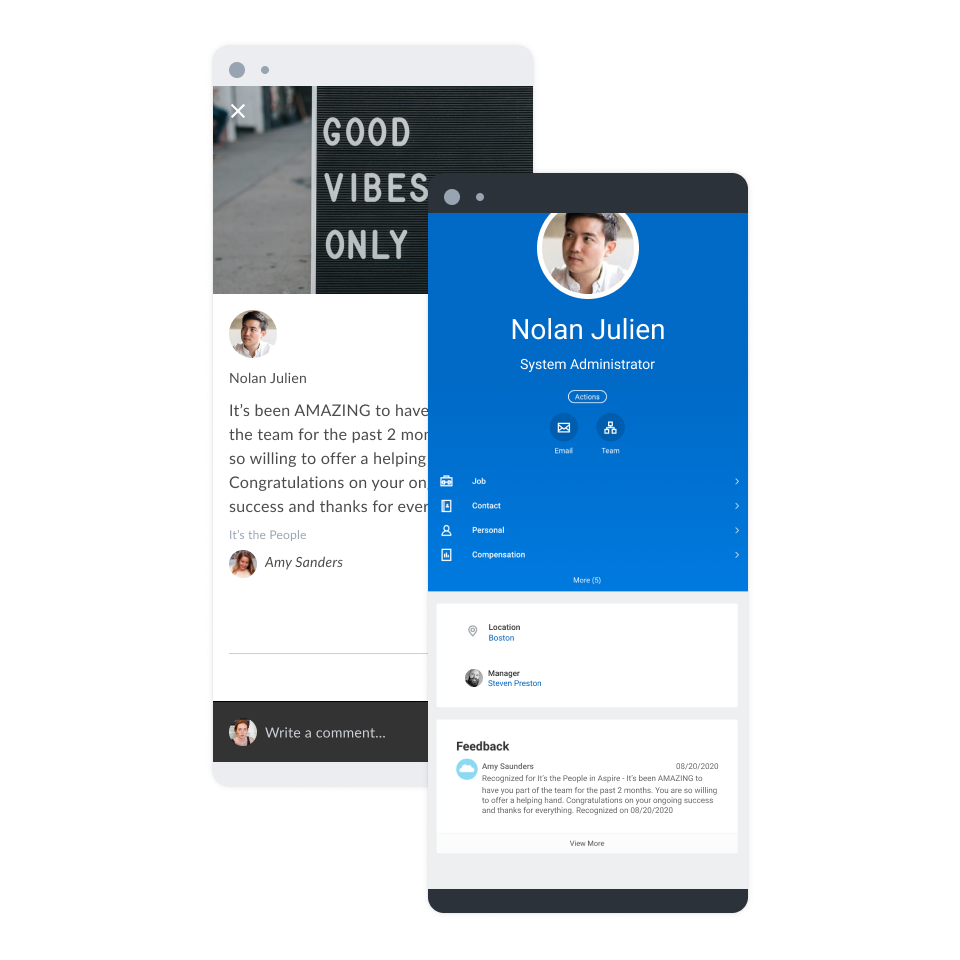 5. Rewards as one-time payments in Workday
The Achievers connector also offers a pre-built integration to send reward redemption data to the payroll and compensation modules in Workday. The goal is to provide customer payroll departments with data relevant to their existing tax processes, and to provide members with the ability to track redemptions and tax implications. ​​This integration sends a customer's Workday tenant a One-Time Payment for each redemption made by a member. This allows for all rewards redeemed through the Achievers program to appear as bonus currency within Workday. The data is sent to Workday after the reward has been shipped and has provisions for rollbacks in case of returns etc.
Workday customers love Achievers
Workday customers including Centrica, Telstra and First Canadian Title have all implemented the Achievers-Workday integration and love this partnership. But don't just take our word for it, let these customers tell you themselves how they have benefited from the partnership between Achievers and Workday.
"Everything in the workplace is about connectivity and integration. If you are moving towards a HRIS solution with integration capabilities, it is absolutely imperative that you can connect appreciation or achievement through to the platform because the benefits will be there." – Simone Douglas, Head of Benefits, Transformation & People, Telstra
Achievers & Workday Customers Centrica, Telstra & FCT Emphasize Benefits of Integration
About Achievers
Achievers' mission is to change the way the world works. Our employee success platform is specifically designed to drive higher levels of employee engagement. It is built to align everyone with business objectives and company values, driven by recognizing shared victories every day. Our platform is designed to make success a way of life.
About Workday
Workday is a leading provider of enterprise cloud applications for finance and human resources. Founded in 2005, Workday delivers financial management, human capital management, & analytics applications designed for the world's largest companies, educational institutions & government agencies.
See how Achievers' award-winning platform transforms workplace culture and engagement by requesting a demo today.

Do you have any thoughts on this article? Share your comments below.