Create a culture that means business™
Email address
Shifting your organization to become a remote workplace can be daunting. According to a Buffer report, many remote workers struggle with unplugging from work, loneliness, and communicating. Don't let these stats scare you though. There are effective ways to help your employees feel connected every day while working remotely.
At Achievers, we recently became a 100% remote workplace due to COVID-19. With this sudden change, we decided to quickly take action and create new initiatives to help strengthen Culture Continuity™. Below are just a few (of our many) efforts that we're practicing at Achievers to actively engage our remote workforce. Apply some of our initiatives across your organization today and see if you notice a boost in employee engagement.
Below are our 13 tips to support a remote workplace.
1. Create an active company-wide team chat
A key piece to aligning a remote workplace is kicking off an active company-wide team chat. Whether you use Slack or Microsoft Teams, create a company-wide team chat where remote employees can share tips and tricks. At Achievers, we had our long-time remote employees share words of advice in our company-wide team chat. Consider investing more time in your company-wide team chat and have employees share personal tips and tricks on how to successfully work from home.
2. Host a "Cribs" series
We recently kicked off an "Achievers Cribs" series where employees share pictures and videos of their home office setups. Have some fun and encourage your employees to participate in your company's version of a "Cribs" series. Employees can be playful and add a fun spin to it.
3. Kick off virtual office hours
The Achievers Senior Leadership Team (SLT) has been holding virtual office hours on our company-wide team chat. During office hours, employees can ask any questions they might have. Achievers' SLT is made readily available and are very quick to respond to any concerns, comments, and questions. Giving our employees immediate access to our SLT has helped strengthen alignment and trust. Try kicking off a virtual office hours hosted by your leadership team and see if your employees find it useful.
4. Start TTP meetings
Every day, Achievers hosts a daily company-wide meeting called TTP (aka "To the Point") that lasts just 9 minutes. The goal of TTP is to drive alignment, visibility, and give a quick break to re-energize the organization around common goals. TTP also reduces company-wide emails and are recorded for later viewing. When our company quickly shifted to a remote workplace, we switched our TTP meetings to become fully virtual. Presenters turn on their video cameras when presenting and employees can jump in at any time to introduce new hires, share their comments, or celebrate daily wins.
Bonus tip: Get a breakdown of our TTP meeting structure and try it out at your organization.
5. Take full advantage of video conferencing tools
Encourage employees to take full advantage of their video conferencing tools to stay connected. Make sure your employees are properly set up with your video conferencing tool. Have your IT readily available to answer any questions and help employees, whether it's through an email ticketing system or during virtual office hours. Also, if employees are interested and comfortable, remind them about the video feature. At Achievers, many employees turn their videos on during virtual meetings and it helps employees put a face to the name.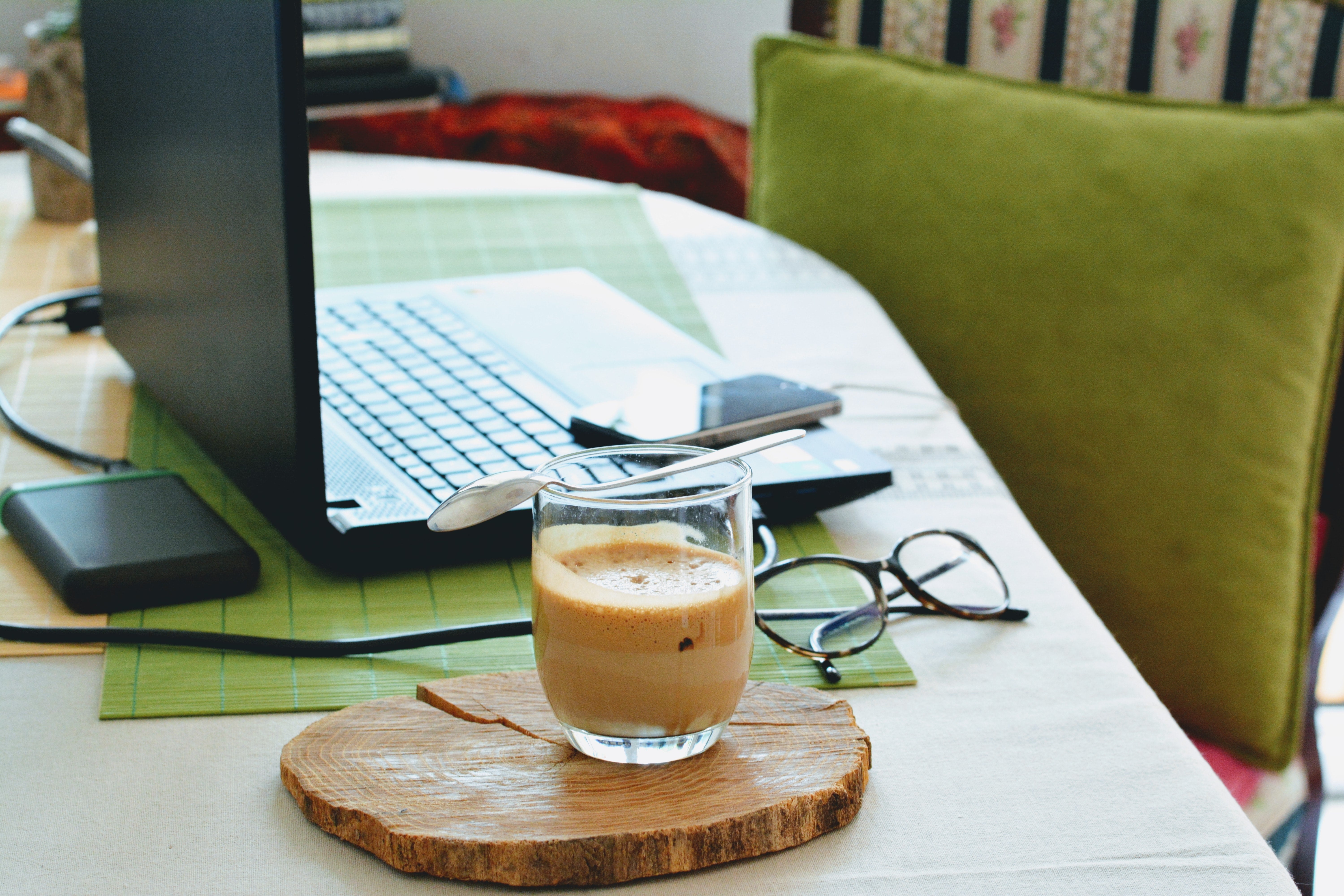 6. Offer remote work stipends
If a company is shifting to a 100% remote workplace, it's critical to ensure employees have a smooth transition. That's why, at Achievers, we extended our remote work stipend for all employees when we shifted to 100% remote. Sometimes employees need office supplies and equipment that aren't readily available in their personal household. With a remote work stipend, employees can easily get their home office set up and feel supported.
7. Assess your resources and give back to the community
It's very important for our company to give back to the community, especially during times of crisis. We are currently donating our office food budget to our local food bank partner. When you're shifting from an in-office to a remote work environment, think of your "less-used" resources and consider applying them towards efforts that focus on giving back to the community.
8. Establish Wellness Wednesdays
The Achievers Employee Success team partnered with Achievers Women's Network (AWN) and the Achievers CARES team for Wellness Wednesdays where all employees are invited to take part in virtual instructor-led meditation and yoga sessions and other wellness activities. The Achievers CARES team also sends daily emails with resources on how to stay healthy and happy while working from home.
9. Initiate Throwdown Thursdays
A long-standing tradition at Achievers is hosting Throwdown Thursdays every week. Departments across our organization take turns hosting this social event with fun and unique themes (i.e., a trivia night or a beach day). To bring employees together in a remote workplace, AWN continued our Throwdown Thursdays tradition; except this time, the social event is held via Zoom, our video conferencing tool. During every virtual Throwdown Thursday, employees are encouraged to connect, have icebreakers, and talk about things outside of work. What makes this tradition even more engaging is that there is full support from our SLT. The SLT shows up and actively participates, and Achievers' employees are given the opportunity to connect with them directly in a remote work setting.
10. Try photo quizzes
Achievers' employees scheduled time to have a fun virtual photo quiz together. Employees took photos of their home office setups and they were able to guess which home office setup was associated with each team member. This was a fun and engaging activity that brought employees together and boosted team morale.
11. Share music
Music bonds people together. And this is proven in various studies. The Achievers Product team has been sharing music with another by rotating employees to make a daily Spotify playlist. Have your employees build relationships with another outside of just work talk by encouraging them to share music.
12. Recognize, recognize, recognize

Recognition is weaved heavily throughout Achievers' culture, and this didn't change when we shifted to a remote workplace. Employees are frequently recognizing another on Aspire (our recognition program powered by the Achievers platform) to celebrate daily accomplishments and spread appreciation. Achievers' CEO, Jeff Cates, also sent a recognition through Aspire to all employees to thank the team for supporting another as they collectively transitioned to a 100% remote workplace.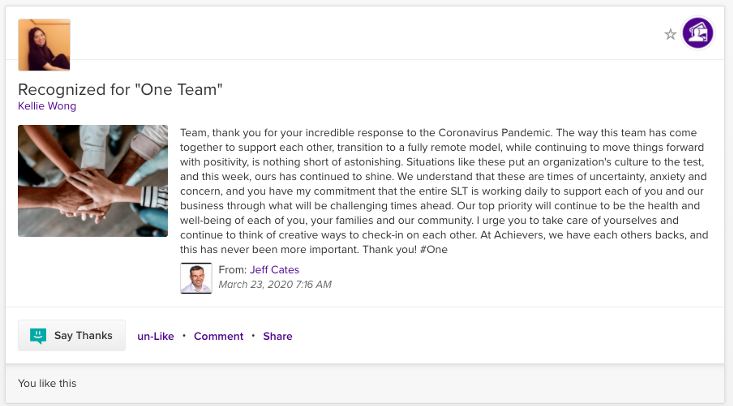 Double down on recognition across your workplace and encourage leaders to participate. After all, recognition is identified as having the greatest impact on employee engagement and 50 percent of employees believe being thanked by managers not only improved their relationship, but also built trust with their higher-ups.
13. Listen to your remote employees
At Achievers, we use Achievers Listen to gather employee feedback on a regular basis and assess what actions need to be taken. Your remote employees want to feel heard. Give them opportunities to provide their feedback. Take that valuable feedback and turn it into meaningful action. This way, your employees will feel heard and supported by leadership. One of the best ways to engage employees in a remote workplace is by listening to their needs and wants, and taking action on their feedback.
Look after your remote workplace
With numerous companies new to the concept of being a 100% remote workplace, it's important to share our lessons learned on how to effectively engage remote workers. Take our 13 tips with you and apply them across your organization today. Whether it's a fun activity or a foundational need, try out our initiatives and see if they work for your remote workplace.
To learn more about how to engage your new remote workforce, access our webinar recording, "Engaging and Recognizing Employees During the COVID-19 Pandemic and Beyond."