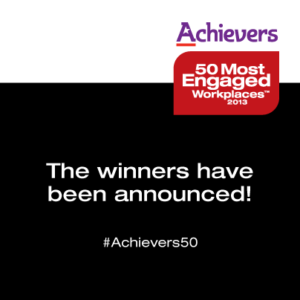 According to Gallup, a large majority (70 percent!) of the American working population is not engaged at work. This is a missed opportunity for employers because engagement is an effective tool to boost bottom-line results through alignment and increased productivity. Most importantly, it builds a competitive employer brand that attracts, retains, and inspires top performers. This is why companies that achieve high engagement should be celebrated.
Today, we're excited to announce the 50 Most Engaged Workplaces in Canada and the United States for 2013. This annual award recognizes top employers that display leadership and innovation in engaging their workplaces.
The Achievers 50 Most Engaged Workplaces™ Awards panel of judges evaluated each applicant based on the Eight Elements of Employee Engagement™: Communication, Leadership, Culture, Rewards & Recognition, Professional & Personal Growth, Accountability & Performance, Vision & Values and Corporate Social Responsibility. The panel of 14 judges included various thought leaders on employee engagement, and representation from organizations such as Society for Human Resource Management (SHRM), Human Resources Professionals Association (HRPA), Human Capital Institute (HCI) and the Northern California HR Association.
Recipients of the Achievers 50 Most Engaged Workplaces™ Awards will be honored at award galas on March 6, 2014 in Toronto and on April 2, 2014 in San Francisco. We're excited to congratulate all the winners!
The Achievers 50 Most Engaged Workplaces™ in the United States in alphabetical order include:
Agrium Inc.
Akraya Inc.
American Infrastructure
AMN Healthcare
Apigee Corp.
Atlas Oil Company
AutoTrader Group
Black Hills Corporation
Bluegreen Vacations
CBRE
Cisco – Services Platforms Group
Cypress Semiconducter
Deltek
Dimension Data North America
Dyn
EasyCare
Enova International, Inc.
Infosys Limited (Financial Services & Insurance Business Unit)
Ingersoll Rand
Jamba Juice
Listen Up Español
Medtech College
MGM Resorts International
Milgard Windows and Doors
Mondo
Mountain America Credit Union
NetSuite Inc.
NextEra Energy, Inc.
Power Design, Inc.
Premier, Inc.
Protiviti
Quest Diagnostics
QuEST Global
RichRelevance
Roth Staffing Companies
Royal Caribbean Cruises Ltd.
Ryan, LLC
Sheltering Arms Rehabilitation Centers
Smart & Final
StudyPoint, Inc.
Sundance Vacations
TATA Consultancy Services Ltd.
The Cosmopolitan of Las Vegas
Total Quality Logistics
Ultimate Software
Venterra Realty
Virtusa Corporation
Vocus
World Travel Holdings
Zappos.com Inc.
The Achievers 50 Most Engaged Workplaces™ in Canada in alphabetical order include:
1-800-GOT-JUNK?
3M Canada
Access Communications Co-operative Limited
Adecco Employment Services
All Weather Windows
Apex Distribution Inc.
ATB Financial
BC Housing
BlueShore Financial
BP Canada Energy Group ULC
Bruce Power
Central West CCAC
Ceridian
CIBC
CIBC Mellon
ConMed Linvatec
Daishowa-Marubeni Int. Ltd., Peace River Pulp Division
Delmanor Seniors Communities
DIALOG
Edelman
Eli Lilly Canada
FCT
Flight Centre
Genesis Hospitality
GoodLife Fitness
Hydro Ottawa
JOEY Restaurant Group
KPMG LLP
Libro Credit Union
Mayhew & Associates Inc.
MD Physician Services
Meridian Credit Union
Moneris Solutions
Monsanto Canada
NetSuite Canada Inc.
PEER 1 Hosting
peopleCare Inc.
PowerStream Inc.
Rogers Communications
Ryan ULC
Scotiabank Convention Centre
Shopify
Shoppers Drug Mart
Siemens Canada Limited
SilverBirch Hotels & Resorts
Starwood Hotels & Resorts
Tata Consultancy Services Canada
TeraGo Networks
WIND Mobile
World Health
For more information, check out the full press release.
Do you have an engaged workplace? Sign up to stay informed about the 2014 award applications.