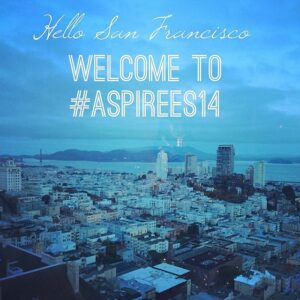 The future of the workplace is based on facts:
The modern workforce is fundamentally different and the shifts we're all witnessing are seismic. Employees expect more out of their workplaces. Customers expect far more out of your employees. Companies today need to ensure they are positioned to thrive in the face of these changes which, most of all, means leveraging the modern workforce to win.
On April 3rd, 2014, over 200 executives met at the inaugural Aspire HR Executive Summit presented by Achievers at the Fairmont San Francisco to discuss the changing landscape of HR and the trends that are driving it.
Attendees were joined by some of the world's most visionary human capital leaders from LinkedIn, Glassdoor, Gartner, Virgin Pulse, Salesforce, and the HR Technology Conference & Expo. Some key insights from the day included:
Robert Hohman, Founder & CEO at Glassdoor, revealed how HR can embrace the transparency revolution: leverage social media to provide real-time feedback and enable your employees to speak their voice and truth.
Mike Gamson, Sr. VP, Global Solutions at LinkedIn, empowered HR to put people before results and reinforced our ability to achieve a shared objective while upholding culture and values.
Yvette Cameron, Research Director at Gartner, emphasized how the key attributes of customer engagement apply equally to employees and how to learn from and leverage your customer investments.
Steve Boese, HR Technology Conference Chair, helped HR envision our future robotic workplace, sharing upcoming technology trends that will create a future that's almost unrecognizable.
David Coppins, President at Virgin Pulse, challenged HR to make employees "engageable" by supporting simple, healthy goals, giving them technology that works for them, fixing the work environment, and rewarding them for healthy habits.
Monika Fahlbusch, Sr. VP, Global Employee Success at Salesforce, asserted the vitality of creating a connected culture through authenticity and building meaning with purpose beyond profit.
There's never been a better time for HR to impact the business. Go onward and remember that your employees and culture ARE your brand. Empower your employees to delight your customers. Recognize them frequently using a variety of methods to reinforce your company values so that they know what you stand for. This is the key to employee success—and the best thing you can do for your shareholders and ultimately the bottom line.
We'd like to thank our attendees for making the Aspire HR Executive Summit an inspirational event. If you missed the event, we'd like to hear from you in the comments below. What's in store for the future of the workplace? We hope you'll join us for our next major event at the Achievers Customer Experience, taking place September 9 – 10th in Toronto.