Get engagement insights delivered to your inbox
Email address
In the sharing economy era, technology not only influences our lives at all levels, it reshapes our workplaces completely.
Digitalization, creative disruption, and automation are here to stay. In The Economist's special report on Artificial Intelligence it shared:
"Bank of America Merrill Lynch predicted that by 2025 the "annual creative disruption impact" from AI could amount to $14 trillion-33 trillion […] Far from killing every job on the planet, such disruption is expected to transform the way we work."
The workplace is constantly evolving and instead of focusing so much on the future of work, I am curious more about the ever-changing now of work. For customer-obsessed organizations, it means building engaging work cultures that promote employees to foster emotional connections with clients atop of valuing innovation and adoption.
However, creativity proves to be a challenge at the moment. Studies show 80% of American and British workers feel pressured into being productive rather than creative.
Teams need to embrace innovation to keep up with the quick pace of change dictated by customer feedback loops and ongoing technological developments. How do we accomplish this? Design thinking might be the solution you're looking for.

What is Design Thinking?
"Unlike critical thinking, which is a process of analysis and is associated with the 'breaking down' of ideas, design thinking is a creative process based around the 'building up' of ideas." – Herbert Simon, Sciences of the Artificial
Design thinking isn't limited to tech startups and design agencies only. A simple way to start is to focus on 3 core activities that will ignite your team's creative genius:
Brainstorming to explore opportunities for improvement
Co-creation around ideas that empathise with the client's needs
Iterations using prototypes and testing before the final launch
Yes, design thinking is a proven problem-solving formula, but what else is it? Each phase is closely aligned to our core human motivation drivers. And this has potential to greatly impact team engagement. Design thinking can be easy to get into, but don't ignore your leadership fundamentals. A research published in HBR exposed that psychological safety increases motivation and divergent thinking, which is the cognitive process underlying creativity. Design thinking will work for your team if everyone feels safe enough to share their most divergent ideas without fear of judgment.
The Brainstorming Phase of Design Thinking
"Building up ideas" has real effects on motivation. When given freedom to explore, a team will experience little fear of failure and less procrastination. And the latest research on procrastination tells us that it suppresses our own needs for autonomy, competence and relatedness.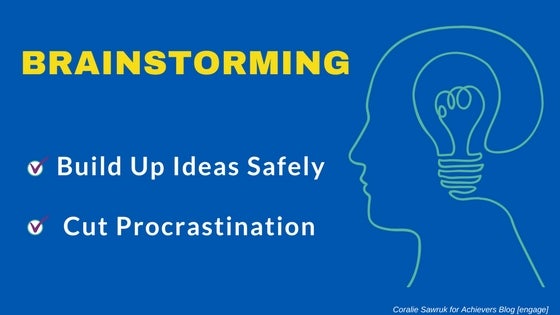 As procrastination can kill some of our main motivation drivers, it's important to set the creative work scene with a positive atmosphere, where input and participation are valued and encouraged.
The Co-Creation Phase of Design Thinking
The co-creation process is all about selecting the best idea collectively. This is where embracing cultural diversity is a great add-on for the workplaces: various perspectives on the "what we do and how we do it" helps to reduce bias or expose a blind spot.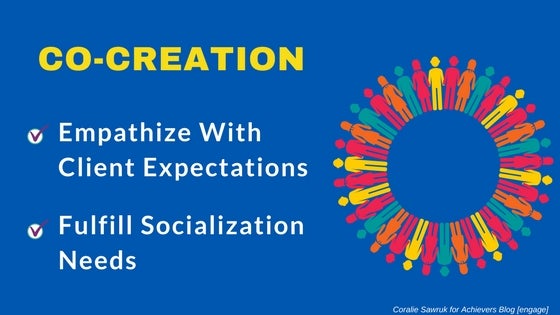 From an employee engagement perspective, the drive to bond was identified as one of our strongest motivation drivers by Harvard Professors Paul Lawrence and Nitin Nohria in their book, "Driven: How Human Nature Shapes Our Choices." Co-creation is the time for the team to make a collective decision. Such achievement contributes fully to socialization needs and reinforces cohesion between individuals.
Prototyping and Continuous Improvement
The last phase of design thinking involves iterations of prototyping and testing. This is a time where the team can see how their ideas land in reality and test their resilience. Autonomy has for long been quoted as a key motivation factor, for instance within Deci and Ryan's Self-Determination Theory or more recently by Daniel Pink in his acclaimed TED talk.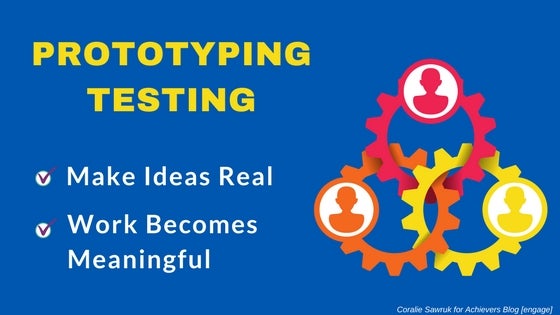 Throughout the prototyping phase, ideas become reality and the team members can show what they can do. This process reinforces autonomy and increases the sense of ownership within the team.
When team members can visualize customer impact, it gives them a better understanding of the vision. As a result, it makes their job meaningful. This is a true motivation for employee as 76% of employees rated meaningfulness of their job important for their motivation.
Back to the Economist's special report on AI. Further down the review, they revealed:
"The McKinsey Global Institute, a think-tank, says AI is contributing to a transformation of society "happening ten times faster and at 300 times the scale, or roughly 3,000 times the impact" of the Industrial Revolution."
If that sounds scary, millennials are on it already. In Deloitte's 2017 Millennial survey, 71% of millennials think automation/robotics/AI will have a positive impact on the time people have to spend on creative and value-added activities in their job. In the smart machines age, a sparkle of curiosity and creativity to pivot ideas quickly will be decisive. But not only just that is required; a sense of emotional connection will be critical to human-centric work.
Design thinking blends innovation and motivation, and helps employees connect to the purpose of their jobs. It surely deserves a spot in your leadership toolbox.
Do you want to make design thinking part of your employee experience? Check out the eBook Recognition Culture: The MVP of Employee Experience.