Create a culture that means business™
Email address
It's our favorite time of the year here at Achievers: Employee Appreciation Week! During this week the amount of love being sent throughout our organization gets cranked up to 11. We know that a simple "Thank you!" goes a long way – whether it's a social recognition, monetary reward, or just a friendly high five – so we'd like to take this opportunity to say a very public "Thank you" to every Achievers employee for all their hard work, dedication, and passion. We are so proud to have such a great team pulling together towards achieving our stated mission – to Change the Way the World Works.
In honor of Employee Appreciation Week, we're highlighting our A-mazing employees by spotlighting one of our favorite employee recognitions delivered via Achievers' own ASPIRE recognition program. While we don't have the space to feature all of our employees in one blog post (wish we could!), every member of the Achievers family deserves massive recognition for all the great work they do. So thank you A-players for staying engaged, recognizing your peers, and helping our customers boost employee engagement in their own workplaces.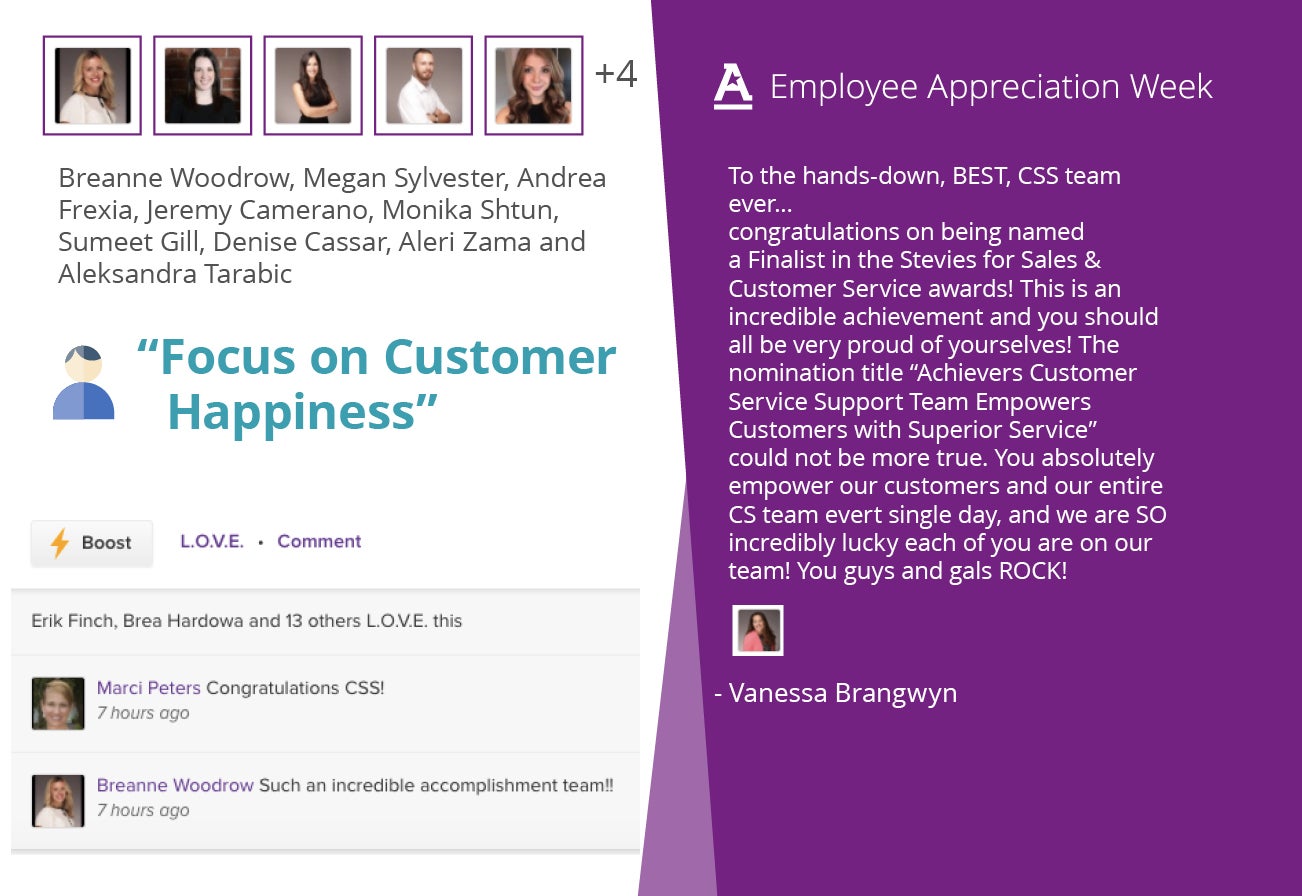 We hope you spend this fun week recognizing your employees too. After all, 93% of employees hope to be recognized at least quarterly, if not more! Recognizing others is infectious and spreads positivity throughout an organization. So why not take the first step and recognize someone today for a job well done. But don't limit employee appreciation to just one week. It's important to appreciate employees frequently to foster employee happiness and continuously boost engagement and motivation. Recognize someone right now with our free and fun personalized online recognition card.
Looking for fresh ideas on how to show employee appreciation? Check out our blog post Out of the Box Ideas for Employee Appreciation Week.