Get engagement insights delivered to your inbox
Email address
High-performance employers enjoy higher than industry average levels of productivity per employee. Measures of this success include revenue generated per head, return on capital employed, speed to market with new products and customer delight. These measures point to what a business and CEO get by BEING a high-performance employer, but they don't explain what it takes to BECOME one.
The role of pivotal habits
An underappreciated source of employee performance is their health, happiness and financial security – what we collectively describe as thriving.
Many people think that health is a matter of luck or good genes more than lifestyle, that happiness is a right or is related to how many things or experiences they have and that financial security depends almost entirely on how well they are paid.
The reality is quite different: the largest part (well over 50%) of our health, happiness and security is achieved by practicing a relatively small set of habits.
But how does employee health, happiness and security drive employee and company performance?
When employees thrive in life and at work, they can focus their time, minds and energy on building new products, being innovative and agile in their approach, and working with greater clarity and stamina (not necessarily longer hours, but "fuller" hours).
If you're the kind of employer that supports employees in achieving their most important life goals, your reward is their loyalty, engagement and commitment. This is what shines through when they do their jobs and delight your customers, driving higher growth and return on capital employed. In turn, this creates new opportunities for their career growth, which is an important driver of employee happiness, especially for a younger workforce. This is truly a virtuous cycle that, once turning, plays a role in the enormous success of some of the world's highest performing employers.
Do employees view thriving as their most important life goal?
It may sound presumptuous for an employer to claim that they understand what it means for each employee to thrive at work, let alone in life. Yet, when we've asked thousands of employees the simple question "what does success look like for you and what do you want for your life?," they universally give answers that fall into the three broadly-defined buckets of health, happiness and security.
The habits that create health, happiness and security are so important in preparing us to perform and sustaining our performance over time that we call them the "Pivotal Habits."
The role of work habits
Then, there are habits that make up work. They are unique to each person or at least to their role. We prefer to think of our roles in terms of outcomes, but the quality of our performance is really a matter of doing the same or similar things, really well, over and over again. We can, therefore, think about each person's job as a collection of habits, and we can think of the purpose of our job as a set of outcomes to be achieved by practicing those habits.
We call these habits our "Work Habits."
Pivotal Habits PREPARE US TO PERFORM by giving us the mental clarity, focus, energy and stamina, and removing stress, financial concerns and health challenges. They allow us to perform our Work Habits with high fidelity, quality and consistency.
Together, they ensure we achieve the outcomes our roles ask of us and more. The beauty of focusing on both types of habits is that we drive higher performance for our companies in a way that leaves employees more engaged. This is what delivers the competitive advantage for high performance employers.
But wait, surely competitive advantage comes from something other than employee habits?
What about strategy, execution, new products, corporate agility, innovation, market timing, and a long list of candidates for the "IT" factor that explains high performance?
Searching online for "corporate competitive advantage" produces nearly four million hits and there are shelves of books and a wealth of high quality research in favor of the importance of strategy (e.g. Porter), capital funding, execution (e.g. Bossidy and Charan), culture (e.g. Drucker), visionary leadership and competent managers as drivers of competitive advantage.
Although each of these factors is important, on closer examination it becomes clear that there is a fundamental or atomic view of what each of these drivers has in common.
The building blocks of developing an effective company strategy are a set of Work Habits for those in strategic development roles.
Execution is clearly about the whole workforce doing what they need to do, consistently over time (Work Habits).
Well-funded startups are routinely outperformed by two people in a garage, absent funding but with just the right Work Habits to produce the next big thing. Great leaders are not born; they spend each day doing pretty much the same things: telling stories to people to inspire them to build their vision (storytelling as a Work Habit) and great managers have their own set of high-performance Work Habits.
Therefore, the future of your company, and whether it will be a high performing business or not, depends entirely on the effectiveness of the different Work Habits practiced by your employees (as well as the Pivotal Habits that prepare them for sustained action).
Again, the fundamental unit of corporate competitive advantage is the habits practiced by your employees.
In fact, so strong is the link that we say, for employees and for your company, HABITS ARE YOUR DESTINY.
What makes high performance companies different?
High performance employers recognize the link between employee Pivotal and Work Habits and performance at work. They design their workplaces (the physical space, business processes, social networks and how they tell stories about their business to employees) in such a way that it becomes easy and natural for employees to practice these important habits. Pivotal and Work Habits are like the motor that turns the wheel of corporate performance.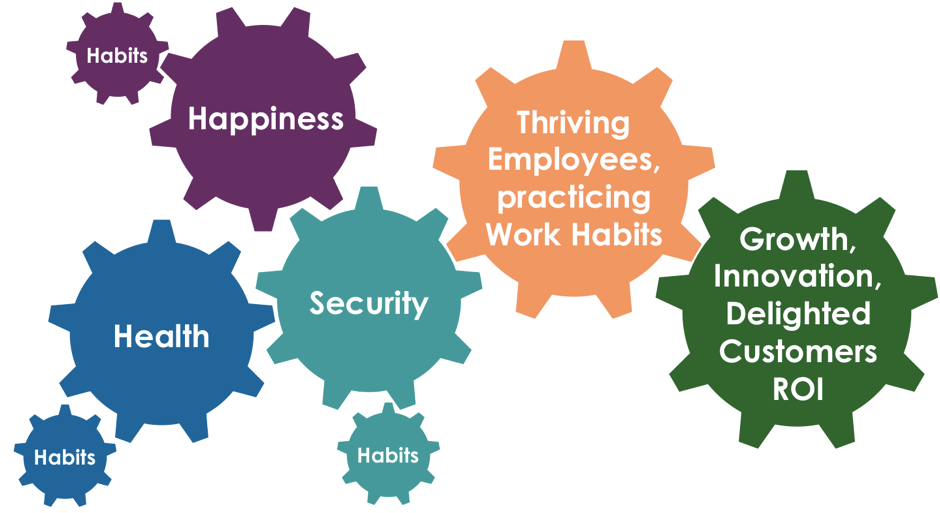 Why should CEOs care?
Most CEOs and other business leaders miss that:
Employee health, happiness and security are strong, yet underappreciated drivers of performance. At our Behavioral Research Laboratory (BRATLAB), we've spent the last decade researching just how strongly Pivotal Habits drive performance. Bottom line: Their impact is significant, perhaps greater than any other opportunity for improving employee productivity available to business managers today.
It is employee habits (both Pivotal and Work Habits) that are the fundamental unit of competitive advantage for companies, and becoming a master at designing for these habits will provide you with a difficult-to-copy, sustainable competitive advantage. Difficult to copy because few other CEOs recognize the fundamental role of habits, and sustainable because employees will thrive, rather than burn out.
This leaves two big questions: exactly which habits matter most to performance (both Pivotal and Work Habits) and how do we design our companies to make it easy and natural for employees to practice these habits?
These questions will be answered in my next two guest blogs. Check out my second guest blog: Which Habits Drive Superior Employee Performance?