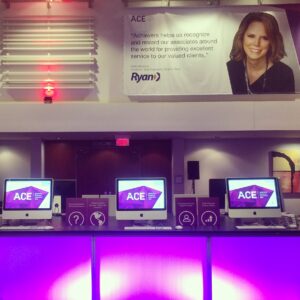 The HR space is in the midst of a dramatic upgrade, and this year's #AACE14 conference proves there's a new face to human resources.
As a newcomer to the space—I joined Achievers in San Francisco last week—I have to admit, I had a few preconceived ideas about what an HR conference would look like.
Yet, when I hit the conference floor this morning, I felt like I was walking in on the latest, Silicon Valley darling's newest product launch. Even at 7 AM, the mood was electric, and excited attendees chatted over coffee while exchanging social media handles. It was all very sexy.
Not exactly the stuffy, rigid, image of HR professionals I was used to. But, after spending the day with this group, I'm happy to say my perception of HR is forever changed. Gone is the notion of a matronly HR administrator, cloistered in an office far away from the team, buried behind a towering pile of personnel forms and employee handbooks.
After just one day with the esteemed group attending #AACE14, it's clear there's a new face of Human Resources. Here's what they look like:
Innovators
Not one single person here today is satisfied with the status quo. Like any other disruptive technology or movement, innovation is at the heart of everyone involved, and the result is impressive. From exciting product innovations, to groundbreaking corporate initiatives making employee recognition a priority, the event was bursting with ideas and enthusiasm.
In the past, HR was plagued with the reputation of being an inflexible, necessary evil. After what I've seen today, that reputation no longer applies, and innovation is the new normal for HR.
#AACE14 I can't wait for the Hooper Release! Awesome new features! pic.twitter.com/m53wrfBTKp

— Josie Crudo (@jcrudo) September 10, 2014
Risk Takers
Using the word "risk" in same sentence as "human resources" might sound, well, risky, but it's not. After listening to a handful of companies share their stories about implementing employee engagement platforms, one thing was clear; this wasn't an easy sell. While just about everyone on the planet acknowledges being recognized for a job well done is welcome feedback, not everyone understands how that's done—or is willing to take on the challenge of figuring it out. None of those people where in attendance today. Fortunately, today's HR professionals are fiercely dedicated to their craft—not to mention fearless. Not only do they have to convince a tough crowd of executives that employee recognition is a worthwhile investment, they also have to convince armies of employees. Change can be a challenge, but the dedicated professionals here today, are taking it head on, and we'll all be thanking them for it, soon.
HR Professional are fearless and ready to step outside their comfort zone at #AACE14 http://t.co/D2eGISYtGt

— Achievers (@Achievers) September 10, 2014
Humans
Yes, human. A resounding battle cry throughout the day, was that we need to put the "human" in human resources. Whether it was highlighting the need for focus on developing relationships, to understanding the value of social recognition, everyone here today agreed—we're all humans. Every piece of technology, every campaign, every initiative, had one thing in common; we all need the human touch. As our founder, Razor Suleman, said in his keynote this morning, "This is about the conversation, not compliance."
#AACE14 @razorsuleman always helps the audience see how far #HR has come & inspires about the future. #Innovator pic.twitter.com/30P1mLpXfd

— Trish McFarlane (@TrishMcFarlane) September 9, 2014
The power and energy at this conference is infectious. I spent over 15 years of my career, seeing my colleagues in HR one way, and after just one day at #AACE14, I'll never see HR the same again.