Get engagement insights delivered to your inbox
Email address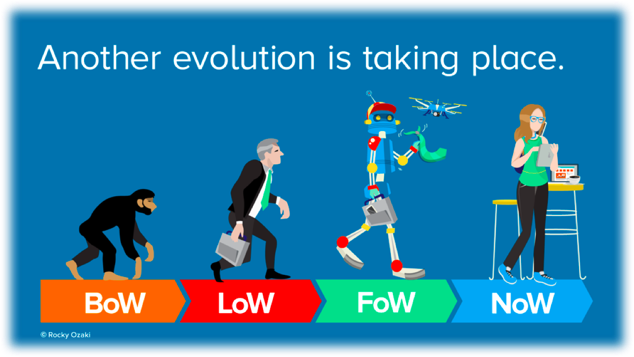 For seemingly a decade now, we've heard the term the Future of Work (FoW) and how the workplace is going to be dramatically different…in the future. In my opinion, it's time to change the vernacular and mindset to the Now of Work – or fittingly, the "NoW".
Why do I believe this?  Well, I'm no scientist, but I believe another evolution is taking place.  Here's my thinking: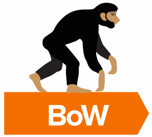 Back in the day, there lived a dude, let's call him Bartholomeus. He existed during the Beginning of Work (BoW). He was literally bowing down a lot, and as part of a family and tribe, shared responsibility for survival. These were difficult times but life was presumably straightforward – hunt, gather, eat, make fire, make shelter, make babies. Work and life were synonymous.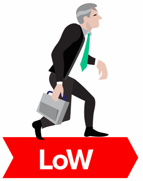 Fast forward a few hundred million years and you'll meet Larry. His generation made a profound impact after the second industrial revolution, but this period of wealth creation also created inequalities and dare I say…greed. Most people began living to work. The accumulation of wealth and status came at the expense of health, faith, family and friends. I call this the relative LoW point in the history of work. It's this Legacy of Work (LoW) that I believe is long past it's best before date. Say buh-bye to nine-to-five, lifetime jobs, strict hierarchy, suits, male dominated boardrooms, profit before planet, and the dreaded annual review.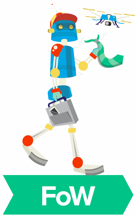 Next came Frankie. For the last seven years or so, there's been a mainstream push for companies to prepare for the Future of Work (FoW). Thought leaders and futurists started to predict that an exponentially changing world meant rapid automation, AI/machine learning, and loss of jobs to robots. What jobs do remain will look very different from, say, 2010. They've told us we better act more like a startup tech company and let the millennial "wants" prevail. Fear, from either robots or the millennial hipster, had arrived. The FoW to many people has become an unknown, and even scary or irresponsible proposition.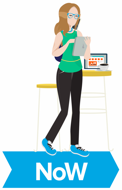 Luckily, Niobe is here to save the day. She represents the NoW of work. Yes, I believe the NoW is dramatically different than most workplaces today, but excitement should overshadow fear. Organizations that empower and enable the NoW are ones where innovation and agility are rooted in the company DNA. Where technology and a multi-generational workforce seamlessly collaborate and where work and life become one again. It's not some future state. Bartholomeus would be proud to know so many companies are living and thriving in the NoW today.
This is what the evolution looks like on one graphic.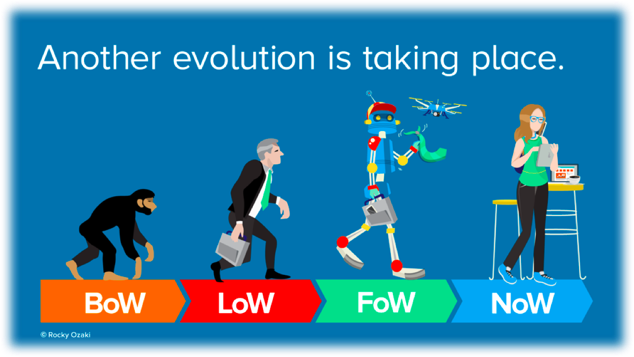 So why NoW?  I believe there are three forces that have solidified the fundamental shifts in the workplace: the connected generation (not just millennials); technology; and a sharing economy.
If millennials will make up over 50% of the workforce by 2020, what about the Centennials (Gen Z) and the Gen Xers (like me) who want a workplace far closer to that of the millennials, as opposed to what most baby boomers are accustomed to? By 2020, we could be looking at over 70% of the workforce wanting an employee experience that models what the millennials have co-created this past decade. Furthermore, the balance of power has shifted because jobs in the digital economy currently favor the skills that young people naturally have. In an exponentially changing world, this is a monumental shift.
It may seem obvious, but technology is changing everything. You either work for a tech company, or you work in a sector, company or profession that will be innovated, disrupted or made redundant by technology – likely faster than most think. So whether it's the adoption of tech in your operations, or your product or service being innovated, tech will influence your lives.
Finally, the sharing economy has created marketplaces we only dreamed of. Yes, Airbnb and Craigslist are amazing. Those are ways we share or redistribute products and services. What's most fascinating to me though, is the sharing of skills and knowledge. From democratizing learning, and open-sourcing IP, to the rapidly growing gig/freelance economy, the sharing economy has disrupted the way we live and work at a pace and impact few could have predicted.
When you combine those 'forces' as I call them, then it's hard to dispute that the NoW is here and every company, at some point soon, will have to ride the wave or risk losing and attracting top talent, in an increasingly competitive labor market.
In my next post, I'll share the top 10 aspects of a NoW company and provide insights into the culture you need to build to remain competitive. Let me say that no matter how rad these are, it's not about on-tap cold-brewed coffee, foosball tables or Waffle Wednesdays. But for one, it does include employee rewards and recognition.