Get engagement insights delivered to your inbox
Email address
Management strategies have been evolving, over the last two five years, to favor more bottom-up measures to drive greater workforce productivity. While many best-in-class companies are retaining and using labor investment resources in payroll and compensation management, many of their peripheral Human Capital Management (HCM) investments are moving away from pure labor cost quantification to favor goal-based platforms in rewards and recognition. Are you currently offering incentives, such as rewards and recognition, to your employees? How do you plan to incentivize your workforce?
With the inherent uniqueness of the individual in the corporate workforce, it is a virtual impossibility to find a one-size-fits-all approach to incentivizing employees. An unincentivized employee is likely a disengaged one, meaning aspects of your business such as innovation, productivity, and retention could suffer. Furthermore, a workforce should be recognized and rewarded for embodying clearly defined corporate values or meeting specific company goals in a highly visible way, otherwise, employees may lose sight of the relevance of their work to the overall company mission, leading to disengagement and eventually attrition.
Moving from disengaged to incentivized
In their recently published report, Tomorrow's Management Today: Incentivizing Workforce Innovation, The Aberdeen Group further stresses the importance of instituting and maintaining a well-defined, highly visible recognition and rewards program. Specifically, the report finds that employees at Best-In-Class companies were 31% more likely to stay with their employer if they felt that their work was relevant, and visibly impacted the organization. One of the easiest ways to ensure that recognition reinforces successes aligned with company values in a highly visible way is by investing in an HCM system that offers a robust, goal-based recognition and rewards component.
In-line with alignment
Employees shouldn't have to guess as to what the values and goals of their given organization are, nor should it be difficult to recognize and reward them for adhering to these values in pursuit of the stated goals. These shared goals and values should be apparent to everyone in the company, regardless of job title. Difficulty in effectively communicating key corporate objectives on an enterprise-wide level, isn't a new phenomenon; companies have long been challenged with providing granular clarity to lower-level employees. Merely, announcing these goals at a quarterly kick-off meeting or sending them out in yearly newsletter does little to align individual employees' around these goals.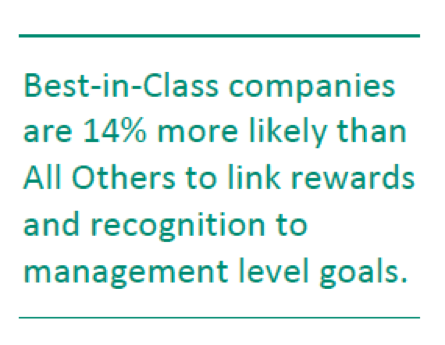 Bottom-up drivers of greater productivity
Where it was once difficult to measure concepts such as productivity, innovation, etc., the continuous evolution or HCM systems, specifically those emphasizing recognition and rewards, can offer a tangible measurement as to the employees demonstrating those qualities a company values most. In this report you will learn how best-in-class companies are beginning to focus their peripheral HCM spend on goal-based platforms in rewards and recognition and how they are favoring bottom-up measures to drive greater workforce productivity.
Now that you have a general understanding as to the major cultural shift emphasizing employee engagement and why it's important to incentivize the modern workforce, download Aberdeen's report on Incentivizing Workplace Innovation for more information, including recommendations regarding the selection of an HCM ecosystem.