Get engagement insights delivered to your inbox
Email address
Are you struggling to increase employee engagement? You're not alone. According to Gallup, only 15% of workers worldwide are engaged. Achievers, a leading employee recognition and engagement solution, aims to help companies effectively engage employees and increase their percentage scores. Achievers EMEA team was thrilled to have so many customers, prospects, and partners at their first-ever Achievers home-grown EMEA event in London. The objective for the inaugural Achievers Knowledge Exchange event was to facilitate the conversation surrounding employee engagement by bringing together HR industry experts and Achievers' customers to share their success stories behind using employee recognition to drive engagement and business results.
Achievers, first and foremost, wants to take the opportunity to thank our wonderful customer and host, Shop Direct, who generously extended the use of their amazing new workspace in central London. The stunning environment really captures Shop Direct's company values, ambition, purpose, and passion and provided the perfect backdrop for knowledge sharing, insight, and networking within the HR community.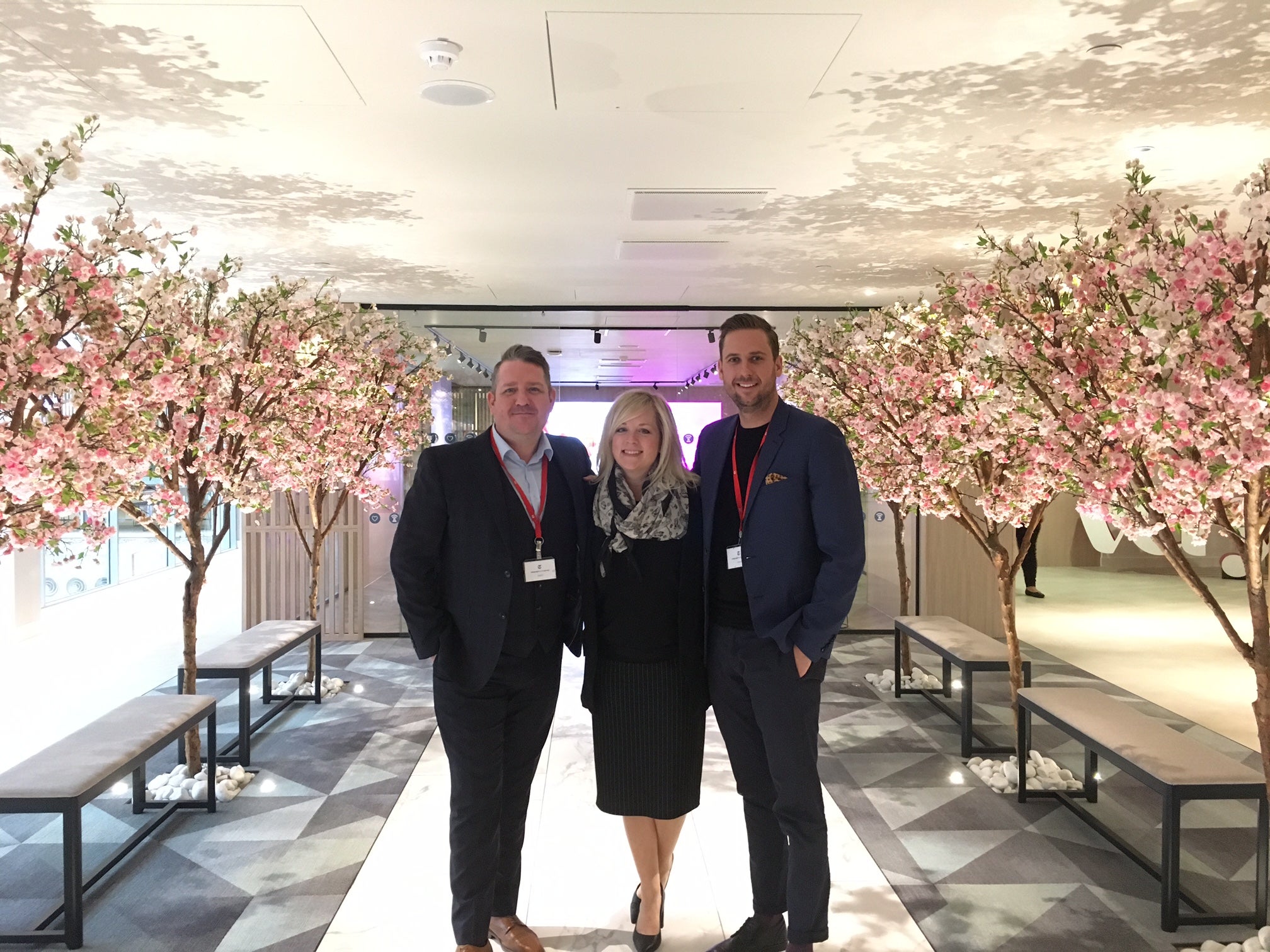 The Achievers EMEA Team
Greg Brown, SVP International of Blackhawk Network, kicked off Achievers Knowledge Exchange event with an inspiring welcome and eloquently communicated Achievers' commitment to the EMEA market, Achievers' wider global expansion, and its valued customers.
Brown was swiftly followed by Jasmine Gartner, renowned Employee Engagement Trainer, Speaker and Author of 'A Little Book of Big Ideas' – well worth the read if you fancy an alternative and practical look at employee engagement. Gartner led an interesting session on re-humanizing the workplace through employee engagement. Her presentation gave an insightful view of the unique, local, macro-economic factors impacting our workplaces both now and in the near future – Brexit being an exceptional example. She shared how we can't accurately predict the likely impact but we do know that attracting, recruiting, retaining, and engaging talent will be increasingly important for economical success.
Gartner was then followed by Denise Willett, Senior Director of Achievers EMEA, who kept attendees on track by taking on the role of event chair for the remainder of the day, introducing the next speaker, Colin Watt, Shop Direct's Director of Employee Relations, Engagement, and People Services. Colin's theme was 'It Takes a Village' and he shared how Shop Direct has leveraged employee recognition to transform its business.
Following a short stop for lunch, Kerrie Maitland, Managing Director of Positive Dimensions, HR Consultant, and Life Coach shared her learnings around both gaining executive buy-in and top tips for a successful global implementation. Having led the procurement, design, and implementation of two employee recognition programs (both with Achievers) the audience were keen to hear Kerrie's practical experience.
Next up were the perfect double act. Ramón Edilio Vargas, Director Global Employee Recognition at Scotiabank, and Vanessa Brangwyn, Achievers VP of Customer Success, took to the stage to share the Scotiabank success story on using recognition to drive engagement. Scotiabank is an organization that is leading the charge when it comes to global employee recognition and building compelling business results from successful employee programs.
Egan Cheung, Achievers VP of Product Development, rounded off the day and proudly shared more around the much-anticipated Achievers Listen release. Achievers Listen is a suite of tools that empowers employees to give continuous feedback on what's working well and what needs to be improved. It provides managers with recommended actions based on their team's unique values and culture. We know that every employee is different and to engage your entire workforce, we must avoid a "one size fits all" approach. Achievers Listen allows you to do just that.
Informal drinks and networking brought the successful day to a close and the Achievers EMEA team would like to thank every speaker, client, partner, and friend for their participation. A special shout-out to the Achievers team from North America for making the journey to be in London with everyone in person. This dynamic event was a valuable day for anyone interested in increasing employee engagement. Stay tuned for more information on Achievers' next event and make sure to check out photos from Achievers Knowledge Exchange here.
To learn more about how Shop Direct increased employee recognition and engagement with Achievers, download the Shop Direct case study.