Don't get me wrong; I learned a lot from HR Tech Europe in Amsterdam, and thoroughly enjoyed my experience. The sessions were great. Connecting with several analysts and the media was enlightening. The people I met in the Spire bar as we passed around red drink tickets and stories were plenty and inspiring. But, the biggest takeaway from my first HR Tech Europe experience didn't happen at the show; it happened at an old Heineken Brewery.
With two fellow Achievers (as you can see by my pictures below with amazing colleagues Loren and Katie; we had a great time), we took part in the Heineken Experience. On Saturday afternoon after HR Tech, we spent three hours learning about the quality of Heineken beer and had a few (ok, a lot of) samples. But what stood out most for me wasn't the product, or the brilliant Heineken marketing, or the fun experience and copious amounts of silly pictures—it was that Heineken's unwavering focus on their people continues to make this company great.
Throughout the experience, it was obvious that Heineken creates a culture where their people, and in turn their company, can thrive. It starts with a dedicated room that shows a video from their Executive Director of their Board, Charlene Lucille de Carvalho-Heineken, describing the values of Respect, Quality and Enjoyment. She comments on how every decision the company makes flourishes from these values, creating an aligned purpose.
There's a wall of stories describing how the leadership was insanely focused on putting their people first. In one story from 1923, Heineken became one of the first Dutch companies to establish a non-contributory pension fund for its employees. In 1929, a decade after an economic crisis, Heineken refused to fire or lay off employees, and instead provided early retirement options at age 58. In 1937, they developed The Heineken Foundation for Personnel to provide extra support for employees in need. Decades later, Heineken continues to focus on innovating great culture fit, earning them awards around the world for their focus on employees. Seriously, this company is amazing—just check out their latest hiring campaign.
The people I met embody everything we all want in our employees. They're focused, energized, passionate, and engaged. Listening to—and watching—them speak about the product was inspiring, and more akin to a parent talking about their newborn child. The woman providing us our first sample didn't call it "yellow beer," she called it "liquid gold." And all did it with a passion and confidence that they belonged to the Heineken family. You'd never guess they'd been doing the same thing, hour after hour, over and over, to more than 600,000 visitors so far in 2014.
Every interaction, from the gentleman selling us our tickets, to the lovely woman accepting them, to the person that checked out all the things I couldn't resist from the gift shop, and everyone in between, showed that the employees not only lived and believed in the brand, they're actively a part of the Heineken journey.
And I'm not just talking about people. Heineken's horses are behind the brew, too.
Yup! That's not a typo. Even the horses are recognized as part of the family with an entire section dedicated to the role horses have played in Heineken's growth for over 150 years. Horses were the prime method of distribution for the tasty-suds, from the streets of Amsterdam and beyond, up until the 1960's. They highlighted their importance and displayed their continued purpose. They displayed how they are part of the family. They even have a vacation day each year when all the horses are taken on a field trip to run free in the pastures. They even take care of them after they retire for the remainder of their lives. The horses are as part of the culture as their people.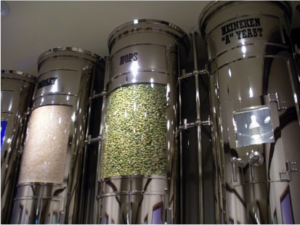 Throughout our tour there were many passionate references to the 'secret-sauce' in their beer—affectionately named the 'A-Yeast'—that keeps Heineken's taste consistent, in 180 countries worldwide. It reminded me of the importance of alignment, and why company culture is the secret sauce your competition can't duplicate. There are 20,000 beer brands worldwide that can make a beer with a similar look, feel, taste, and smell as Heineken.
And, so it happened that my biggest 'ah-ha' from HR Tech Europe came off-site of the event in an old brewery. I urge you as business and HR leaders to consider this: Anyone can build your product and compete in your market. Give a smart kid some money and a laptop and they can probably build a product better than yours—I saw more superior products in the Disrupt HR section of HR Tech than what's currently out in the market. That means what sets you apart isn't just in what you build, but who builds it, and why. One of my primary goals as a manager and a leader in two fast-growth companies has been simply this; don't let a single employee be a passenger. Hire to your company values and culture, and ensure that they have the chance to belong to something they can feel passionate about and engaged with. This includes being transparent, allowing employees to have a voice, having a purpose, mission and values that are clear and lived by senior management (and not just a page on your website), and recognizing and aligning employees with that vision.
Isn't this what HR Tech is all about? All the fancy tools and technologies are great, but so often they aren't people centric. Technology, tools, platforms—whatever you want to call them—are enablers. They need to enable people to align to the behaviors and values you want every employee to embody, and empower them to do their jobs more effectively and passionately.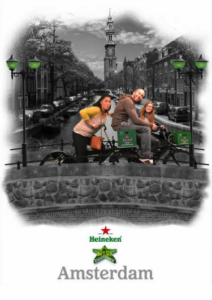 I learned a lot at the Heineken Experience but one other thing was new and cool to me. I was unaware that the three letter e's in the Heineken logo were turned slightly to make it look like they were smiling. A nice touch for their brand and culture. With the whole experience that day, my fellow Achievers and I had three faces smiling back.

Rob Catalano is a Vice-President at Achievers focusing on the company's global expansion. Marketer by trade, but focused on HR by passion – Rob has spent a decade growing Achievers in multiple roles focused on helping companies engage, align and recognize their employees to drive company purpose, values and phenomenal business performance. Follow him at @RobCatalano