Get engagement insights delivered to your inbox
Email address
Employees are the most valuable part of any organization and HR's responsibility to engage employees is crucial for organizational growth. The latest development in the ever-changing world of HR technology software consists of major disrupters within the recent years, from listening tools to in-depth analytics and much more.
According to an article published by the Society of Human Resource Management, it was claimed 'Investors, seeking the next big step in breakthrough technology, plunged more than $2 billion into HR tech systems and platforms in 2016.' This clearly states the massive breadth of advancements the HR world has gained accessed to. There has been a major change in the field of human resources – from simplified employee recognition to enhanced performance management platforms, HR is becoming high tech and data-driven. Manually keeping records on file is no longer efficient and this need to stay in a modern workplace calls for robust HR technology software to assist in taking care of HR goals targeted towards employee engagement and an effortless and unbeatable employee experience.
Below are major trends in the HR technology software world:
Growth of HR Software
Bersin by Deloitte provided an HR Software evolution report in 2016, which clearly showed the evolution and market growth of HR systems over the years.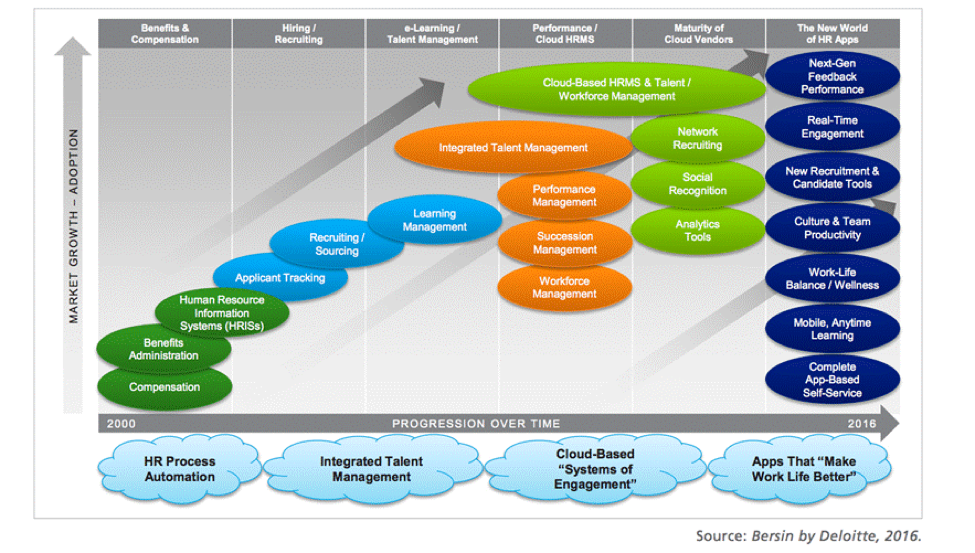 The report shows the progress from the year 2000. Switching from mainframe computers to personal computers was a major shift in the technological world. This led to the growth and development in the field of software and led to the creation of HR software. Client-server software delivered core HR features such as record capturing, hiring, payroll, and learning management. In 2000, talent competition grew more leading to the market for talent management software. The more advancements made in technology, the more opportunity HR had to develop platforms and programs surrounding other initiatives outside of employee record keeping, such as the ability to leverage employee engagement and employee recognition and rewards platforms. And over the years, now the entire hr technology software trend has moved and continues to move undoubtedly to cloud computing.
Switching to a Cloud-Based System
Legacy HR software has always focused on task completion and storing information. But now, companies want to replace their traditional HR software with cloud-based HR solutions. The major advantages of moving to cloud based HR software consists of anywhere access, super user-friendliness, mobile app support, easy upgrades, lesser maintenance and, most importantly, little or no requirements for IT infrastructure like hardware and trained staff. All you need is a computer and an internet connection and you are set to go!
Integration with Social Media and Learning Management
When it comes to trends, social media is leading the charge. It not only allows for network building but now social media can be an effective way to communicate at the workplace. Using simple, fun ways to communicate via emojis and hashtags can contribute to improving the employee experience. Even the ability to send social recognitions across an employee recognition platform can help boost employee engagement.
Also, Learning Management Systems (LMS) are now turning into an old tool. HR is adopting the latest web-based technology for taking interviews. Video-based learning is now a fundamental learning platform and already adopted by multiple companies. Visual element supporting features in HR software are now a must-have given the rise of VR and AI.
Predictive Analysis of Employees
A more integrated approach is being adopted when it comes to communication tools. People prefer to have an end-to-end technology-enabled platform for interpersonal communication. Tools that allow data to be collected and shared across departments and organizations are preferred because it allows quick access to real-time insight.
Pulse surveys, employee recognition and rewards, culture assessments or any other approach that merges all employee needs in one group is required by an HR department – think of it as a one-stop shop for HR. They now believe that building a predictive analysis model and harnessing employee data is more important and today many companies are spending large sums of budget to get this done.
Mobile is "The Platform"
With all this advancement in technology, we can see a whole new world coming up. If you look around, there are more mobile devices than PCs and laptops. People talk on a phone, walk with a phone and now even wake up and sleep with a phone. We prefer to access all information on our mobile.
This means that HR technology software also has to adapt accordingly. For example, mobile applications can be a huge benefit to recruiters as many high potential candidates use their mobile devices to find a job and can apply easily while on the go. HR mobile applications should be mobile-friendly and easy-to-use to stay current with how employees prefer to communicate and engage.
Breakthrough in HR Technologies
As we are now moving ahead of the computer revolution, core technologies are not enough, instead their refinements are given more importance. Simple and smart technologies have taken over the hyped and complex core technologies. User-friendliness and delivering targeted results efficiently is the main focus. Companies now ask if the HR software they are considering buying is easy to use and accessible to their employees. Overall, what matters most is smart data, value for money, and user-friendliness.
The development of HR technology software has a symbiotic relationship with both businesses and employees. It will enable organizations to grow HR initiatives more effectively – whether it is improving performance management, employee recognition, or employee engagement. Technology helps create transparency and enable employees and HR departments to stay updated on progress, engagement levels, and more.
So business owners, let's get the ball rolling and strive to create a transparent working environment with HR technology software.
To learn more about HR tech, in particular employee engagement and analytics, download the eBook Employee Engagement: Four Places to Start Measuring What Matters.