Create a culture that means business™
Email address
One busy Friday, I met with a West Coast client in the morning and then returned to my office to take a call from one of my East Coast clients in the afternoon. In the span of a few scant hours, both of my clients used the exact same phrase to describe their current performance management programs: "Our performance management program is fine."
All weekend that phrase was stuck in my brain like an annoying popcorn hull wedged between my teeth. I pondered what those words meant to each of them and what ugly truths might lurk beneath an innocuous word like "fine." I think that phrase spoke loudly to me because I'd heard it so many times before.
So, what do people mean when they tell me that their performance program is fine? Perhaps it's this: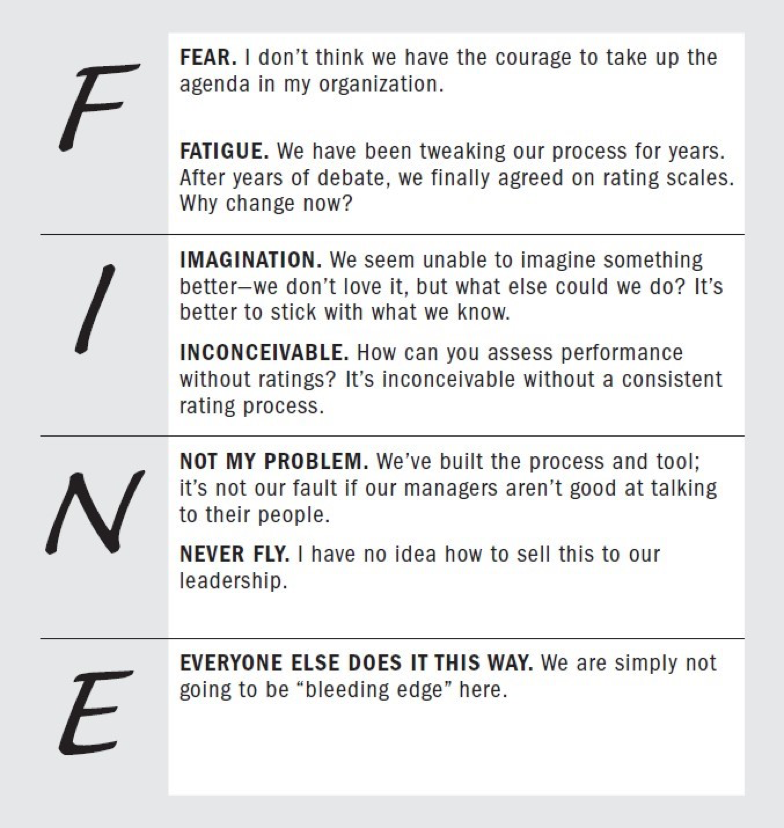 The low expectations expressed in the phrase "Our performance management is fine" are indicative of how much we've lost sight of our people. We seem perfectly happy to settle for "fine" on their behalf. But if our intentions for investing in performance management are to connect our teams to our strategies and goals, to recognize outstanding contributions, and to enhance the development of each individual's capabilities, how can we possibly continue to tolerate "fine"?
If you're reading this post, chances are you're someone who is already at least partially on board with the idea of rebooting your performance management. But no matter how comfortable you are with the idea of throwing everything out to start over (or not – after all, I'm advocating a custom approach that's tailored to the needs of your business, and yours might not need a thorough overhaul), one of the biggest stumbling blocks you're likely to encounter is doubt, skepticism, and downright antagonism from the old schoolers in your organization.
When I have a debate with someone who is defending the traditional performance management approach or with someone who is fearful of making changes to such a deeply rooted process (and trust me, I have many such debates), I always hear the same counterarguments. So much so, in fact, that it's worthwhile to prepare you to answer those same objections in your own organization. Do any of the phrases below sound familiar?
"My boss will never buy it."
It is always wise to pay special attention to "the boss." Engage, educate, and bring him or her with you. Of course, you can't expect this to happen overnight, especially if the boss in question leans more toward the PM traditionalist mind-set. Meet leaders where they are, build a plan, pace your progress, and maintain your resolve. Find out what they really care about, then connect your case to that theme. Be diplomatic and creative, and make sure they understand the real costs (both soft and hard costs) to your business of continuing with the old way — in terms they understand.
"We can't trust our managers."
Other than getting leaders on board, this is the second most common concern I hear from people, and it's a legitimate one. Since I'm advocating implementing a design that relies heavily on good, or preferably great, managers, this problem often stops teams in their tracks. It's not a simple issue, either. It's cluttered with questions of structure, role definition, and manager expectations. Many organizations suffer from being over-managed and under-led. This happens because we often promote managers for technical or functional expertise and not for their people or managerial skills, and because most organizations have historically underinvested in building great leaders.
If this resonates with you, I'd encourage you to use it as motivation to address the bigger problem (i.e., the fact that you don't trust your managers). Start by peeling your own onion to get at the root of your manager concern. Do you have too many managers or too many levels? Are they not the right people? Are their goals out of alignment with what's valued by your organization as a whole? I'm not saying that these issues can be fixed quickly or easily; in fact, this may create a completely new agenda item for you. But the fact that you don't trust the capability of your managers has much more far-reaching consequences than its impact on your performance management. It's something that you're going to need to address, no matter what.
"Legal will have a fit!"
We know we need a paper trail to document behavior and performance problems, and we think our annual review cycle does that for us. Too often, though, it doesn't. We're human: we tend to rate people too leniently, and to downplay or completely gloss over potentially awkward issues. This is one reason why the reviews of underperformers and good performers often read very much the same. The problem then is that if a legal issue does arise, or we simply want to take action in response to an employee's behavior or performance, we're caught in a bind between what we really know about that employee's history and a series of reviews that don't appear all that bad. This can lead to a messy situation. It's better to avoid this potential pitfall by documenting issues as they arise. Then the issues will be fresh and more accurately recorded—giving you better legal footing and a more actionable position overall.
"Why change? Everyone else does it this way!"
While the majority of organizations still use a traditional system, the tide is definitely turning. Today we're seeing respected and forward-thinking organizations trying to drive organizational performance, develop people, and reward equitably in new and innovative ways. These pioneers have received significant positive exposure for their innovative programs. And that attention certainly doesn't hurt their employer brand (a measure of how positively prospective employees view you compared with your competitors). You have a decision to make here: Are you ready to be out front, or would you prefer to wait until your competition has passed you by before you take action?
Maybe you have to wait because you feel you have bigger issues to tackle. Or maybe you're simply going to procrastinate until you're finally dragged kicking and screaming into the new world of performance management at some point in the future. But like it or not, the world is changing, and our old accepted practices will eventually crumble under the weight of the research and the evolving expectations of our employees.
Lead or follow—the choice is yours.
If you want to learn more about performance management, join me at Achievers Customer Experience (ACE) 2017 September 12-13 where I will be speaking on How Performance Management Is Killing Performance – And What to Do About It. Check.