Get engagement insights delivered to your inbox
Email address
Do you currently use structured interviews? Your interviews are probably more unstructured than they should be. Too many recruiters and hiring managers ask interview questions that reflect their biases, increasing the likelihood that they don't fairly compare candidates.  Even worse, many recruiters just "wing it" when conducting interviews because they claim that's the best way to, "get a real feel for the candidate." However, when discussing why Google turned to structured interviews, Google's VP of People Operations Laszlo Bock made clear his thoughts on "winging it," stating, "Typical, unstructured job interviews were pretty bad at predicting how someone would perform once hired."
You may not be so unstructured as to totally wing it in an interview, but think of all the small talk you probably make over the course of interviewing someone. An unstructured interview might lead you into a 10-minute conversation about a shared interest with the candidate, like fishing or the movie you both saw recently, instead of working toward determining the viability of the candidate in fulfilling the duties of the vacant position.
Why structured interviews are valuable
According to internationally known talent management thought leader Dr. John Sullivan, "The selection and hiring of people is fraught with bias and subjectivity… Recruiters need to do everything they can to make objective and unbiased decisions – even though perfect objectivity is never going to be possible."
Biases prevent employers from hiring people who actually fit the job. Allowing your biases to influence your hiring decision can result in hiring a bunch of people you just, well, like. Structured interviews help keep you from basing your hiring decision on how you "feel" about a candidate, or just because you have something in common with a candidate. It doesn't matter that you both like fishing or both cried when you saw the movie "Lion." A structured interview lets you rely on empirical data that you collect from each interview and helps reduce unhelpful biases.
Dr. Sullivan points out that "structured interviews reduce bias by focusing on relevant, job-specific factors and past performance rather than on personal characteristics. Questions focusing on what you expect for accomplishments and on evidence of past performance will reduce bias." One common example is what psychologists call confirmation bias: we judge the candidate in the first five minutes (or maybe 30 seconds), and spend the rest of the interview selectively hearing only what confirms our preconceived judgement.
A structured interview format is one in which all candidates (no cheating–this means ALL) receive the same questions in the same order, and are evaluated using the same metrics.
Think of it as a science, not an art. You need clear criteria with which you'll assess each candidate's responses. Start by identifying or reviewing the competencies of the particular job. What is actually required to succeed in this role? Base your metrics entirely on this question. Be wary of traditional metrics like GPA and school attended.
Dr. Sullivan encourages recruiters to "make sure that your questions are not aimed at bringing out a bias of some sort.  Keep them job-specific and relevant to the work you want the candidate to do."
Use a rubric that helps interviewers assess each response that candidates give. In addition to avoiding the unstructured whims and common biases, the rubric helps avoid the impact of your team's varying moods. Even if you're having a bad day, you can rely on the structured interview to function the same way every time. See? A science.
An additional benefit of using structured interviews is that they are also significantly more defensible in legal situations, largely because they provide more detailed, objective hiring criteria.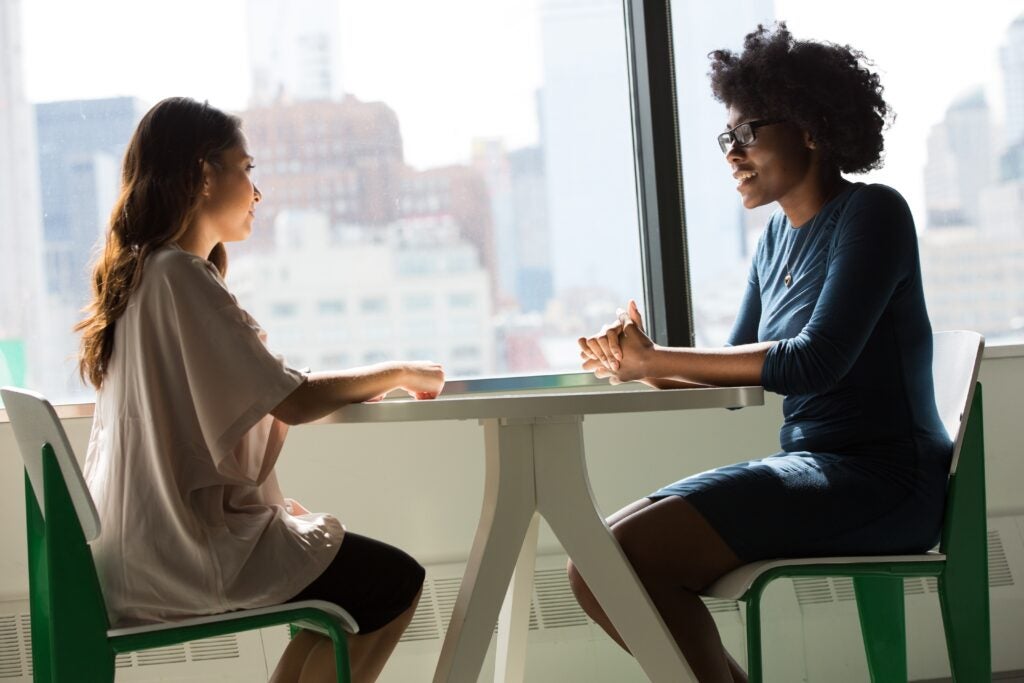 An interview doesn't have to be dry or disengaging
Your hiring team may resist a structured interview, claiming they are boring or overly rigid. These tips can help to get the team on board.
Most importantly, the candidate should have a positive experience during a structured interview. In fact, you will decrease the likelihood that candidates walk away feeling judged unfairly. In the opposite scenario, candidates who don't seem to relate to their interviewers on a personal level (because they don't like fishing, for example) will feel disengaged and less impressed with your organization.
If you want the hiring team's buy-in, you need to involve them from the beginning. Prepare them for the change by explaining the reasoning and science behind structured interviews. Invite them to help create the interview questions. Provide them with the job criteria and prompt them with, "What would be a good question that would allow a candidate to demonstrate that they can perform this function?"
Remind them that the point of the exercise is not in asking cool questions, but in hearing how the candidate answers. It might seem fun to ask someone what they did over the weekend or which famous actor they most resemble, but remind your team that this is not the best way to find a candidate with the right skills for the job.
The hard part is making sure the hiring team sticks to the questions. You might have a rogue interviewer who resists the questions and continues to go off on tangents with the candidate. Show this person the hiring rubric you've created with the team, and demonstrate how those unstructured questions cannot be evaluated within the rubric, and thus bring subjectivity into the process.
Here are a couple good interview questions from Google's Laszlo Bock:
Tell me about a time your behavior had a positive impact on your team. (Follow-ups: What was your primary goal and why? How did your teammates respond? Moving forward, what's your plan?)
Tell me about a time you had difficulty working with someone (can be a coworker, classmate, client). What made this person difficult to work with for you?
While there is no one way of ensuring your interview process is completely free of bias, determining a universal set of criteria, based on job functions, can help minimize the impact of preconceived notions. As you think of new ways to improve your hiring process, consider leveraging structured interviews.
Are you curious about the current state of employee engagement? If so, check out results from an Achievers employee engagement survey.