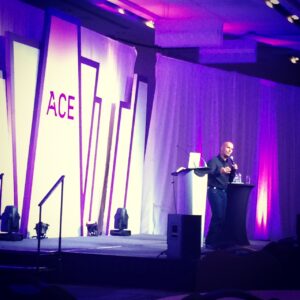 It's not easy getting a room full of over 400 people to jump to their feet, but that's exactly what happened this year at the Achievers Customer Experience – #AACE14. Between standing up to stretch, popping up to shake hands with a new friend, and giving a few standing ovations, we found ourselves enthusiastically standing around—or, more appropriately, standing up.
One recurring theme from day two that got people up and out of their seats was communication. Here are three great insights that resonated with the crowd, and got everyone on their feet and engaged in the conversation.
Look Each Other In The Eye
With all the amazing new technology we have, it's easy to forget the importance of a human connection in the workplace. Although many of us sit within an arm's length of each other, how often do we stand up and look one another in the eye?
Chris Boyce, CEO of Virgin Pulse had us do just that. Before discussing the importance of workplace wellness, Chris reminded us of the importance of connecting with one another—and how easily it could be done. We all stood up, found someone we hadn't met yet, made eye contact, and introduced ourselves.
What was amazing was that this little exercise should have only taken moments, yet it lingered on until someone had to remind us we were there for a presentation. Chris made his point. With just one simple gesture—making eye contact—we can meaningfully connect with our fellow colleagues, every single day.
Communication Is More Than Just An Email
As the day progressed, we were treated to a special airing of HR Happy Hour, a live weekly radio show, hosted by Steve Boese, Co-Chair of the HR Technology Conference, and Trish McFarlane, an HR executive, writer, and speaker.
This energetic session kicked off with cocktails in hand and a challenge on the table: How to reskill your team for the modern workplace—a challenge everyone in the room could appreciate.
There were lots of great ideas passed around, but what really struck me, is what one of the audience members, a manager of employee experience, said about communication: "A lot of times, communication means an email…but it's so much more than that."
How many times have you sent an email when simply walking across the office, or making a quick phone call, would have worked just as well? Technology is a fantastic tool; as long as we're using it to enhance our daily communications with one another—not replace them.
Reach People Where They Are
Nearly every speaker and attendee I met at ACE recognized that if they were going to be successful at boosting employee engagement, they had to find the best ways to connect with their greatest assets—their employees.
Trish McFarlane said it best during HR Happy Hour; "It's about reaching people where they are—not where you are."
HR professionals and executives need to understand where their employees are, and not just geographically. Understanding how employees communicate and operate in their personal lives makes enhancing their work lives much easier. Whether that means implementing wellness programs, encouraging days off for volunteering, or highlighting social recognition within the organization, connecting with employees in a way they're already comfortable with will help transform average companies into great places to work.
It's not easy to change the way the world works, but after two full days of inspiration, innovation, and collaboration, there's no doubt that HR professionals at #AACE14 are standing up to the challenge.