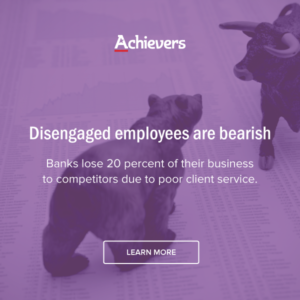 The financial services and banking industries don't fare well when it comes to employee engagement. When compared to all other industries, finance and banking suffer from high customer-switching rates, low employee engagement levels, high turnover, and absenteeism. Ouch.
For banks, 20 percent of lost business to competitors was due to poor service, ranking higher than internet service providers (18 percent), and even wireless phone companies (17 percent).

Your clients' reach and access to knowledge is wider than ever before. Now that your prospective and current clients can instantly get access to information about your company and your competitors, they can make quick decisions about which companies they want to do business with. This makes customer-switching extremely problematic for businesses—which is typically the outcome after a poor customer service experience. Recognize your employees for providing outstanding service to clients in order to combat customer-switching and reinforce positive behaviors you want repeated.
Total costs related to absenteeism amount to $84 billion annually. A decrease of only 10 percent in employee absence could produce a one to two percent savings in payroll costs.
When employees are disengaged, being at work is the last place where they want to spend their time. Unfortunately for banking and financial services companies, this means that absenteeism has a significant impact on productivity and payroll costs. It's not an easy problem to tackle, but aligning your employees to business objectives is one way you can infuse more meaning into employees' work, making them feel like the valued contributors that they are.
The number one reason employees quit after financial considerations is lack of recognition, and 65 percent of employees don't feel recognized at work.
The numbers speak for themselves: organizations with high engagement rates are 78 percent more profitable than organizations with low levels of engagement. This means that engagement really does have a strong impact on business results. Financial services and banking executives need to get on board with an employee recognition strategy, and can start by explaining the business benefits and potential growth the organization could achieve with an engaged workforce.
At 17.2 percent, banking and finance employees mark the industry with the highest turnover rates.
When banking employees leave their business, they take years of experience, skills, and potentially even clients with them. This is a real problem for the industry. Reducing turnover rates starts with understanding the problem, and making an effective strategy to combat turnover. Consider deploying an employee engagement survey to understand how and if employees feel connected to the business. From there, develop an engagement strategy that specifically aligns with the outcomes of the survey.
Download our latest whitepaper, and learn more about the cost of disengagement to the financial services and banking industry.