Get engagement insights delivered to your inbox
Email address
In my last post, I wrote about how the Future of Work is NoW (Now of Work) and it's time to move away from this notion of some future state of work. If you're taking your time preparing for this future, you are already left behind.
I hypothesized that the connected generation, technology and the sharing economy have inspired forward thinking companies to fundamentally change the way they attract, engage and retain their top talent.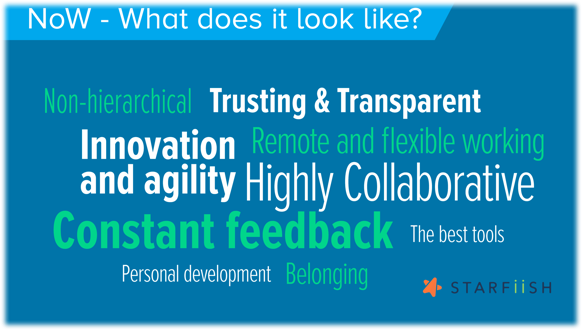 What I didn't share were the characteristics of the NoW of work based on my experiences and research and data from the employee experience survey STARFiiSH. While the below list is not exhaustive, they are the top 10 must-haves in my honest opinion:
#10 – Non-Hierarchical
This doesn't mean you don't have 'levels', but that everyone in the organization should be empowered to challenge the status quo and present innovative ideas. It means people over process (bureaucracy) and treating everyone equally regardless of title.
#9 – Trusting and Transparent
Trust is a complex term with no definitive definition in the context of organizational culture. If you haven't yet, read the 5 Dysfunctions of a Team by Patrick Lencioni for the meaning that I subscribe to. I combine transparency because when you achieve that described level of trust you can vastly elevate the sharing of information throughout the organization. It's commonly believed that outside of the balance sheet, organizations should share all aspects of the state of the company – from the P&L to the most damning customer feedback.
#8 – Remote and Flexible Working
If this isn't offered to some degree in your business, you're already on the endangered list.
#7 – Highly Collaborative
Cross-functional projects and teams elevate creativity and shared goals. Team members, with any amount of experience or tenure, have ideas to tap into, and they're itching to share!
#6 – Constant Feedback
How often? I say weekly and I've seen and heard much success with tools such as 15Five to maintain a rhythm. I'm also a believer that nothing beats in person so schedule regular walks and coffee chats. For smaller team, how about lunch!  There is something very powerful with breaking bread together.
#5 – The Best Tools
It's important to supply the right tools for success. If a team member prefers a MacBook, give that person a MacBook. If they are a Surface fan, then oblige. Tools include hardware, software, desk design, and even the whiteboard markers.
#4 – Personal Development
It's no longer just about developing your team members to be better at their job, or preparing them for their next work challenge. Work life balance is dead; it's just life. If you believe this, then invest in getting to know your team members as people first (with understanding of time off and personal development budgets) and help them achieve their short-term personal life goals.
#3 – Belonging
Diversity can often just be a vanity metric. Inclusion, when done right can be much more effective. What we are finding though, is that language matters and in the context of D&I, we are hearing that people want to feel like they belong – whether they are a visual minority, person with disabilities, a woman facing a glass ceiling, and yes, even from the majority group.
#2 – Innovation
In an exponentially changing world every company must develop organizational cultures where creativity and failure is encouraged. For what it's worth, I believe that every company is a technological company and that you can expect to be innovated, disrupted or be made redundant by technology, likely faster than you probably believe.
#1 – Agility
Overused buzzword? No chance. When I think about the NoW of work, being agile in your operations and organizational mindset always rises near the top of my list. Traditional companies and industries, and unionized environments arguably have the most difficult time adopting this mindset.
Caution!
Every characteristic of the NoW of work can lead you quickly down a slippery slope if you commit too much, or too fast. Balancing this with the pressures of future proofing your business and subscribing to the NoW of work can be both complicated and frustrating.
On September 12-13, 2017, I'll be in New Orleans speaking and then leading a workshop at the annual ACE Conference put on by Achievers. I'll be sharing some of my experiences on how to work through this complex dilemma. Hope to see you there!