HRPA's 2014 Annual Conference and Trade Show is just around the corner, and will help examine how HR can actively innovate and help differentiate their organizations to create change and success. On January 22 – 24, HR professionals will gather at the Metro Toronto Convention Centre to participate in over 100+ sessions and keynotes from Dan Pontefract, Susan Cain and Geoff Colvin.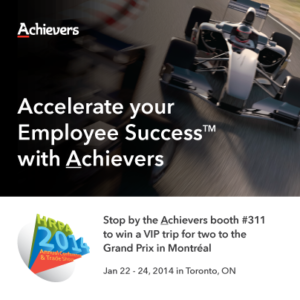 Here are four tips to make the most out of your conference experience:
1. Wear comfortable shoes
With over 200 exhibitors located in the exhibit hall you will have lots of ground to cover to see what new products vendors are showcasing this year. Wear a pair of shoes that you know you can stand comfortably in for hours at a time. Your feet will thank you!
2. Stay connected with social media
Follow @HRPA & @HRPATO on Twitter to stay up to date with the latest news during the conference. Connect with other attendees before the conference by using the hashtag #HRPA2014 and share pictures of yourself on the exhibit floor or of your favorite swag from this year's conference.
3. Plan your HRPA sessions
There are 100+ sessions during the conference covering topics from global recruitment and social media in the workplace to fostering company culture. Pick your top choices before you leave for the conference – see a full listing HERE. Planning ahead ensures you won't miss a session and maximize each day.
4. Don't forget to recharge during the conference
After the motivational keynotes, educational breakout sessions, and multiple laps around the exhibit floor, make sure you take a moment to recharge and refresh over the three days. Visit the Achievers lounge on the 700 level of the convention center (one floor up from the exhibit hall) to grab a quick snack, charge your phone, or catch up with fellow attendees on the plush lounge couches.
The Achievers team wishes you safe travels to HRPA 2014. Stop by the Achievers booth #311 for more insight on the changing workforce and what you can do about it – and your chance to win a VIP trip for two to attend the Grand Prix in Montréal.
What are you doing to take advantage of HRPA 2014? Share in the comments section below!