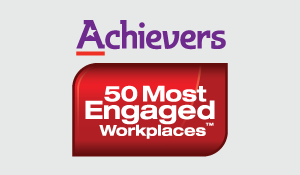 Today, people work differently. It's become increasingly challenging for companies to inspire the modern workforce. Employers must prioritize employee engagement to maintain a competitive edge in the war for talent. Your competitors can take your customers and recruit your top talent, but the one thing they cannot steal is your culture. A strong corporate culture will positively impact your employee engagement, as long as employees and managers live your culture's values on a daily basis.
Companies that achieve high engagement should be celebrated, so we'd like to highlight Shopify's achievement as one of the Achievers 50 Most Engaged Workplaces™ for 2013.
Shopify, a passionate company that helps people all over the world sell online, will be showcased at tomorrow's gala specifically for its achievement in culture. The 2013 Achievers 50 Most Engaged Workplaces winners are selected based on the Eight Elements of Employee Engagement, including leadership, communication, culture, rewards and recognition, professional and personal growth, accountability and performance, vision and values, and corporate social responsibility.
So what separates Shopify from the pack in regards to a strong culture that contributes to employee engagement? For starters, Shopify recognizes the importance of company culture. And the company certainly walks the talk, as it has a Chief Culture Officer (CCO) sitting at the executive level.
Shopify's employees are given autonomy to do their own projects and are trusted to make sound decisions and manage their own workload. Shopify's Hackdays are a great example of how work gets accomplished in a productive and collaborative way. Every four months, the company sets aside two days where employees select any project of their choice to pursue, as long as it is company related. Many Hackday projects have become core features of the Shopify product, others have become internal tools to increase productivity or communication, and facilitate company culture. These types of initiatives help align employees to business objectives and inspire them to be fully involved in their work.
What's the result of the inimitable culture at Shopify? The annual voluntary departure rate in 2012 was .42 percent. That's less than half of a percentage. To provide some context, the national median for the US was up to seven percent during the same year.
Shopify has accomplished the unthinkable—for them, it's rare for employees to jump to greener pastures. This is one of many reasons that Shopify is one of the Achievers 50 Most Engaged Workplaces in 2013. We'd like to congratulate Shopify along with all of the other winners.
Do you think company culture is an essential component to employee engagement? We'd love to hear your thoughts in the comments section. Don't forget to apply for the 2014 awards and celebrate your engaged workplace.