The Achievers Workforce Institute HR Preparedness Report shows that 77% of HR leaders are concerned about a coming recession and they are prioritizing productivity, strategic hiring, and increasing retention to prepare.
Recognition can be a powerful tool for all three of these areas, driving increased productivity, creating employee ambassadors, and improving job commitment.
Jump straight to the one pager on recognition and recession
Frequent recognition drives positive business outcomes
Recognition frequency can be low hanging fruit for HR leaders looking for something meaningful to measure and impact that will have a knock-on effect on a wide range of company objectives.
The latest Engagement and Retention Report from Achievers Workforce Institute (AWI) shows that recognition frequency correlates strongly with feelings of engagement and belonging.
Both engagement and belonging correlate with job commitment and productivity.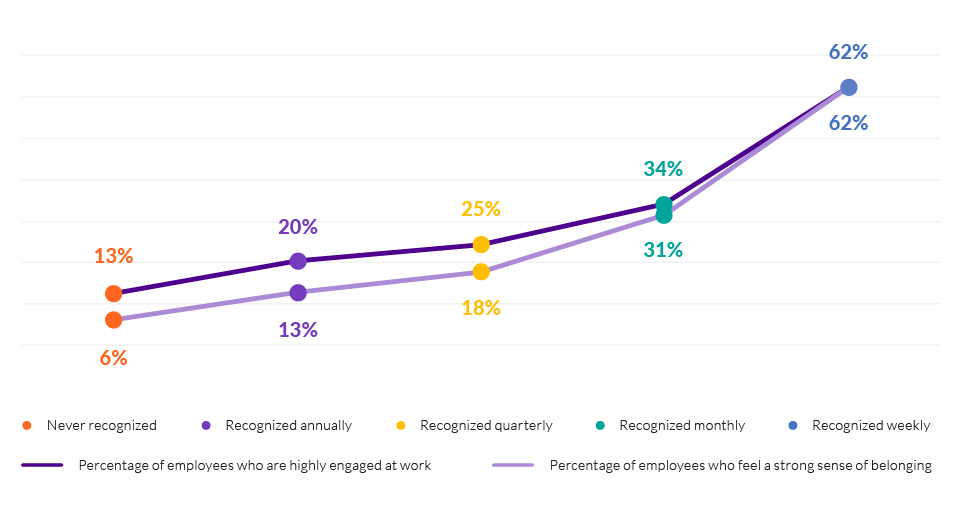 Source: 2023 Engagement and Retention Report
What is employee recognition?
Employee recognition is the practice of acknowledging and appreciating worker actions that align with company values. While many companies focus on outcomes for employee recognition, it is equally important to recognize effort to encourage employees throughout the course of a project or time period.
How often should you recognize employees?
Organizations should aim for a minimum of one recognition per employee per month to drive engagement, productivity, and job commitment. This is based on AWI research surveying more than 50,000 employees since 2019.
Is there such a thing as too much employee recognition?
So far there is no research indicating that employees can get too much meaningful recognition. With most employees getting recognition quarterly or less frequently, including 15% who say they are never recognized, "too much" recognition should not be a top concern for business and people leaders.
Why should I focus on employee recognition during a recession?
During a recession, employers must focus on improving moral and engagement for existing employees, especially those who may be working on lean teams. Recognition is a cost-effective tool for driving employee engagement and satisfaction, correlating positively with everything from productivity to resilience.
Social, or non-monetary, recognition has been shown to have an equal impact on engagement as monetary recognition and in some academic research the effect has been shown to last longer.
Recognition frequency is measurable with the right tools, giving HR leaders something tangible to see how effective different programs are and to compare to engagement and turnover rates. For example, Achievers customer Coburn's found that employees recognized three or more times a month were significantly less likely to turnover, compared to those recognized less often.
Productivity, which is often difficult to measure, is also impacted by recognition, with those recognized at least monthly being more likely than average to report being their most productive selves at work.
Download the one pager to find out how recognition can support HR's top priorities, and what you can do to increase recognition frequency.