Amplify your employee experience with perks!
Cultivate a workplace culture that sets your organisation apart. Through a dynamic employee rewards journey, Achievers perks! recognition and benefits solution increases employee motivation, rewards positive behaviours, and enhances the employee experience.
Request a demo
Offer your employees a wide range of special offers and discounts from top brands like:
Your benefits need a reboot
Do you offer employee benefits that provide no benefit to your workforce?
In many organisations, employee benefits and rewards programs are underutilised because they do not integrate into existing systems, offer unwanted rewards, and deliver a lackluster fulfillment experience.
Make the most out of every dollar you spend on your employee benefits with perks!—the program that rewards employees with what they want, when they want it, wherever they are.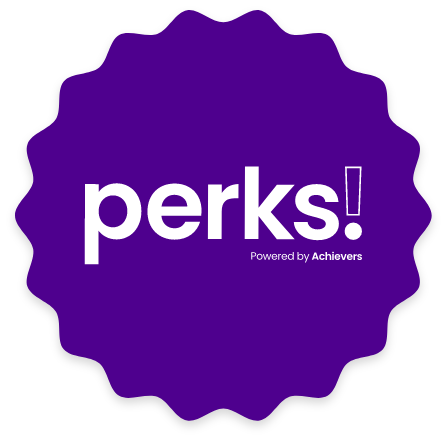 The perks! advantage
perks! curates special offers and discounts from entertainment, travel, shopping, and lifestyle brands through technology that people love to use.
The perks! program is powered by Achievers, the leader in employee voice and real-time recognition solutions that help organisations build culture and accelerate performance through recognition and reward.
When part of the Achievers solution, perks! creates a holistic employee engagement strategy and delivers a superior end-to-end employee experience—driving member adoption, continued program engagement, and measurable business results.
Alongside Achievers, perks! is changing the way the world works—and rewards their employees.
The Achievers perks! solution
2K+
Online
shopping products
perks! gives your employees access to:
Offers anywhere, at any time through a digital platform
Exclusive offers at all major retail outlets and online stores nationwide
Best in-market rates on movie tickets with instant digital delivery
The most competitive rate for nationwide attractions and theme parks
Benefits to your organisation include:
A single solution that integrates your Achievers recognition and rewards, employee voice, and benefits technology
Seamless employee experience
Increased Employee Engagement
Data and reporting of employee usage and preferences
Organisations that use Achievers are:
3x more likely to see increased employee retention
2.5x more likely to see increased employee engagement
2.25x more likely to give frequent recognition
79% more likely to give their employer brand a high rating
Ready to explore perks!?
Complete the form below to request a demo.