Get engagement insights delivered to your inbox
Email address
What is an employee rewards and recognition program?
An employee rewards and recognition program is a system through which the achievements and actions of employees are recognized within a company. Recognition is often given on a platform that is shared with internal employees, with points redeemable for rewards accompanying each recognition. The purpose of an employee recognition program is to boost employee morale, improve performance and retain talent.
Employee recognition has a significant impact on key business metrics like engagement, productivity, and retention. Creating an impactful employee recognition and reward program is within reach for every organization, but it requires the right knowledge, planning, and resources.
What is the purpose of an employee rewards and recognition program?
The purpose of an employee rewards and recognition program is to acknowledge, celebrate, and amplify employee achievements and accomplishments among their colleagues and peers. Employees can be recognized through social recognitions or by being awarded points that ladder back to desired behaviors. The points awarded to employees may be redeemed by the employee for rewards like gift cards, merchandise, or experiences.
Examples of employee rewards and recognition programs includes things like:
Celebrating employee work anniversaries
Hosting employee appreciation events
Events in which employees and teams are recognized for achievements
Years of service awards
Weekly or month employee spotlights
Unlock the ultimate guide to employee recognition
Understanding Employee Rewards and Recognition
Recognition and rewards might sound similar, but there are important differences between them. Recognition encompasses both social and monetary recognition, while rewards typically only refer to monetary recognition. Let's look at these two types of recognition in more detail.
Social recognition
Social recognition can take the form of a quick shout-out during a company meeting, a personalized message of thanks from your manager, or even a digital badge that commends specific qualities or actions. It's a great way to validate and encourage behaviors that align with your company culture. When social recognition is a frequent occurrence, team members feel proud, more involved, and eager to recognize their fellow employees in turn.
When you are putting together your social recognition plan, make sure that it includes opportunities for peer-to-peer recognition. Impactful, effective recognition doesn't always have to come from the top. Recognition is most powerful when it comes from both peers and leaders. Make sure that your employee recognition platform allows any employee to easily show recognition whenever and wherever they prefer. An inclusive program that supports peer-to-peer recognition empowers every team member to be a recognition champion.
Discover the benefits of recognition in the Achievers 2023 Engagement and Retention Report
Monetary recognition
Monetary recognition includes salary increases, bonuses, travel, and gift cards. Rewards like these make employees feel appreciated for the work they do each day. Personalizing these rewards to suit the recipient boosts the impact even further, but engaging in a search for the perfect gift each time your organization wants to tangibly recognize an employee is impractical. And it doesn't allow all team members to actively participate in the rewards experience.
To square this circle, adopt an employee recognition solution that supports points-based rewards. Employers provide a number of points to each employee every month or quarter. Employees then give these points to colleagues, together with social recognition, and team members can redeem them for rewards they choose from a wide-ranging catalog. Personal rewards employees actually want versus pre-selected, one-size-fits-all gifts make a points-based reward system an easy choice.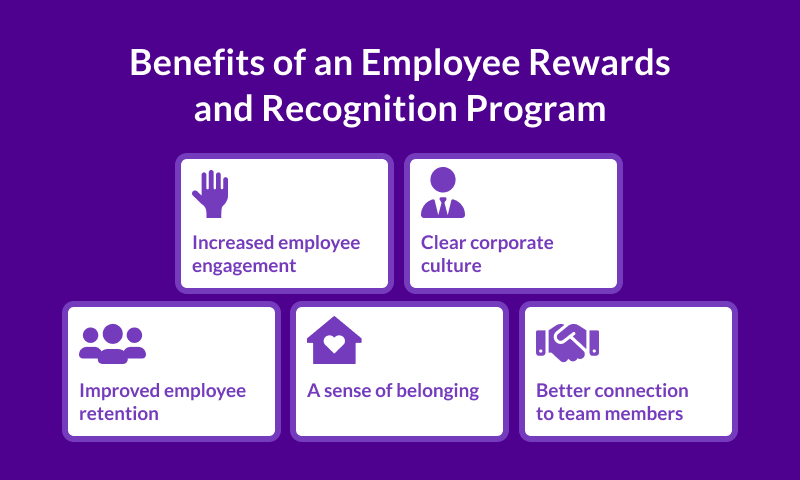 What are the benefits of implementing an employee rewards and recognition program?
The benefits of an employee rewards and recognition program include:
Increased employee engagement
We know that employee recognition is a top driver of engagement, and that when you use a points-based rewards system to tie recognition to desired behaviors, you improve engagement as well as;
Clear corporate culture
What gets recognized gets repeated, so by creating a culture of recognition, you perpetuate the positive cycle of employee engagement.
Improved employee retention
When employees are more engaged, they are more content at work. For employers, this translates to less employee turnover, which has significant time and cost savings.
A sense of belonging
Feeling as though you belong in your workplace is incredibly valuable. Rewarding and recognizing employees shows them that they're part of the organization's culture and helps them feel welcomed, known, included, supported, and connected.
Better connection to team members
When team members express their genuine appreciation for one another, they grow closer. Points-based rewards and recognition programs make it easy for managers and employees to send and share recognitions.
Reward and Recognition ROI Statistics
Employee recognition is the number one driver of engagement, and a recognition and reward program is the surest route to boosting employee engagement and retention. Here are a few powerful statistics on the importance of recognition and rewards from the 2023 Engagement and Retention Report:
Feeling meaningfully recognized is the #1 answer employees give when asked what would help them feel more connected at work
Frequent recognition (at least monthly) correlates strongly and positively with employee engagement, productivity, and job commitment
73% of employees say feeling meaningfully recognized would inspire them to be more productive at work
Employees with access to any recognition platform are 28% more likely than average to receive recognition at least monthly
Employees with access to the Achievers recognition platform are 69% more likely than average to receive recognition at least monthly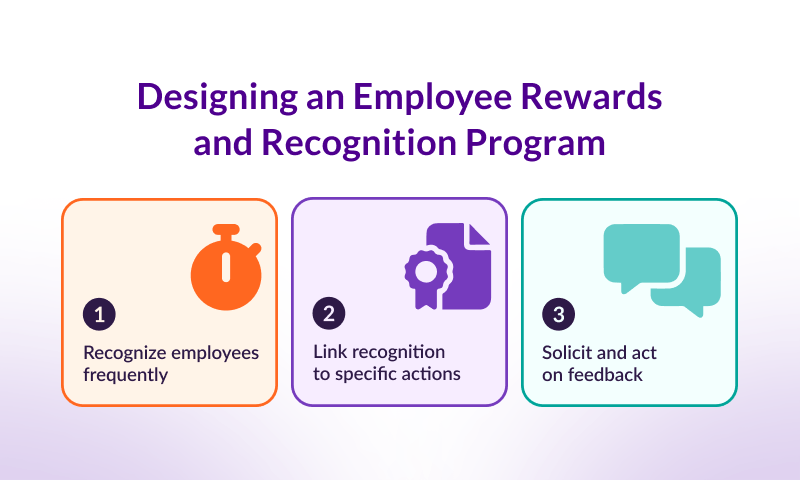 Designing an employee rewards and recognition program
To start realizing the benefits of a well-designed recognition and rewards program at your organization, follow these four best practices.
1. Recognize employees frequently
In order to get the most out of your reward and recognition program, you need to make sure employees receive recognition on a regular basis. Frequent recognition builds a strong culture of appreciation, has a stronger, longer-lasting impact on morale, and increases the use of your recognition program. Every time organizations double the number of recognitions in their company, they can expect an overall engagement increase of 5%. Implement an easy-to-use employee recognition platform to help get all team members involved with providing recognition on a daily basis.
2. Link recognition to specific actions
What gets recognized gets repeated, so clearly linking recognition to positive behavior will encourage employees to double-down on actions you want to see more of. Ninety-two percent of employees agree that when they are recognized for a specific action, they are more likely to repeat that action. This means that employers can use recognition programs to highlight behaviors they want to emphasize and encourage in line with their company's mission.
3. Solicit and act on feedback
Developing a successful recognition and rewards program is not a one-time project. It's essential to continuously collect feedback on your employee recognition program, preferably using tools like pulse surveys and always-on, intelligent feedback channels like AI-powered HR chatbots. Employee feedback shows how employees honestly feel about your recognition and reward program and reveals new approaches to make your program more effective.
To get the most out of the feedback you collect, you must measure and act on it. Guided by an employee engagement platform, managers can address issues collaboratively with their teams. Feedback from smaller groups can be used to test and tweak new employee recognition initiatives, ensuring sustainable success when the time comes for larger rollouts and resulting in a flexible recognition and rewards program that meets your employees' needs.
How to build an employee recognition program
Ramp up your employee rewards and recognition program today
The best reward and recognition programs are built on the foundation of a modern, mobile-friendly employee recognition platform. Achievers Recognize makes it easy to build a better culture through recognition and rewards. It encourages active employee participation through combining fun social recognition with personalized points-based rewards. Recognize also integrates with Achievers Listen, an employee engagement platform that enables employee voice and makes taking action on feedback simple. And the Achievers Reward Marketplace lets your team members redeem points for rewards from 2,500 brands in 150 countries.
Start building a winning recognition and reward program with a free demo of Achievers.