Your company core values define the employee experience. To inspire your workforce to live by them, you must lay out clear expectations and recognize the people (and their behaviors) who epitomize your values.
This article will break down what lies behind the best core company values, help you identify the values that define your business, and inspire you with 11 outstanding examples of companies that live their values each day.
Help Your Organization Align To It's Core Values Today


The meaning of company core values
Core company values are the central, underlying philosophies that guide a business and its employees, and influence interactions with partners, clients, and shareholders. Aligning core values with company culture helps create a positive working environment.
The top factor of employee satisfaction is the culture and values of an organization. Over 75 percent of employees consider it "very important" to work for a company with defined core values. This translates to a better bottom line: companies with highly aligned cultures see 30 percent higher growth and 17 percent higher profit growth.
A recent Harvard Business Review article by Dr. Natalie Baumgartner, Chief Workforce Scientist at Achievers, suggests that 26 percent of employees would forego a fancy title and 65 percent would accept lower pay rather than deal with a poor workplace environment.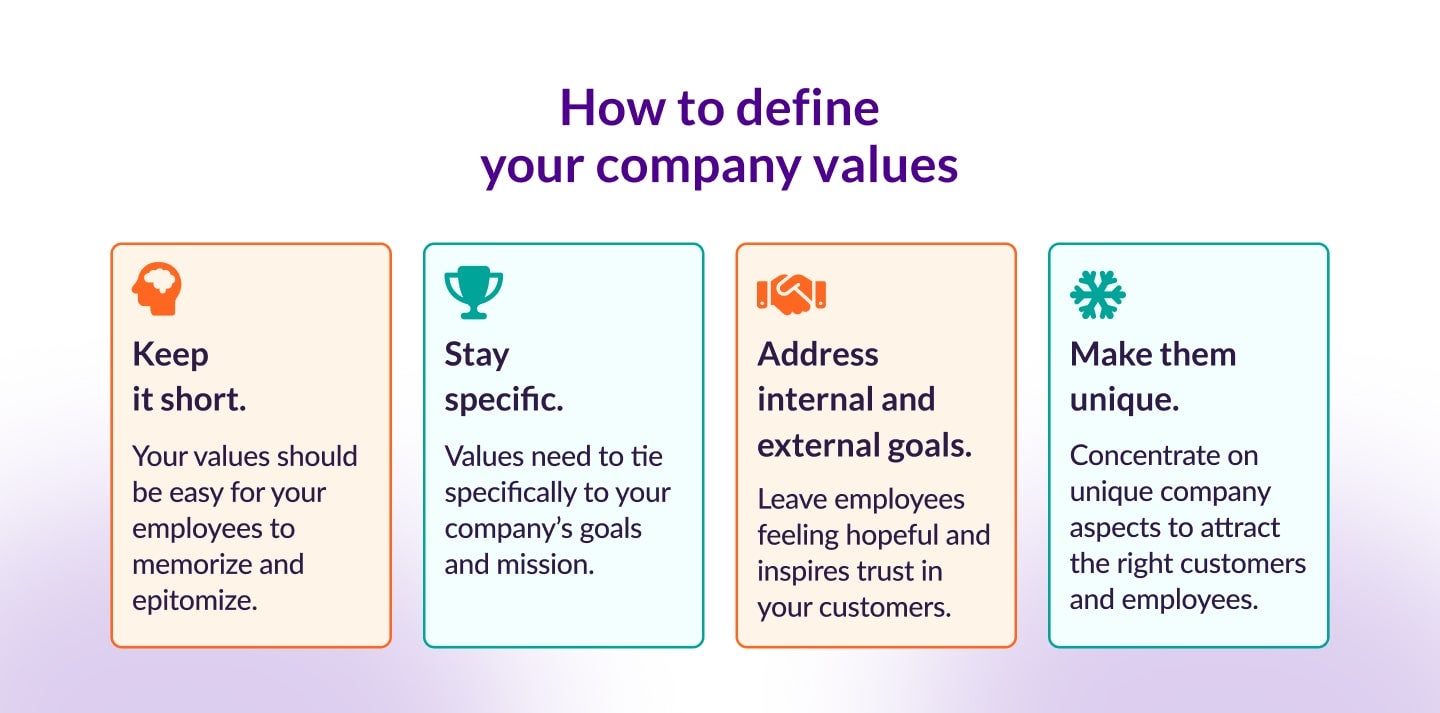 How to define and live by your company core values
Defining your company values requires a close examination of your organization's culture and vision. Think deeply about how to use your values to illustrate what your company hopes to achieve and represent. Consider these guidelines when establishing your company values:
Keep it short. Your values should be easy for your employees to memorize and epitomize. Rather than writing an essay, think about the real meaning of your values. Distill them down to words that the average person understands and can adhere to.
Stay specific. Writing in vague corporate jargon is confusing and dilutes the meaning behind your words. Values need to tie specifically to your company's goals and mission. They should be relevant to the products or services your company offers as well as your company culture.
Address internal and external goals. A company's decisions impact the employee experience, but they also impact the outside world. Failing to consider the ways your company affects external groups is disingenuous. When you address the manner in which your company wants to interact with the outside world, it leaves employees feeling hopeful and inspires trust in your customers.
Make them unique. Using the same values as a different company 一 or worse, a competitor 一 leaves your business looking ordinary. Think of what sets your organization apart from others and concentrate on bringing those aspects to light in your company values to attract the right customers and employees.
With values established, one of the best ways to build a culture that aligns with your company values is by recognizing employees who embody them. 92 percent of employees agree that when they're recognized for a specific action, they're more likely to repeat it in the future. Explicitly tying recognition to company values helps sync company and employee principles even further.
Encouraging everyone in your organization to practice frequent recognition strengthens company values and performance. Make recognition easy with an employee recognition platform that also allows employees to tie recognitions to specific company values. For example, this recognition from Achievers' CEO and President, Jeff Cates, that exemplifies his organization's core value of "One Team".
Jeff was able to send this recognition across a company-wide newsfeed in moments using Aspire, Achievers' recognition program. See how a recognition platform can help your company start truly living its values.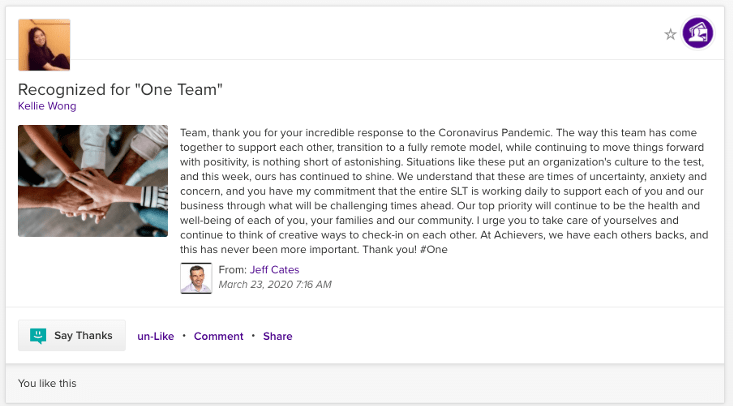 11 companies with exceptional core values
To keep your employees eager to do great work, you need to create a clear, meaningful set of core values everyone can get behind. And there's no better way to start than by looking at examples of companies that have done it right. The companies below have values that capture the essence of their business and culture, and putting their values into practice 一 often with the aid of a recognition platform 一 has led each organization to sustained success.
1. 3M
3M is a global company with over 88,000 employees that produces innovative technologies to change the world for the better. The values they choose to live by reveal the deep appreciation they have for their investors, the environment, and their employees. Their guiding values include:
Act with uncompromising honesty and integrity in everything we do.
Satisfy our customers with innovative technology and superior quality, value and service.
Provide our investors an attractive return through sustainable, global growth.
Respect our social and physical environment around the world.
Value and develop our employees' diverse talents, initiative and leadership.
Earn the admiration of all those associated with 3M worldwide.
One way that 3M ensures these values stay constant as they grow is by investing in educational opportunities for potential future 3M employees. 3M supports programs like WorldSkills, DonorsChoose.org, Frontline Sales Initiative, Young Scientist Challenge, and 3M Visiting Wizards. Each initiative hopes to inspire the next generation of scientists, innovators and inventors.
While their values are exemplary, 3M had several challenges bringing their workforce together: a traveling sales team, a mix of unionized and non-unionized workers, and a wide range of employee ages, from young professionals to employees nearing retirement. In 2009, 3M deployed an all-in-one recognition solution that performed with flying colors, increasing engagement by seven percent with 99 percent of employees actively using the platform. It was especially popular with 3M's offline employees who were out providing customers with superior service.
2. Bayhealth
Bayhealth is the largest not-for-profit healthcare system in central and southern Delaware. Its mission is to bring the nation's best healthcare to the communities it serves, and this is reflected in their core values:
Compassion: We are kind and caring to everyone we encounter.
Accountability: Each of us is responsible for our words, our actions, and our results.
Respect: We value everyone and treat people with dignity and professionalism.
Integrity: We build trust through responsible actions and honest relationships.
Teamwork: We achieve more when we collaborate and all work together.
To drive their community-focused mission, Bayhealth understood that recognizing and engaging their workforce would be paramount in effecting positive change for both their employees and patients. They implemented a new recognition program, Driven, powered by a comprehensive employee recognition platform. Driven resulted in a 98 percent activation rate, 84 percent of employees engaging with it on a monthly basis — including 97 percent of leaders. Employees also started receiving almost 4 recognitions per month on average while sending out almost 3.
Bayhealth also implemented an employee feedback solution so their leaders could receive timely information about day-today issues that require immediate attention — a critical concern in a patient caring workforce.
3. Coborn's
Coborn's features over 120 grocery, convenience, and liquor locations in the Midwest. Coborn's values reflect their commitment to making a positive impact on their customers and communities:
Guest Focus
Executional Excellence
Innovation
Community Giving
Dignity and Respect
During the COVID-19 pandemic, Coborn's increased location managers' budgets and urged them to ramp up recognition frequency to front-line employees. The company also added a new recognition category, Safety & Wellbeing, to reiterate the importance of safety across their 120 locations. In keeping with their core value of Dignity and Respect, Coborn's also implemented an end-to-end employee engagement solution that demonstrated they wanted to give each team member a voice and increased employee engagement.
4. Cox Automotive
Cox Automotive is a subsidiary of Cox Enterprises, and the parent company of Autotrader, Kelley Blue Book, and Xtime. The company splits their values into a few categories: The Why, The Hows, and The Whats. Each section of their values highlights Cox Automotive's commitment to their employees, customers, and surrounding communities:
The Why:
Empower People Today to Build a Better Future for the Next Generation
The Hows:
Do the right thing. Always.
Lead by example
Bring out the best in everyone
Make a little music
Do it all in the spirit of Cox
The Whats:
Identify & invest in growth & diversification
Delight our customers
Honor our commitments
Develop & incorporate new technology
Improve financial security
To address their why, hows, and whats, Cox Automotive has built a unique workforce that reflects the communities they serve. During the pandemic, their workforce doubled down on their recognition of all the hard work the technology, people solutions, and communications teams were doing, and shouting out their employees on the front lines.
To rallying the company, Cox Automotive implemented Spark, a recognition program to enhance camaraderie across the organization. They also ran a special campaign which included a fun roster of activities to drive awareness and participation, 25,522 "Thank You" recognition cards – more than tripled their daily average.
Enhance Your Company Core Values Now


5. Discover
Discover's values are short, sweet, and effective. The values, often displayed in the form of an acrostic poem, demonstrate Discover's focus on integrity, invention, and partnership:
Doing the right thing
Innovation
Simplicity
Collaboration
Openness
Volunteerism
Enthusiasm
Respect
Discover truly lives by these values, and considers giving back to be "a key component to bettering [their] community and running a successful business." As such, Discover partners with organizations like Boys and Girls Club, Junior Achievement, Big Brothers Big Sisters, and Chicago Cares. Discover even has an employee giving program where they match employee donations to charities of their choice.
To continue driving positive behaviors and demonstrating respect for their employees, Discover implemented a recognition solution that let employees reward each other for living their values. Whether they are explaining how to improve a customer's credit score or outlining the way a customer's student loan is structured, recognition motivates Discover employees to help their customers make informed financial decisions.
6. Google
Everyone in the world has heard of Google. Such an influential business needs killer corporate values, and Google does not disappoint. They refer to their values as ten things we know to be true, which were originally written when Google was a few years old:
Focus on the user and all else will follow.
It's best to do one thing really, really well.
Fast is better than slow.
Democracy on the web works.
You don't need to be at your desk to need an answer.
You can make money without doing evil.
There's always more information out there.
The need for information crosses all borders.
You can be serious without a suit.
Great just isn't good enough.
Google has a corresponding paragraph fully explaining each of these tenets in detail. It is evident that Google takes their values extremely seriously, and holds their employees to the highest standards. Google also mentions that they revisit their values to ensure they are still in keeping with the company's goals and mission, and they've done so multiple times since they were first written when Google was a few years old.
7. Kellogg's
Kellogg's is another quintessential American brand. Kellogg's six core values represent the type of employees they want to attract, the businesses they want to work with, and the types of products that will fit consumers' needs:
Integrity
Accountability
Passion
Humility
Simplicity
Results
Kellogg's strong commitment to its values have won the company significant accolades. In terms of diversity, Kellogg's was one of the 50 best companies for diversity according to Black Enterprise, and it was included in the Diversity, Inc. lists for the top 50 companies for veterans and LGBT employees in 2018. Not only that, the United States Environmental Protection Agency deemed Kellogg a 2030 Food Loss & Waste Champion, and Ethisphere called Kellogg's one of the World's Most Ethical Companies.
With thousands of people employed across the globe, it was imperative to align employees around Kellogg's vision. Melissa Howell, Chief Human Resources Officer at Kellogg's, describes how they did so:
"How do we align our employees around the vision at Kellogg's? One of the biggest things around that is reinforcing behaviors and reinforcing success. And the best way to do that is a global [recognition] platform [. . .] because everyone can see how people are modeling the behaviors that help drive our success at Kellogg's."
Within four months of launching their recognition program with Achievers, Kellogg's has seen over 80,000 employee recognitions sent. The platform made it easy for everyone to recognize colleagues who are modeling behavior that leads to success and reinforces Kellogg's values.
8. Meijer
Meijer is a large grocery store chain based in the Midwest that has provided nutritious, fresh food since 1934. As such, their values emphasize the importance of making customers happy, selling the freshest products, and keeping up with the fast pace of the grocery industry while maintaining a superior level of safety:
Customers
Freshness
Family
Competition
Safety & Health
To ensure that their company values are actually put into practice, Meijer implemented a platform which allowed their employees to recognize each other's efforts on a global scale and tie each recognition to one of their core principles. It even implemented several specific recognition programs tied to efforts that reflected these values, like leading safety initiatives or coming up with fresh, innovative ideas. By focusing on their values, Meijer tangibly strengthened the sense of connection and belonging in each of its stores, and it also increased customer satisfaction in stores with higher recognition rates.
9. Olympus
Olympus Australia Pty Ltd is a subsidiary of the Olympus Corporation and is responsible for marketing and distributing Olympus' line of innovative products to medical, consumer, and scientific businesses in Australia and New Zealand. Olympus' goal is to make people's lives healthier, safer, and more fulfilling by practicing and living their core values:
Unity: We are strongest when we work together as a team.
Integrity: We are trustworthy and act in good faith.
Empathy: We care about all of our stakeholders.
Long-Term View: We look beyond the present to deliver future value.
Agility: We challenge the status quo with open minds, focus, and speed.
In accordance with their values, Olympus has committed $100,000 annually to their five long-term charity partners. It has also engaged in internal environmental initiatives, including implementing an integrated Quality and Environmental Management System. Olympus also adopted a recognition platform that let it more closely align its corporate values with its recognition and rewards program. Olympus realized incredible benefits from its new platform, seeing a 102 percent increase in total recognition activity and an increase in its favorable engagement score from 34 percent to 63 percent.
Improve Company Culture And Align To Your Organizations Values


10. Power Design
Power Design Inc. is a family-run business that has become one of America's leading electrical contractors and a one-stop shop for all things in the multi-family market. It has been recognized as one of the country's top workplaces by Inc. and Fortune magazines. Their values reflect their dedication to delivering quality service, building lasting relationships, and holding themselves accountable:
Integrity: We make responsible decisions based on professional standards.
Innovation: We encourage thoughtful, creative and inspirational ideas.
Teamwork: We build better when we work together.
Growth: We develop professionally through expanding our capabilities with innovative training.
Accountability: We empower each other to take ownership of our actions.
Power Design puts these values into action through a series of charitable programs called Project V5, which donates cash from recycled wire across the nation to charities chosen by employees. And in an effort to herald their employees' achievements, they implemented a unified, agile recognition solution that allowed for nationwide accessibility, mobile recognition, and visibility across the company. With its new recognition program, rave (Recognizing Achievements Values and Excellence), Power Design is well on its way to 100 percent activation and participation, with 89 percent of its employees actively using rave and 70 percent logging in at least once a month.
11. Salesforce
Salesforce is a customer relationship management tool that combines data from multiple departments to create a shared view of every single one of their clients' customers. Salesforce's values are unique because they are heavily focused on the customer and employee experience. They refer to their employee and customer base as their "Ohana," or family, and they are very passionate about delivering on their values, which include:
Trust
Customer Success
Innovation
Equality
Salesforce walks the walk by instilling trust in their employees right off the bat. They support the growth of their employees with things like "Cultivating Your Career" workbooks, and Salesforce also has a Chief Equality Officer and an Office of Equality to foster equality internally and externally, with the chief purpose of driving innovation.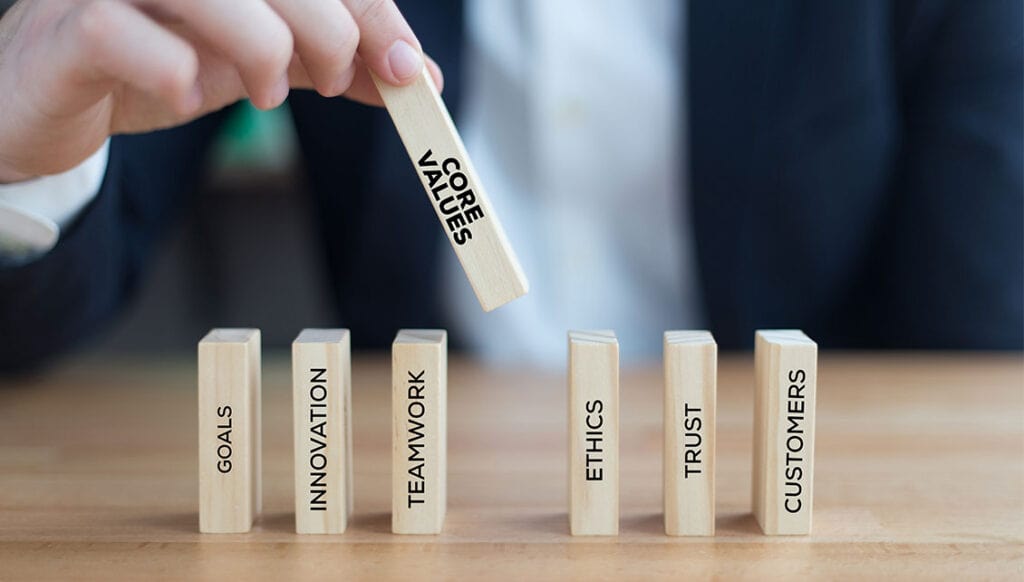 What are core values in a company?
As stated earlier, core values in a company are the principles and practices that guide the decisions and actions of both the organization and the people working within it. These include:
Integrity: Making ethical, transparent, and well-intentioned decisions.
Innovation: Pushing past the status quo with new and progressive ideas
Accountability: Owning the decisions made and their outcomes.
Honesty: Being upfront and forthcoming with information and insights.
Respect: Treating all employees, clients/customers, and stakeholders well.
Passion: Expressing excitement for the work being done and shared objectives.
Trust: Nuturing positive relationships at all levels of the organization.
Teamwork: Working cohesively and collaboratively.
Creativity: Finding new ways of thinking, learning, and doing.
Make company values a part of daily life
According to the Achievers Engagement and Retention Report, 45 percent of employees say that their leadership is "minimally" or "not at all" committed to improving company culture. Leaders need to focus on building a culture that aligns with company values to motivate their employees.
Recognizing employees who embody your company values connects your workforce and unites them in support of your culture. Achievers data shows that every time organizations double the number of recognitions in their organization, their overall engagement is expected to go up five percentage points, which is linked to a three point increase in revenue growth the following year. And companies with culture alignment are six times more profitable.
By regularly acknowledging employees in a public way, companies can honor ongoing achievements and Achievers Recognize simplifies the end-to-end recognition process, allowing users to tie every recognition to a company value.
Many of the companies listed above use Achievers to drive their business forward, and Achievers recognizes them for their exceptional employee engagement. Join the elite group of organizations whose company values instill trust in their employees, customers, shareholders, and partners by requesting a demo of Achievers Recognize today.