Get engagement insights delivered to your inbox
Email address
Executives, managers, and HR professionals alike dedicate time and energy to improving company culture. But how many of them can really say what company culture is? Developing a company culture that attracts, engages, and retains employees takes more than starting a few scattershot initiatives and crossing your fingers. It requires educating everyone at your company on why culture matters, identifying the elements that contribute to an amazing company culture, and taking proven steps to strengthen those elements.
This guide addresses all of these points and more, so you can start driving positive cultural change at your company today.
What is company culture?
Company culture is everything that defines your organization, from its set of company values and vision statement to leadership's behavior and expectations. An exceptional company culture makes all employees feel like they belong and inspires them to perform excellent work on a daily basis. Smart organizations focus on the cultural elements that inspire and matter to team members, like employee recognition and an inclusive work environment, and reap the rewards. But enterprises that let company culture slide to the back burner — or worse, actively contribute to a toxic workplace culture — will experience mounting dysfunction and employee discontent.
What are the benefits of a great company culture?
Company culture impacts almost every aspect of your organization. Without a great culture to offer, your company might not be able to attract the talent it needs to stay competitive: over half of the respondents to a Glassdoor survey said that culture matters more than salary. That's why it's so important to make a healthy company culture part of your employer brand. A toxic culture is a leading predictor of employee attrition as well, so building a great company culture is one of the best ways to boost employee retention and combat the Great Resignation.
The benefits of a great company culture are experienced by both the employee and the organization, and include:
Greater overall employee engagement
Increased productivity
Higher job satisfaction
Improved employees' health and wellness
Reduced absenteeism and attrition
Higher levels of innovation
Increased customer satisfaction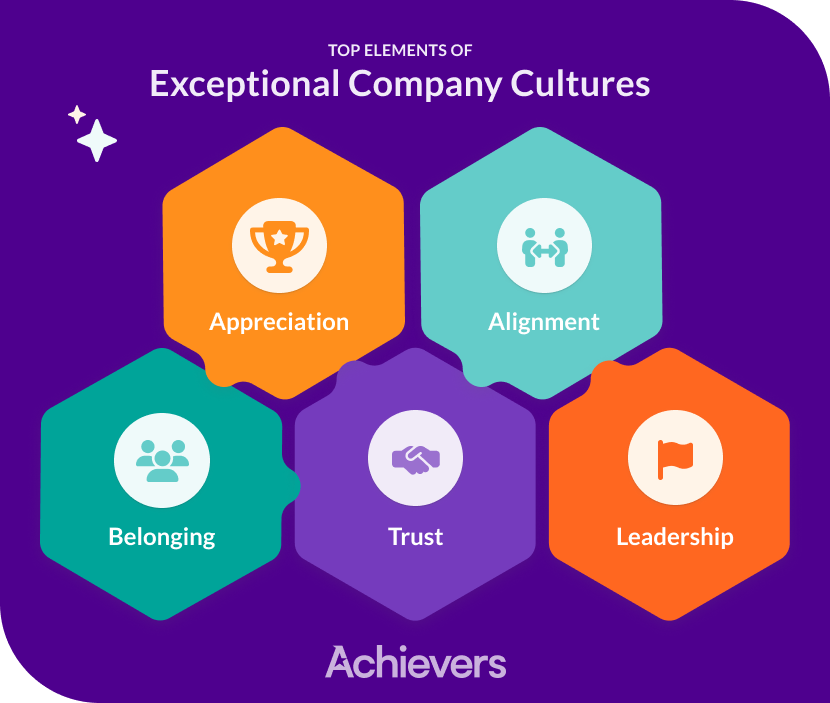 14 elements of exceptional company cultures
Even the cultures of the most successful enterprises vary based on each company's unique organizational DNA. But there are some common threads that run through great company cultures, and these key cultural elements are worth prioritizing at your company.
1. Appreciation
Every employee wants to know that they and their contributions to your company are appreciated. If an employee only receives appreciation when they benefit your company financially, it feels like the employee-employer relationship is purely transactional. A real culture of recognition goes beyond the occasional word of thanks when a team member works overtime or secures a new deal to encourage and sustain recognition at all levels on a daily basis.
2. Belonging
A sense of belonging is perhaps the most multifaceted aspect of company culture — and one of the most important. It involves welcoming team members from the moment they first interact with your organization and ensuring that managers take the time to know each and every one of their employees, from their career aspirations to their values. When employees have a genuine sense of connection to your enterprise, you know you've established a company culture that's truly special.
3. Trust
Of course, employees aren't likely to feel like they belong at an organization if they don't trust management or the enterprise as a whole. Team members must have the confidence needed to express their opinions freely and innovate. If they fear they won't be accepted if they express themselves genuinely, they're unlikely to respond positively to any of your organization's cultural initiatives. Practicing transparency regarding key company decisions, soliciting and acting on feedback, and training managers on how to establish an environment of psychological safety are just a few ways to build trust at your company.
4. Alignment
If your employees don't share your company's goals and cultural aspirations, then either your organizational vision or workforce must change. Cultural alignment keeps the foundations of your company's success intact by continually motivating employees and reinforcing the cultural traits your organization values most.
5. Resilience
Your company culture needs to weather the bad times along with the good — failing to adapt to a new normal can render a previously excellent culture quickly obsolete, and this failure can cause your team members to seek employment with a more resilient enterprise. Take advantage of new trends like remote and hybrid work arrangements while remaining focused on the basics, like employee wellness and work-life balance, to ensure your company culture is strong enough to handle whatever tomorrow brings.
6. Leadership
People leaders at your organization, from the C-suite on down, have the largest influence on company culture. They determine whether employees love working at your organization, can't wait to leave it, or are simply ambivalent. Team members will emulate managers and other leaders, regardless of whether they're micromanagers who keep everyone on edge or coaches who display understanding and patience on a daily basis. HR professionals should train all leaders on the importance of displaying empathy and supporting rather than undermining their teams — and if employees consistently provide negative feedback regarding certain leaders, don't be afraid to show them the door.
7. Teamwork
While leaders set the tone at your organization, a purely top-down approach to improving company culture is doomed to failure. Instead, look to build culture organically by fostering teamwork and healthy work relationships. Team building activities can help — even if your workforce is partially or fully remote — but they're only part of the equation. Help establish the connections your company culture relies on by enabling peer-to-peer recognition, providing opportunities for collaboration within and across teams, and doubling down on creating an inclusive atmosphere where employees can be themselves.
8. Core values
An organization's core values should be actionable and observable and should define what the business stands for. They are reflected in internal processes, projects both large and small, are present in internal and external communications, and shape how employees are expected to behave. Your organization should be more than words on a wall or in an employee handbook — they should be a part of your every day, from day one at the organization.
9. Shared sense of purpose
Being united for a common goal makes a workplace productive and improves employee engagement. The purpose in what your employees are doing, or working towards, is there 'why'. It's the reason they come to work and do great work. When individuals have a strong sense of purpose, they see how their everyday activities support the greater goals of the organization, which in turn motivates them to be more productive.
10. Efficient leadership
Strong leadership is a must, but it can be easy for an organization to get it wrong. To engage employees, leaders should be supportive, motivational, good communicators, and should demonstrate the company core values. While some managers are natural leaders, most will benefit from manager training to equip them with the skill set and tools they need to engage their teams and drive business results.
11. Effective communication
We all communicate in our own unique ways but there are some basics when it comes to getting the message out — and in the right way to reinforce the desired behaviors and motivate positive change. No employee should be made to feel as though they can't share their feedback, and yet, some workplaces haven't created a safe space for individuals to speak their mind.
Effective communication can be informal (conversations had in passing) or formal (1:1 meetings, annual reviews, etc.). It's important to offer employees a variety of ways to provide their feedback — and for managers to give theirs — to allow for open, authentic communication between the groups.
12. Accountability
When you give your employees autonomy in their work, you also provide them with the opportunity to demonstrate being accountable. It also demonstrates trust and shows them that you see them as human beings, able to manage their time and be productive without being micromanaged.
13. Recognition and rewards
Don't wait for special events to recognize your people. Recognition should be timely, given in-the-moment, for achievements big and small, to have the greatest impact. Consider tying your recognition program and practices to company values and desired behaviors. We know that what gets recognized gets repeated, so showing appreciation and rewarding based on your company values will help drive a stronger company culture.
Recognition also helps to drive retention and attract top talent. Employees want a workplace where they feel valued and part of the team — something that recognition helps to achieve.
14. Healthy environment
Well-being at work begins with employers creating a healthy physical workspace that's safe and but also encourages inclusivity. Employees should feel emotionally supported at work and free to be themselves.
A healthy work environment is one that greates a sense of community at all levels of the organizations. This can happen organically at organizations where positive company core values are reinforced through business practices and operational norms, but for most, it takes a deliberate approach. It's about building and nurturing relartiosnhips across the company, being open to new interactions, celebrating wins and milestones (both personal and professional) and creating opportunities for employees to connect and grow.
Tips to improve company culture
Improving company culture is not only possible, it can be relatively easy to achieve through a variety of actions, provided that the organization is consistent in investing time, resources, and attention in these key areas:
Create opportunities for employees to connect during their day-to-day
Give employees the opportunity for professional development and career advancement
Promote transparency at the organization and leadership levels
Implement an employee recognition program
Give employees flexibility in how, when, and where they work
Provide employees with autonomy
Seek out ongoing employee feedback
Great employee wellness programs and prioritize mental health
Foster an inclusive environment
Invest In Diversity and Inclusion
Allow employees to select the rewards that are meaningful to them
What is an example of company culture?
Establishing a strong, positive company culture can look different at each organization, but there are commonalities. Organizations with great cultures have engaged employees, are united in their common goals, and celebrate wins together — no matter how much distance there may be between them.
Scotiabank has an employee engagement strategy that unites employees at all levels of the organization across 30 countries by linking its mission pillars and core values. They also focus time and resources on diversity, equity, and inclusion, using a recognition category that promotes behaviors associated with allyship.
Financial services brand Discover leverages their employee recognition program to positively affect their company culture, not only how it is experienced by its 17,000 customer-facing employees, but by the customers themselves.
CHRISTUS Health saw improved patient outcomes and reduced employee burnout by focusing on their company culture. Using an employee recognition platform that engaged their associates, standardized the recognition and rewards experience, and celebrated the moments that matter, they fostered a more resilient, productive, and engaged culture in the workplace.
Words to describe a company culture
Fun
Connected
Collaborative
Inclusive
Transparent
Authentic
Supportive
Uplifting
Happy
Autonomous
Motivating
Empathetic
Progressive
Innovative
Change your company culture for the better
Balancing the elements above while carrying on day-to-day responsibilities is a significant task for any HR professional. But there's no need to go it alone. With the Achievers Employee Experience Platform, your organization has a connected ecosystem of products dedicated to activating company culture. It includes Achievers Recognize, a science-backed tool that supports frequent and impactful recognition at all levels of your organization, and Achievers Listen, an employee engagement solution that provides all the insights needed to shape your culture for the better.
Achievers' clients are 3.6 times more likely to provide recognition multiple times per month and 36% more likely to increase employee engagement.

Company culture FAQ
What is a good company culture?
A good company culture looks beyond its perks and benefits to provide a better overall employee experience. A good culture is one that encourages and practices open communication, demonstrates respect, has shared goals, and is committed to employee growth and development.
How do you identify a company culture?
A company's culture begins with its mission and value statements but comes to life in its day-to-day practices, operations, and policies. To understand how a company culture is translated into the employee experience, just ask. Survey both your people leaders and employees to for their feedback. Look for areas that align and possible gaps, then look for ways to ensure that the company values are present and reinforced in the daily flow of work.
What does a strong company culture look like?
A strong company culture is one where employees are treated with respect and as individuals. Leaders should live the core company values and be supportive of their teams, offering encouragement, assistance, and resources to accommodate their needs and facilitate their success.
Why is company culture so important?
A company's culture is their key to success. It's what transforms an organization into a unified team. The company culture sets the expectation for how employees are to behave, function as a team, and interact with customers. Culture also has the power to break down boundaries between siloed teams, guide better decision-making, and improve workflows.
In this article: