Get engagement insights delivered to your inbox
Email address
To succeed in HR, a data-driven approach is essential. It can provide your organization with valuable insights related to job design, recruiting, compensation, employee training, and more. By tracking key HR metrics, you can see where your organization is strong and what needs improvement. Here are 24 valuable metrics that you should be measuring and analyzing.
Recruitment
People are the backbone of your organization. By recruiting the right talent, you can create a positive, productive workplace that allows for unparalleled success and growth. Onboarding is just as important, as new employees need to understand their roles to perform well. These metrics are great indicators of the strength of your hiring process.
Time to hire
Time to hire is the amount of time that passes between when a prospective candidate has been initially contacted by your company and when they accept a job offer. If your time to hire is too long, there are likely inefficiencies in your recruiting process.
Cost per hire
The total amount of money it costs to bring a new employee on board is known as cost per hire. This includes advertising expenses, relocation fees, and any other costs that come with filling a role. Cost per hire can help you create or track your recruiting budget and determine whether or not you're overspending.
Employee turnover
Employee turnover measures the number of employees who leave your company voluntarily or involuntarily during a certain time period. High employee turnover is a strong sign of poor recruiting and onboarding decisions. Since it's more expensive to hire new employees than to keep current ones, a low turnover rate is imperative.
New hire failure rates
The best way to figure out whether or not your new hires are working out is to calculate new hire failure rates. While there are a variety of reasons new hires may fail, the most common ones include a lack of the right skills for the job, no motivation to excel, and issues accepting feedback. A high new hire failure rate may indicate issues with your recruiting efforts.
Time since last promotion
Time since last promotion looks at the number of months since an employee's last promotion within your organization. It's crucial to consider if you'd like to keep employees satisfied and increase retention rates. If an employee hasn't been promoted in quite some time, they may be tempted to look for a new position outside of your company.
Employee feedback
To gather employee feedback, you'll need to reach out to your employees directly and ask them for their insights. While there are many ways to do so, pulse surveys and always-on feedback channels are two of the most effective. Here are some metrics to look at when gathering employee feedback.
The New Engagement Conversation: Workplace Chatbots and the Science Behind Achievers' Allie
Response rate
Response rate refers to the number of employees that take the time to provide you with feedback. Pulse surveys can increase the response rate as long as you keep them short and include relevant questions. The higher the response rate, the more reliable your data will be.
Engagement scores
An engagement score is a single metric that can tell you how engaged and motivated your employees are. The more engaged they are, the more likely they are to perform their best work. This metric is important for both your direct reports and the entire organization.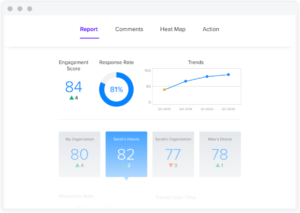 Benchmarks
When you measure employee engagement, it's vital that you have external benchmarks as well as internal year-over-year comparisons. If you receive a poor score on a survey question, for example, don't panic. Instead, take a close look at a relevant benchmark. You may find that your score is actually typical for organizations in your niche.
Relationship with management
Your management team can make or break the experience of your employees. Good managers know how to foster employee engagement and keep their workers happy while on the job. On the contrary, poor managers lead to dissatisfied employees who lack the motivation to work hard and succeed. That's why it's no surprise that people often leave managers rather than companies. Research shows that 79% of those who quit their jobs do so because they don't feel appreciated by their bosses.
These metrics provide insight into how well you're retaining talent at your organization.
Retention rates by team
Retention rates by team show which managers are doing their jobs well and which ones need to improve. If you find that your marketing team has a far higher retention rate than your finance team, for example, you may encourage your finance managers to meet with your marketing managers — or HR — to receive some guidance.
Supervisor ratings by employee
How your employees rate your supervisors is a great window into how those supervisors are performing. Low ratings likely indicate that they need to make some changes in how they manage and communicate with their employees.
Engagement levels of employees by supervisor
Employee engagement and supervisor actions go hand in hand. This metric reveals whether supervisors should modify their job assignments, training processes, management style, or other factors that influence engagement.
Recognition
The importance of recognition in the workplace — both social and monetary — should not be overlooked. Recognition directly correlates with many other key business metrics that are essential to track. For this reason, consider adopting a recognition platform that allows key leaders and individual contributors to drill down into the metrics discussed below. The platform should also give you the option to look at an index across your entire organization or by business unit.
Take a peek under the hood of your peers' recognition programs to see how yours compares.
Received recognition
Received recognition considers the total number of recognitions team members have earned. These may be instances of social appreciation on the platform, point rewards, or a combination of the two.

Activation rate
Your activation rate indicates what proportion of team members have signed up for your recognition program and are ready to start using it. While it takes a lot of strategic promotion and effort, an activation rate of nearly 100% is attainable.

Number of active users
A recognition program is pointless unless your employees participate in it on a regular basis. The more active users you have, the more likely your program will be a success. You can consider the monthly active user percentage and the demographics of active users as well.
Rewards given
Since rewards are bound to help your employees feel appreciated, it makes sense to track the number of awards given. If you notice that rewards are a rare occurrence, you may want to encourage managers and other leaders to distribute them more frequently. Adopting a points-based reward system is a great start.
Budget Utilization
Chances are you have a budget for employee rewards and other components of your recognition program. Budget utilization will inform you how much of it you're using and whether you need to adjust it going forward.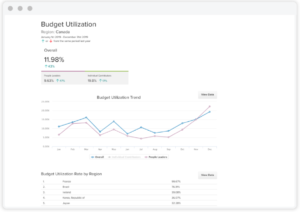 Goal performance
Your company has short- and long-term goals that your employees have been hired to help meet. Your goals are what allow you to set a direction for your company and assess your progress. These metrics show how your employees' performance impacts your organizational goals and whether or not you're achieving them.
Overall goal completion
Overall goal completion refers to how many goals your employees have completed. When tracking goal completion, include milestones and achievements your employees have reached. Using a recognition platform can help you do just that.
Stretch and moonshot goals
Stretch and moonshot goals are ambitious, as they aim for results that are beyond what your organization believes is possible. Even though they're difficult to achieve, they motivate employees to go the extra mile and never settle. If you measure stretch and moonshot goals, you can gauge how hard your employees are working and whether you're setting them up to realize their full potential.
Engagement level correlated to goal performance
The more engaged your employees are, the more likely they are to perform well and meet your goals. That's why it's wise to look at engagement level and how it relates to goal performance. A low engagement level may very well show poor goal performance and indicate you need to focus on fostering more connected and enthusiastic employees.
Performance and potential
Performance and potential refers to a group of metrics. It may include Net Promoter Score, which measures how likely customers are to recommend your organization, products, or services. Performance and potential may also include number of errors committed, 360-degree feedback, performance reviews, leaderboards, and objectives and key results (OKRs).
Revenue and company performance
The revenue your company earns is a direct reflection of how successful it is. Strong company performance can lead to higher revenue numbers that benefit everyone at your organization. Higher revenue often leads to growth, stability, and pay raises, so tracking revenue-related metrics is a key HR task.
Revenue per employee
When you measure revenue, it's a good idea to figure out how much each employee brings in. If one employee earns your organization significantly more money than the others, you may encourage them to share some advice or help create a training program.
Billable hours per employee
The more hours each employee bills, the higher the revenue they bring in. Employees who consistently bill many hours are likely more productive and knowledgeable than those who don't bill as often.
Cost of HR per employee
Cost of HR per employee measures what you pay for the HR tasks required for each employee. High costs may mean you need to make some changes in your HR processes.
Cost of training per employee
While training your employees sets them up for success, it can be expensive. That's why it's in your best interest to track how much you spend to train each employee. If you notice excessively high training costs associated with specific roles, figure out how you can reduce them in the future.
Find out how to start analyzing HR data in this free webinar.
Using HR metrics
As an HR leader, it's your responsibility to track all of the key HR metrics we've discussed above frequently. As long as you have the appropriate HR tools, you'll be able to use metrics to your advantage.
Before you invest in a platform, make sure it's accessible on desktop and mobile devices, lets you easily export data for sharing, and allows you to collect data in real time. By continually gathering data and identifying issues, you'll be able to course correct as you go, which is a must to handle constant fluctuations in employee engagement. And if your tools integrate into one centralized platform, so much the better.
Achievers Listen and Achievers Recognize offer these features and more so you can track employee feedback and recognition without the guesswork. Achievers Listen is specifically designed to encourage employees to speak their minds and motivate leaders to act on the feedback they receive in real time. Leaders can create agendas to discuss insights with their team and work with them to create a plan of action. Achievers Recognize integrates seamlessly with Achievers Listen and gives team members at all levels the chance to provide social and points-based recognition.
Interested in learning more? Request a demo today.