Slack + Achievers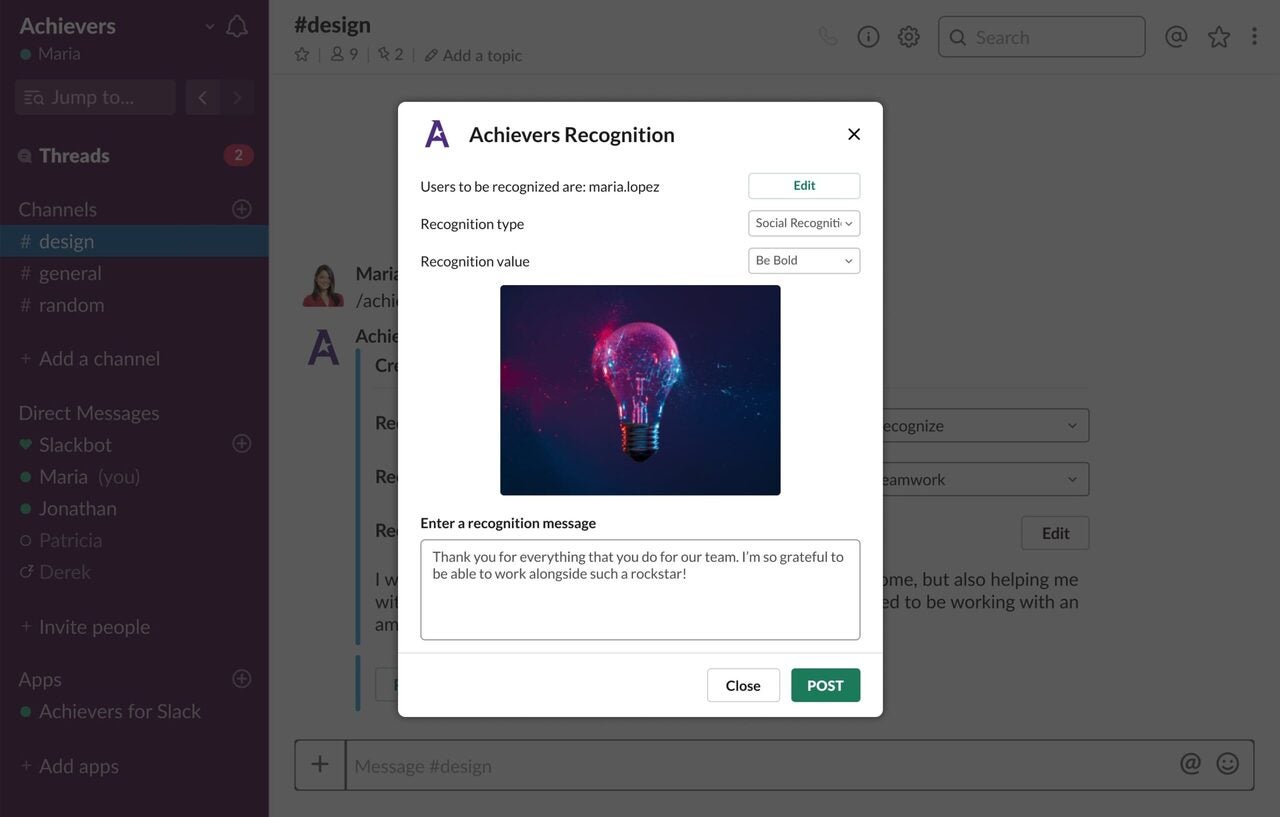 Recognize colleagues in the flow of work
The most important part of any employee engagement program is the ability for colleagues to recognize each other easily and frequently. To help make that happen, it pays to put recognition tools right in the flow of work.
That's why we developed the Achievers for Slack app, making it quick and easy to recognize great work without leaving Slack facilitates frequent recognition and a culture of engagement.
Install the Achievers for Slack app to put recognition tools in the place where employees already spend much of their time. See the impact on recognition frequency in your organization.
How to use Achievers for Slack
Download the app from the Slack App Store and follow the instructions to connect it to Achievers.
Achievers for Slack uses Slack slash commands to start a recognition. From within Slack you can:
Recognize someone by typing /achievers recognize @username1 @username2, etc. Smart prompts will appear to remind you of the correct format for the command.
Recognize any number of colleagues with a single command just by including their Slack usernames with an @ symbol.
Answer a few simple questions to choose a recognition type, associate your recognition with a company value, and post it to the live recognition feed.
Both the UK and international spellings of recognize/recognise are supported.
Learn more and get support
What is Slack? Slack is real-time messaging, archiving and search for teams.
Where do I go for support? Ask the person in your company who administers your Achievers program. If you're not already using Achievers, visit www.achievers.com to learn more.

What is Achievers?
The Achievers Employee Engagement Platform combines the highest-adopted employee recognition software with the Allie Active Listening Interface™ to deliver a complete employee engagement solution. Learn more at www.achievers.com.