Get engagement insights delivered to your inbox
Email address
If your company has an Employee Resource Group (ERG) you may be familiar how they can bring a diverse group of individuals together to work on a common goal. Achievers CARES is a corporate giving and social responsibility ERG that runs campaigns and events for local charities and causes around the world. The group has been in operation for eight years with 18 active members globally!

Navigating changes and the shift towards a remote world
The Achievers CARES team had a finalized programming strategy for 2020, including events like Top Chef, blood drives, March Madness, We Care Week, and more! However, Achievers CARES quickly adapted their calendar of events to support the various and unexpected global crises and movements of 2020. Major adjustments were required to move programming from in-person to virtually-led. Using the Achievers recognition platform, Aspire, the ERG leveraged static content pages, program ads, announcements to push notices, and results tracker to collect information to promote these initiatives.
Shortly after all global offices went into lockdown, Achievers CARES initiated an effort to keep the Achievers community close together while working remotely. A channel was created in Microsoft Teams called "Connected during Quarantine" where all A-Players were invited to contribute activities, fitness routines, recipes, and share stories on how they were keeping busy during lockdown. Achievers CARES partnered with the Achievers Women's Network and Employee Success (HR) team to provide weekly digest emails to all employees to promote events, campaigns, and announcements across various ERGs. The newsletter is in its sixth month of release and has become a staple feature of Achievers' remote culture.
Driving meaningful campaigns and awareness
Achievers CARES kicked off a campaign to support the WHO COVID-19 Relief Fund and local food banks across the U.S., Canada, U.K., and Australia. To help promote this cause, one of the Achievers CARES team members offered to host a bi-weekly trivia series where participants were asked to make donations to the COVID-19 relief and food banks.
Outside of COVID-related campaigning, Achievers CARES quickly responds to global events to help raise funds and build awareness within the Achievers community. When Australia was hit with horrific bushfires that caused damage to the environment and people's livelihood, Achievers CARES initiated a fundraising campaign. This initiative ran for six weeks and resulted in raising $12,770 (matched donation) for the Australian Bush Fire (Australian Red Cross).
In a response to the events of racial injustice, some members from Achievers CARES created an educational campaign through a series of communications and a static content page on Aspire that contained articles, videos, and other material that explain systemic racism and how change can be made at the local and wider level. This campaign was also paired with a fundraising effort where donations could be made to NAACP, ACLU, and Black Lives Matter (Thousand Currents). The fundraiser ran for a month and donations were matched by the Achievers Senior Leadership Team. At the time of the explosions in Lebanon Achievers CARES issued a campaign to create awareness and raise funds, which was sent to the Lebanese Red Cross in their relief efforts.
Creating a community
Achievers CARES has been quick to respond to global and local crisis, but the ERG is also focused on creating a community at Achievers. Some of the original plans had to be reimagined because of the remote working experience, however this didn't stop Achievers CARES in hosting creative initiatives. Achievers CARES called upon all the fur-parents to submit photos of their pets for our Dog Days of Summer campaign. Employees had the opportunity to vote on their favorites (which isn't easy!) and the top photos would be selected for the Pets of Achievers 2021 Calendar! The calendar has been released on the Aspire marketplace and employees can purchase one (or more) using points. Proceeds will be donated to SPCA International.

Dog Days of Summer campaign banner
To debut their first event, the Achievers CARES EMEA chapter based in the U.K. held a Cooking for Crisis event to raise funds for Crisis U.K. One of our very own employees is a trained chef and taught participants how to make a chickpea and mushroom curry, a fan-favorite Indian dish. A representative from Crisis U.K. joined the event and spoke about the organization and how our donations support the organization with homelessness in the U.K.

Cooking for Crisis event banner
Because Achievers CARES is also focused on health and wellness, the group has put on some healthy competition. In September, Achievers CARES is running its second Step Challenge event since working virtually. All global offices are invited to participate, with weekly leaderboards showcasing who had the most steps. Winners will be allocated points from Aspire, with an ask to donate a portion of their winnings to a charity of their choice. Achievers CARES has also partnered with a cross-fit gym to provide monthly virtual classes. This series helps keep the Achievers community healthy but also supports a local business in the time of COVID-19.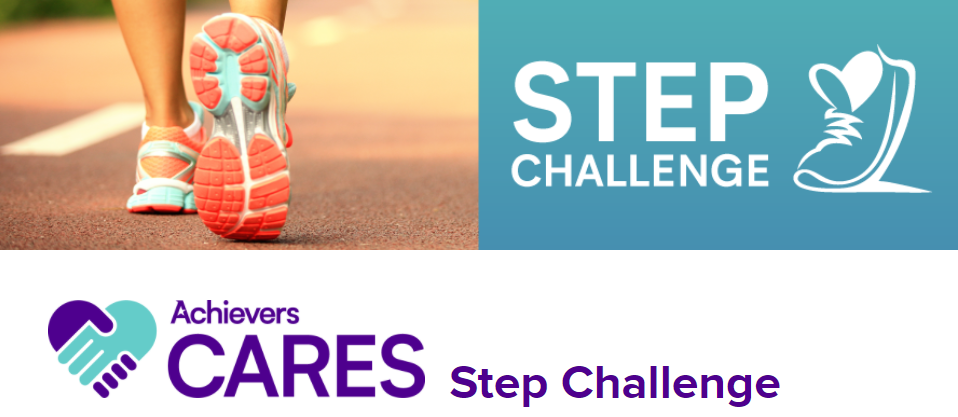 Step Challenge event banner
Continuing to engage employees
The Achievers CARES ERG has been successful because the entire team meets monthly to discuss strategy and brainstorm events (sub-committees meeting more frequently to plan each event). The ERG has provided the opportunity for specialized positions for those who want to take a more active role with communication specialists, treasury, project managers, and more. The ERG is supported by an executive sponsor who helps drive participation and involvement from the wider Achievers business. Having access to Aspire further supports efforts as the wider Achiever community can access static content pages, find events on program ads, and donate on the Give Back pillar. As organizations and employees deal with changes at work, Achievers CARES continues to engage teams through a variety of meaningful opportunities and initiatives.
To learn more about how to engage your employees during COVID-19 and beyond, access our webinar.