Get engagement insights delivered to your inbox
Email address
We may be wrapping up what was a busy World Pride Month at Achievers, but we will continue to celebrate and uphold its values of inclusivity, diversity, and belonging throughout the year, and always.
The Achievers Employee Experience Platform is designed to recognize and appreciate individuals, while fostering inclusive workforces. We proudly help clients create cultures of belonging, whether it is the way we connect with clients to uplift their employees, or through our Achievers Employee Resource Groups (ERGs –more on those shortly.)
Within our own corporate culture, we ascribe to the pillars of Diversity, Equality, Inclusivity and Belonging (DEIB). Since the Achievers platform is rooted in DEIB, the tenets of Pride are woven into our culture, and literally programmed into our software.
And as we like to say around here, we don't just talk the walk, as Achievers is certified a Great Place to Work , as well as repeatedly awarded  Best Workplace for Inclusion.
We strive to be leaders in belonging and inclusion, and we recognize that this is an ongoing effort. Just as Achievers can learn from other workplaces (and we welcome your insights) we share with you some of the ways we live the values of Pride.
If your company is looking for ways to show DEIB all year round, here are some of the things we did this month. And if you are an employee looking for a culture that fosters equality and acceptance, our inclusive workplace diversity might pique your interest, too.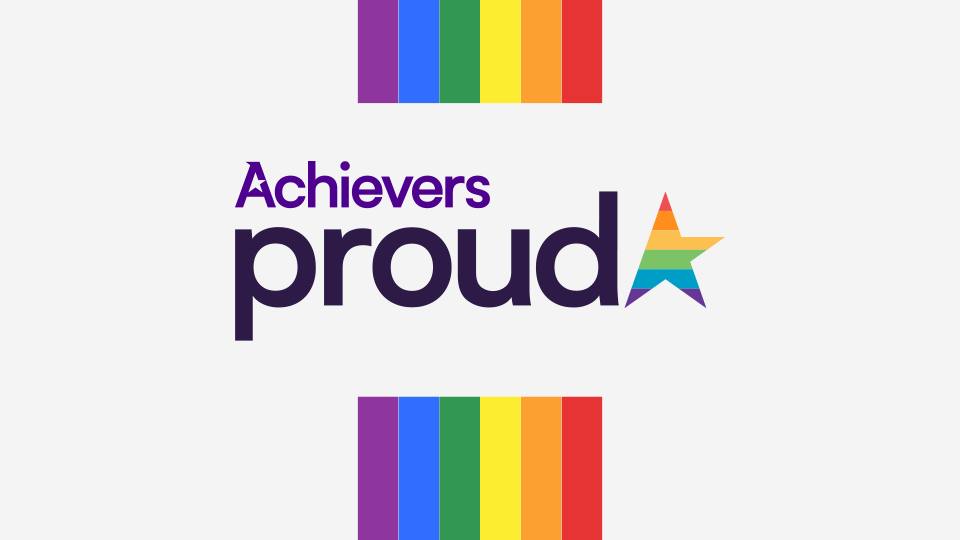 Here are some ways we infuse DEIB into our efforts and employee experiences:
1. Live your core values with pride
At Achievers, one of our core values that we certainly lean heavily on during Pride month, is L.O.V.E. — Live Our Values Everyday. Companies have to make dozens of decisions daily, and core values are the compass that steer us in a direction aligned with our purpose and ethics.
As the Pride expression goes, with a twist of Achievers, "Love is love is L.O.V.E."
2. Consider DEIB in brand communications
At the beginning of June to help kick off Pride month, we released a reference guide of our top 4 DEIB writing style guides. Achievers references these stalwart, frequently updated guides to ensure our communications are inclusive, respectful, and forward-thinking.
3. Achievers Proud ERG
Now back to ERGs, as mentioned earlier. Employee Resource Groups are an important way to foster a culture of belonging. Among our five dynamic Achievers ERGs is Achievers Proud. This pivotal group provides open-minded education, representation, policies, support, and community to our LBTGQ+ employees and allies. As more companies recognize how essential DEIB initiatives are, Achievers takes our leadership role seriously, consulting with Achievers Proud to ensure marketing and sales efforts reflect our LGBTQ+ communities. This valuable ERG also hosts best practice seminars, fundraisers, and guest speakers.
4. Provide a face (or diverse faces) to your DEIB efforts
As Achievers continued to celebrate Pride throughout the month of June, the aforementioned Achievers Proud, along with another company ERG, Achievers Women's Network (AWN) proudly hosted guest speaker and Canadian Olympian Brianne Jenner. Now a busy Team Canada women's hockey coach, Jenner spoke humorously and openly on a rainbow of topics, from her medal wins and and philosophies, to her personal life identifying as LGBTQ+ and balancing demands as a new parent.
5. Underpin efforts with education and seminars
Finally, on June 27, the final one of Pride Month, Achievers Proud hosted a seminar on The Stonewall Riots, an indelible part of Pride's history, and human rights. This series of protests by members of New York City's gay community were a response to a violent police raid that began in the early morning hours of June 28, 1969, at the Stonewall Inn in Lower Manhattan's Greenwich Village.
Ready to change the way the world works?
Achievers is committed to sharing resources and content, as well as hosting best practices events to help build a culture where everyone belongs and where homo and transphobia have no place.
Are you interested in joining a company that is forward-thinking, inclusive, and embraces diversity? Learn more in our Achievers careers section, we would be proud to have you.