These are crazy times.
The last few weeks have been a series of peaks and valleys. I alternate between fear/panic ("No TP! What if I can't get milk for my kids?") and cavalier pragmatism ("It will pass, we'll get through it, we have to band together.").
The last time the world experienced an event of this magnitude was almost 80 years ago in World War II and even that experience does not truly compare. This enemy is invisible. Like an undercover operative, COVID-19 hides within the picture of health, silently spreading fear and uncertainty.
A little inspiration from Mr. Rogers
But in the midst of the crisis, there will be light. I'm reminded of something Fred Rogers once said:
"When I was a boy and I would see scary things in the news, my mother would say to me, 'Look for the helpers. You will always find people who are helping.'"
And it is true. For those of you who don't know Fred Rogers, he was the creator and host of a preschool children's television show called, "Mr. Roger's Neighborhood," which ran from 1968 to 2001, and subject of the recent biopic, "A Beautiful Day in the Neighborhood." In 1969, Rogers was instrumental in convincing the United States Senate Commerce Committee to fund the newly formed Corporation for Public Broadcasting and his television program was critically acclaimed for focusing on preschoolers' emotional and physical concerns, such as death, sibling rivalry, school enrollment, and divorce.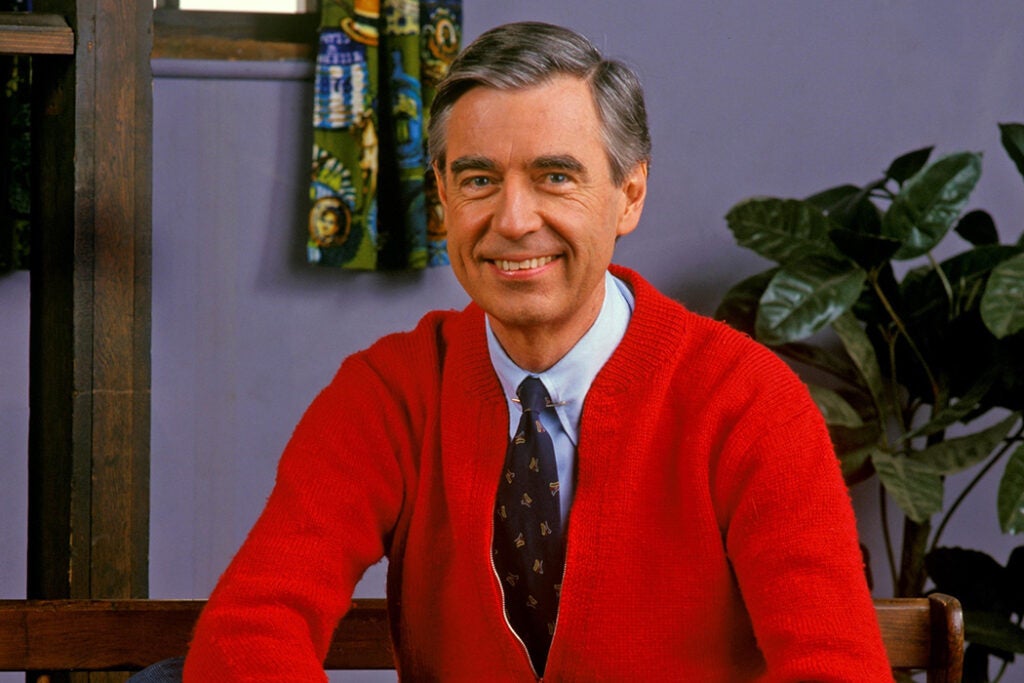 Rogers' quote has stuck with me over the years, especially nowadays, so I've started looking for the helpers.
Surrounded by the helpers
Many young people are reaching out to the elderly in their communities, offering to go shopping for them, pick up their medicines, or simply stop by to talk through the window so that they don't feel so isolated. Medical workers on the front lines regularly risk their health and that of their loved ones to provide care to COVID-19 positive patients. In Italy, Lebanon, and Spain, people are singing from balconies to keep spirits up and maintain social interaction. From Italy to Birmingham, AL, volunteers are 3-D printing much-needed respiratory valves for COVID-19 since manufacturers are not able to keep up with demand.
Breweries around the southeast U.S., like Desert Door Texas Sotol, have repurposed their facilities to make hand sanitizer to distribute at little or no cost. Many grocery stores and pharmacies have designated "elderly only" shopping times to limit the exposure of people at higher risk of COVID-19. Athletes and sports teams are pledging to pay the wages of arena employees during the closures due to the global pandemic. Utility companies , landlords, automakers, and internet providers (including Cox Communications) are waiving late fees and payments to ease the financial burden .
My husband's organization, The Atlanta Opera, made the hard decision to close halfway through its nearly sold-out run of Porgy and Bess – especially hard for a non-profit organization to lose its blockbuster show and major income source. In celebration of the production, cast, and crew came together to sing the chorus number "I'm On My Way" from the show, joined by the whole company. In addition, The Atlanta Opera costume and wardrobe shop started making N95 respirator masks for Grady Hospital in Atlanta and will also help create surgical gowns and other garments as requested by the hospital. And scores of other opera, theater, and ballet companies are doing the same thing across the globe.
Porgy and Bess, A Final Toast | Musa Ngqungwana: "Oh Lord, I'm On My Way"
How Cox Enterprises is doing its part
I feel inspired by the helpers during this challenging time and I'm proud to work for a company (Cox Enterprises) that embodies this spirit of helping others. Alex Taylor, CEO and President of Cox Enterprises, recently sent a company-wide note highlighting the many ways Cox Enterprises is taking care of its employees. From rolling out telework opportunities to expanded medical coverage, Cox Enterprises is looking out for its people. The Cox Foundation committed $5 million to Emory Healthcare for purchasing COVID-19 testing equipment.
And at my particular division, Cox Automotive, our team continues in that vein as many of us take on new or expanded responsibilities to help each other in times of uncertainty. For example, the People Solutions and Communications team members have worked tirelessly to ensure that our people are compensated on time and that information is shared clearly and efficiently. Our Technology teams are working long hours to support numerous people who are working from home. Employees are wearing multiple hats and pulling through things together.
Appreciate the helpers
So, when you see the helpers out there, take the time to thank them. At Cox Automotive, we use Spark, a great tool to recognize the extraordinary efforts of our employees on a regular basis. We also encourage our team to connect via video chat and email to stay connected during these challenging times.
Look for the helpers. Thank them. Be one of them.
Learn more about Spark, Cox Automotive's employee recognition program powered by Achievers, by checking out  this blog post, "Lighting the Spark of Employee Engagement: Inside Cox Automotive's Spark Week Celebration."

---
About Cox Automotive
Cox Automotive Inc. makes buying, selling, owning and using cars easier for everyone. The global company's 34,000-plus team members and family of brands, including Autotrader®, Clutch Technologies, Dealer.com®, Dealertrack®, Kelley Blue Book®, Manheim®, NextGear Capital®, VinSolutions®, vAuto® and Xtime®, are passionate about helping millions of car shoppers, 40,000 auto dealer clients across five continents and many others throughout the automotive industry thrive for generations to come. Cox Automotive is a subsidiary of Cox Enterprises Inc., a privately-owned, Atlanta-based company with revenues exceeding $20 billion.