Create a culture that means business™
Email address
Grocery stores make up a large sector of the retail industry and there are more than 38,000 supermarkets in the U.S. alone. How are major grocery retailers engaging their hundreds to thousands of employees on a daily basis? Let's learn top tips and best practices from Meijer, a family-owned superstore based out of the U.S. Midwest.
Meijer is able to effectively engage and motivate their workforce of 70,000 team members and strengthen key business metrics through the power of recognition. According to a recent Brandon Hall Group report, organizations that have a strong culture of recognition are:
3x more likely to see increased employee retention
5x more likely to see increased employee engagement
25x more likely to give frequent recognition
79 percent more likely to give their employer brand a high rating
Meijer understood the positive impact recognition could have on their employees' engagement levels and core business goals. After evaluating various vendors for the right recognition platform, Meijer decided to launch their mteam recognition program with Achievers.
Doubling down on recognition with mteam
Meijer rolled out their mteam recognition program to 70,000 team members ­­across six states in the U.S. (Michigan, Indiana, Ohio, Kentucky, Illinois, Wisconsin) and global sourcing offices in Hong Kong and Bangladesh. With mteam, employees are able to easily send and receive point-based and social recognition, redeem their points for a variety of rewards, and recognize colleagues from anywhere with their mobile device.
"With a majority of our population in the stores and offline, without access to a computer, [mobile recognition] has…really helped to drive a culture of recognition at our company." – Taylor Dehnke, Human Resources Generalist, Meijer
Atop of celebrating achievements and work anniversaries on mteam, Meijer hands out legacy awards to team members who embody the company's core principles on a daily basis. Any team member can nominate a colleague who meets the award criteria using a nomination form on mteam.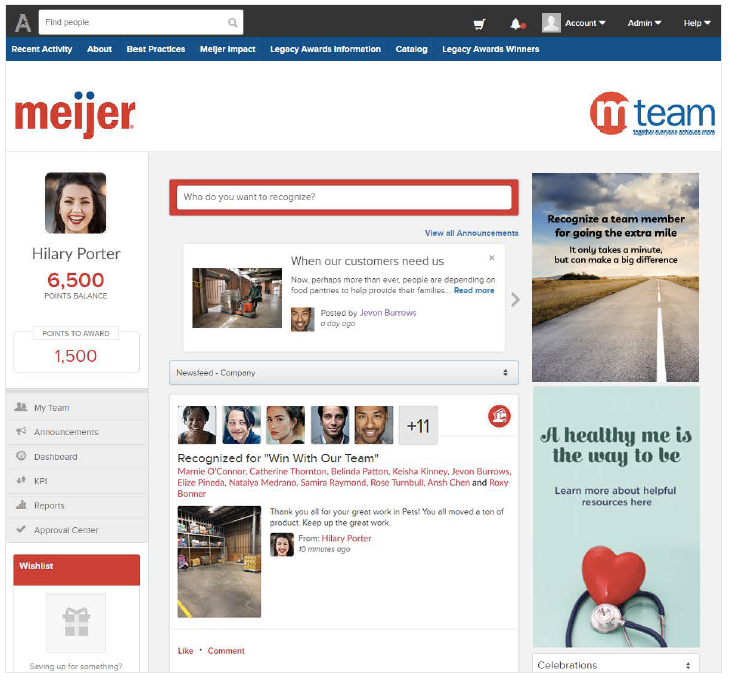 Meijer's mteam recognition program
Meijer's mteam recognition program delivers on all fronts, providing everything from peer-to-peer recognition, awards, integrations, real-time data and insights, and much more.
Driving business success through recognition
Since launching mteam, Meijer has seen huge success. For starters, mteam has an 82 percent activation rate, individual users are receiving an average of 7.7 recognitions each month, and 93 percent of people leaders are active on the platform monthly. Within just three years of launching mteam, Meijer celebrated 10 million recognition moments and became "Great Places to Work" certified for the first time.
With recognition activity flourishing across the organization, Meijer wanted to explore the impact recognition was having on their key business metrics. Meijer and the research arm of Achievers, The Workforce Institute, collaborated on a data partnership to gather insights on mteam's performance and its direct impact on Meijer's business objectives. This joint analysis revealed three positive results:
1. Healthier retention
Comparing recognition rates between current team members and team members who had left Meijer, those who stayed at Meijer received significantly higher recognition rates on average than those who left. One surprising result was that people who chose to leave Meijer were receiving statistically identical rates of recognition as those who were asked to leave the organization. Together, these results suggest that recognition is important to retaining valued employees, even if employees don't call it out as the primary reason for their departure.
2. Stronger collaboration and belonging
Employees want to have a sense of connection and belonging in the workplace. Data showed that the strength of networks in each Meijer store location had increased since the introduction of mteam. In an effort to improve each team member's sense of belonging, the program has been able to bring team members together and increase connections.
3. Higher customer satisfaction
When it comes to the retail industry, a company's bottom line relies heavily on its customer-facing employees. Customer survey data by location showed that stores with higher recognition rates reported higher customer satisfaction overall. The data also revealed that stores with higher recognition rates had higher employee performance and enthusiasm ratings (as reported by customers) for customer-facing roles, like cashiers and greeters. This suggests that recognition can have a direct impact on your front-line employees' quality of customer service, and therefore on your brand and bottom line.
Meijer's success story shows that recognition not only improves employee engagement, but also key business metrics, such as retention and customer satisfaction. To learn more about Meijer's success story with mteam, download the full Meijer case study or watch Meijer's customer success video:
Meijer + Achievers: Win With Customers, Win With Your Team
Did you know Achievers customers are 2.5x more likely to see increased employee retention, 36 percent more likely to see an increase in employee engagement, and 3.6x more likely than customers of other providers to give recognition multiple times each month? Start engaging your employees and strengthening your bottom line with Achievers Recognize. Request a demo of our award-winning recognition platform today.