Suite of Tools Connects Employees and Managers through Continuous Feedback and Recommended Actions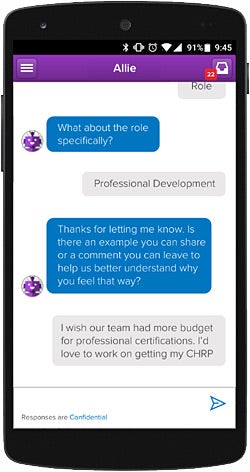 SAN FRANCISCO and TORONTO (September 18, 2017)  Achievers, an industry leading provider of employee recognition and engagement solutions, announced details of its latest offering, Achievers Listen. A suite of tools designed to work with the Achievers platform or as a standalone product, Achievers Listen empowers employees to give continuous feedback to employers on what's working well and what needs to be improved in the workplace, and provides managers with recommended actions based on the company's unique values and culture.
Egan Cheung, vice president, Product for Achievers, announced the launch of Achievers Listen at the 8th Annual Achievers Customer Experience (ACE) conference in New Orleans. "To engage a modern workforce, an organization needs to be continuously listening to its employees," he said. "Employees expect to be heard and understood and managers need clear, actionable directions that address the needs of their teams. When paired with Achievers Recognition, Achievers Listen completes the loop from measure to action of employee engagement."
Most companies typically gather employee feedback using an annual employee engagement survey. However, according to recent research from Deloitte1, advancing the employee experience requires tools and programs to continuously capture employee feedback. The need to move beyond yearly engagement surveys to apps that can provide real-time understanding of issues faced by employees is especially relevant to remote, multi-generational and multi-national workforces.
Achievers Listen allows employees to provide feedback to management on day-to-day issues via check-ins and pulse surveys, and lets front-line supervisors track trends through manager alerts. Also included with the Achievers Listen product is Allie, an intelligent, digital "coach" that interacts with employees in a familiar conversational way, while guiding employees with effective feedback and providing recommendations back to managers.
Achievers Listen is currently being previewed to existing clients. General availability will be in January 2018.
About Achievers
The Achievers Employee Recognition and Rewards solution provides companies with a robust foundation for their employee engagement initiatives by enabling both social and rewards-based recognition. Designed for today's workplace, Achievers' innovative cloud-based platform can increase employee engagement and drive business success. It empowers employees to recognize and reward each other in real time and aligns employees with company values and goals. Delivering millions of recognitions annually, the Achievers platform inspires employee loyalty, engagement and performance. Visit us at www.achievers.com. Achievers is a subsidiary of Blackhawk Network Holdings, Inc., and is headquartered in Toronto and San Francisco.
About Blackhawk Network
Blackhawk Network Holdings, Inc. (NASDAQ: HAWK) is a global financial technology company and a leader in connecting brands and people through branded value solutions. Blackhawk platforms and solutions enable the management of stored value products, promotions and incentive programs in retail, ecommerce, financial services and mobile wallets. Blackhawk's Hawk Commerce division offers technology solutions to businesses and direct to consumers. The Hawk Incentives division offers enterprise, SMB and reseller partners an array of platforms and branded value products to incent and reward consumers, employees and sales channels. Headquartered in Pleasanton, Calif., Blackhawk operates in 26 countries.
1 "2017 Deloitte Global Human Capital Trends: Rewriting the rules for the digital age" was a survey conducted by Deloitte in the summer of 2016. The sample size included 10,400 respondents.