Almost all (93%) of business leaders say that a strong sense of belonging at work drives organizational performance. With widespread agreement on the importance of belonging, the question becomes: how can organizations implement the right practices and policies to improve their employees' sense of belonging at work?
Jump straight to the infographic on recognition and belonging
Why does belonging at work matter?
Employees with a strong sense of belonging at work are more likely to be productive, committed, and engaged. These workers are less likely to leave and more likely to be advocates for your employer brand. Belonging at work should be the North Star for HR leaders who want to drive business results.
What are the pillars of belonging?
The Achievers Workforce Institute Belonging Model has five pillars of belonging:
1. Welcomed: introduced to, and incorporated within, the organizational culture and community
2. Known: understood, motivated, and celebrated as an individual
3. Included: valued and accepted without reservation
4. Supported: consistently and meaningfully nurtured and developed
5. Connected: developing and maintaining relationships across a diverse population
Each of these pillars correlates strongly with an overall sense of belonging. When any single pillar is activated, feelings of belonging double. When employers are able to activate all five pillars, we see sense of belonging triple in the workforce.
The Achievers Workforce Institute Belonging Model offers HR leaders a simple way to improve belonging at work for all employees by aligned initiatives with the five pillars of belonging. It is based on academic research and has been proven with repeated studies of more than 20,000 employees around the world.

Learn more about the AWI Belonging Model
How do you build belonging at work?
Business leaders can build a strong sense of belonging at work by aligning all initiatives with the five belonging pillars — welcomed, known, included, supported and connected. By identifying gaps as areas for improvement, business and people leaders can make incremental changes that will drive measurable results.
What is the connection between belonging and recognition?
Recognition frequency correlates strongly with a strong sense of belonging and is a driver of all five pillars of belonging.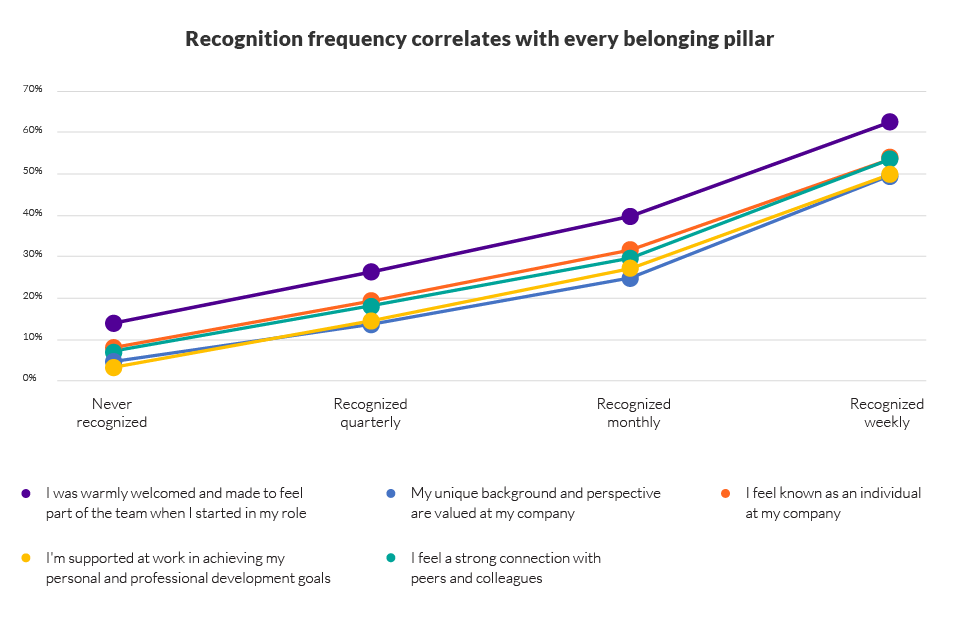 How does recognition reinforce each belonging pillar?
Welcomed
A personalized recognition and welcome card in the first week at work demonstrates to a new employee that they are seen and valued already and will likely increase how long they stay with the organization.
Known
When recognitions align with personal values it shows employees that their manager and coworkers sees them as more than just a cog in a machine, giving them a sense of camaraderie and understanding.
Included
Feeling valued for their unique background and experiences ensures that your employees have a strong sense of inclusion. Recognize people for bringing their perspective and values to the table. For example, you might recognize someone for expressing a conflicting opinion, especially when it was difficult for them to do so.
Supported
Manager support is especially important for employees to feel an overall sense of support. Encourage managers to recognize employees not just for outcome, but for effort. AWI suggests focusing on social or non-monetary recognition throughout a project, and then giving a monetary recognition at the end to reinforce the employee's feeling of success.
Connected
According to the 6th annual AWI 2023 Engagement and Retention Report, when asked what would support them in feeling stronger connections at work, the number one answer was being meaningfully recognized. A recognition platform that makes cross-functional and geographical recognition easy will reinforce relationships outside an employee's immediate team.
Recognition frequency is a measurable metric for HR leaders to focus on, which will drive genuine, consistent business results, including increasing employees' sense of belonging at work.
Download the infographic now for tips on increasing recognition frequency