Get engagement insights delivered to your inbox
Email address
Eighty percent of senior-level business leaders recognize that employee engagement is critical to achieving their objectives, and companies with highly engaged employees are 21 percent more profitable and 20 percent more productive. However, a recent study discovered that only 19 percent of employees are "very engaged," and while 83 percent of HR leaders believe all people decisions should be based on data, only 37 percent use data for that purpose. Start engaging your employees and turn to data insights with the right employee engagement software.
Employee engagement software helps businesses boost employee engagement while improving the employee and customer experience. Employee engagement solutions are often software-as-a-service (SaaS) platforms that are chosen by HR departments and implemented — with HR's guidance — by managers, IT, the C-suite, and other members of the organization.
What is an employee engagement software platform?
An employee engagement software platform is a type of technology application that organizations use to increase employee job satisfaction, improve engagement, drive performance, and retain top talent. The purpose of these platforms is to help employees learn and adopt the culture of their organization and to foster a better, more productive work environment — one that not only improves employee satisfaction, but also drives key business outcomes.
What makes a good employee engagement software platform?
A good employee engagement software platform is one that fits easily into the flow of work, so you'll want to ensure that it integrates with existing key systems, such as: performance management systems, HR management systems (HRIS, HCM, HRMS), your productivity and communications systems (Zoom, Teams, Slack, etc.), your cloud-based work operating system (Microsoft Office, SharePoint, Google Workspace, etc.), and other customer management software.
It's also imperative that your employee engagement software includes:
Communication functions
Notification system
Training tools
Recognition and rewards incentives for employees
Survey and feedback tools
Performance evaluation system
What are the benefits of employee engagement software platforms?
Employee engagement software platforms provide employees with ways to easily and consistently connect with their peers and manager, receive recognition, redeem rewards, and provide their feedback.
Benefits of an employee engagement software platform include improved:
Engagement
Performance
Retention
Job satisfaction
Innovation
Business outcomes
Top 10 employee engagement software platforms to help your organization
1. Achievers Listen
One of the primary factors of employee engagement is whether your organization collects and — most importantly — acts on employee feedback. Sixty-four percent of HR and engagement leaders agree that an always-on feedback tool is essential to an engagement program, but only 20 percent have this kind of tool in place. According to Dr. Natalie Baumgartner, Chief Workforce Scientist at Achievers, "employees who feel 'heard' by leaders are 4.6 times more likely to feel empowered to do their best work," so it's "critical that we offer employees different ways to provide feedback." Identifying how to respond quickly to employee feedback is key as well, because the longer it takes for employees to see action, the more dissatisfied they'll get.
"What really improves low employee engagement scores is having leaders measure, listen, identify, act, and repeat." – Lauren Brittingham, Director, Organizational Development, Bayhealth
Achievers Listen is an end-to-end employee engagement solution designed to give employees a voice and to empower leadership to act on feedback in real time. Achievers Listen's quick-to-deploy platform provides continuous listening, feedback, and development tools that deliver the insights needed for HR teams and people leaders to confidently make decisions and effectively prioritize resources so they maximize individual and organizational performance. Achievers Listen helps CEOs connect with their people, CHROs make data-driven decisions, and managers lead their teams.
Achievers Listen is built on decades of academic and business research together with real-world field work by the Achievers Workforce Institute. The Workforce Institute houses Achievers' research associates and data scientists who have a collective focus on ensuring that every piece of functionality developed in the platform is rooted in engagement science, ensuring that Achievers Listen customers deploy a feedback program that delivers real results.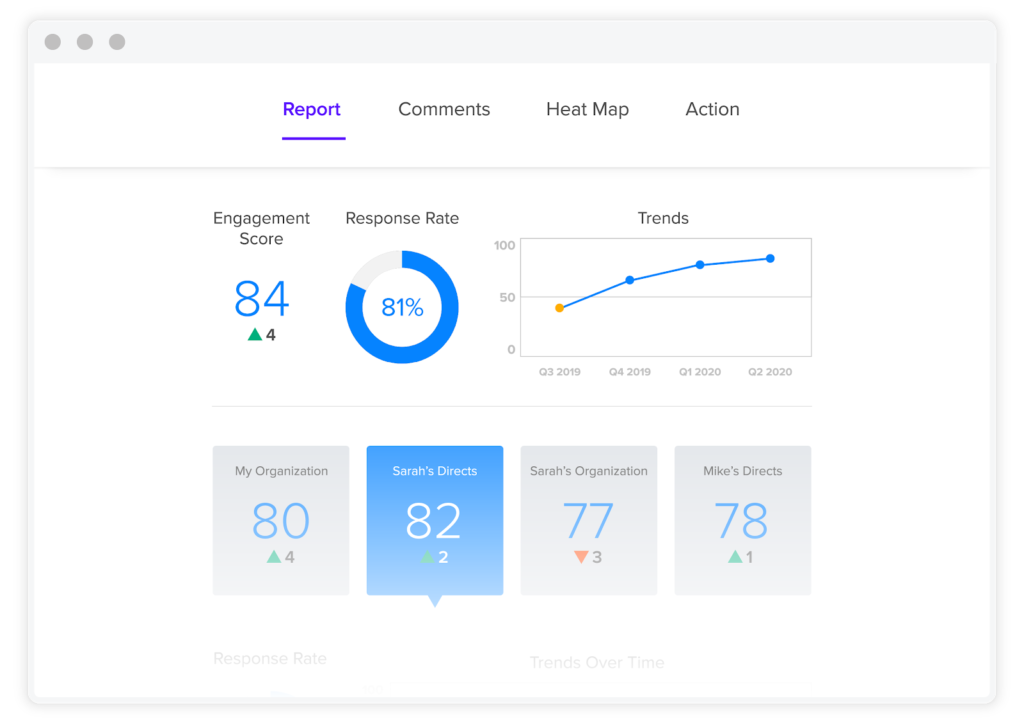 Achievers Listen's dashboard
Though most organizations gather engagement data, that data is rarely translated into effective action. While managers account for 70 percent of the variance in employee engagement, they rarely use action plans, action libraries — or any effective methodology — to act on engagement issues.
Achievers Listen gives managers and teams all the tools they need to build a plan and collaborate on effective action. It encourages managers to follow up on insights in real time by identifying areas of strength and weakness, creating an agenda to discuss these areas in a listening session with their team, and then collaboratively creating an action plan. It also automatically builds exportable presentations for managers when presenting key findings to their team. This collaborative approach ensures employees will buy into the plan and take collective responsibility for building the culture they want, while feeling that their voice is truly valuable.
"Engagement is dynamic. It changes every day. If you are not continuously seeking feedback from your employees, you are missing the boat." –  Tara Gronhovd, Director, Learning and Development, Coborn's
2. Achievers Recognize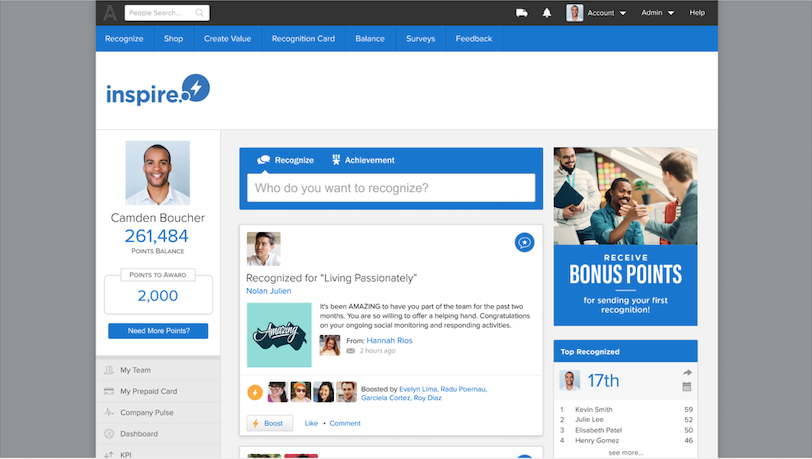 The other primary factor of employee engagement is recognition. According to a study by Aptitude Research Partners, companies believe that recognition has the most impact on employee engagement. Achievers has found that when organizations double their number of recognitions, their engagement scores rise by an average of five percentage points. And companies with social recognition built into their engagement software were also four times more likely to improve stock prices, two times more likely to improve NPS scores, and two times more likely to improve individual performance. Recognition also helps foster an inclusive environment and sense of belonging at an organization.
Achievers Recognize is an award-winning employee recognition platform that makes it easy for everyone at your company — from executives to staff — to provide social and points-based recognition. It features a fun and easy user experience and mobile capabilities, so it fits into your employees' daily workflow and is accessible to anyone, anywhere. Recognition can be delivered across channels and amplified using a company-wide newsfeed, and employees can like and comment on them using an intuitive user interface. Achievers Recognize integrates with other engagement platforms like Achievers Listen and Workday, a performance management solution, as well as key communication tools like Gmail, Outlook, Slack, and Microsoft teams.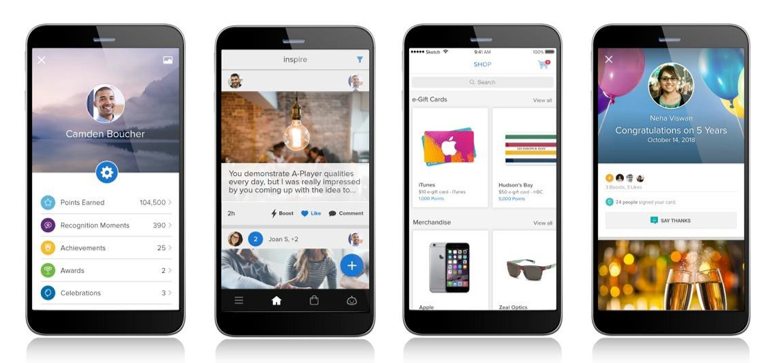 Achievers Recognize (mobile experience)
Points-based monetary recognition lets employees redeem points for rewards that they actually want in the Achievers Reward Marketplace. Employees can have a fun and exciting shopping experience when redeeming their points in the Marketplace, which has over 2500 global brands and expands daily. Every reward is available at their fingertips, with the option to shop across categories that include merchandise, digital and physical gift cards, experiences, global hotel accommodations, give back, and concierge. Employees love seeing their point balances grow, and the ability to combine points with social recognition provides an additional incentive to show appreciation daily.
With the Achievers platform, we've been able to house internal recognition programs under one roof and increase positive awareness on employee and team accomplishments throughout Power Design. " – Alex Kersey, Engagement Manager, Power Design
You can tie explicitly recognition to behaviors that exemplify company values as well, which makes employees more likely to repeat them. And Achievers Recognize includes the tools you need to measure the success of your recognition program and tweak it for maximum impact. With digital celebration cards anyone can sign, the ability to add gifs and photos to each recognition, a coffee chats feature to match employees for a one-on-one hangout session, and a "boost" feature that lets users jump into recognitions and provide additional points to the recipient as an extra thank you, your employees will always find using the platform engaging.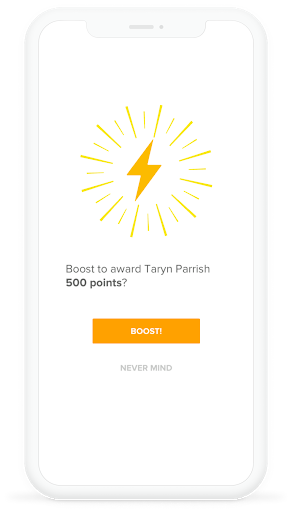 Boost feature
Companies that adopt Achievers Recognize — including Kellogg's, McDonald's, and Discover — get results. Those who have adopted Achievers Recognize are:
107 percent more likely to give their culture of recognition a high rating than organizations that don't use recognition technology
54 percent more likely to give a high rating of their recognition culture than customers of other technology providers
6 times more likely than customers of other providers to give recognition multiple times each month
36 percent more likely to see an increase in employee engagement
36 percent more likely to rate their employer brand highly compared to non-tech users
Take a peek under the hood of your peers' recognition programs to see how yours compares.
Joanna Kalantzis, Senior Manager, Internal Communications & Engagement at Discover helped implement Achievers Recognize with the thought that happy employees yield happy customers. Recognize permitted employees to quickly express gratitude in a meaningful way that motivated and inspired their peers.
"We know that it's really important to demonstrate good business results, and what we've seen — and we're very proud — that our sales have increased, customer satisfaction has improved, and all our voluntary attrition has decreased since launching our Achievers platform." – Joanna Kalantzis, Senior Manager, Internal Communications & Engagement, Discover
3. Ascentis
Ascentis is a full-suite HR software that incorporates time and attendance, payroll, HR and benefits, talent, and recruiting all in one platform. Centralizing all these HR-related activities helps automate employee data tracking and ensures accuracy throughout the entire system. Ascentis is customizable as well, meaning that HR professionals can tailor the software to fit their organization's needs. Ascentis can even be used to keep employees safe as they adjust to the new normal.
4. Gtmhub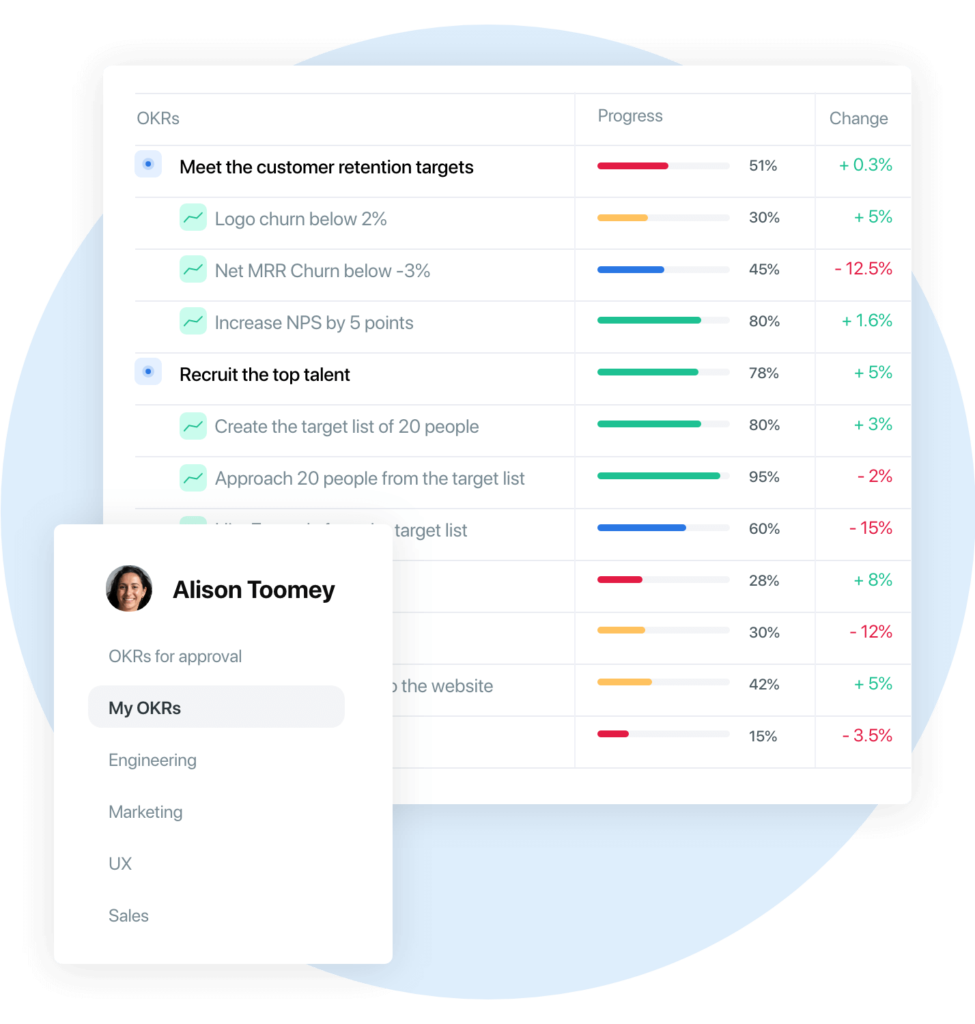 OKRs, or Objectives and Key Results, are a goal setting strategy employed by many of the world's best teams. Although the concept is relatively easy to understand, developing OKRs and putting them into practice is much more difficult to execute.
Gtmhub is in the business of getting companies over this hump with successful OKR deployments. Gtmhub makes OKR creation easy with drag, drop, and modify functionalities. Additionally, Gtmhub gives users the ability to crowdsource OKRs and give advice to other people just starting on their OKR journey. This collaborative effort encourages employee participation and allows managers to work one-on-one with their employees to ensure their needs are met and their goals are within reach.
5. Igloo Software
Igloo Software is a leading provider of digital workplace solutions that go far beyond traditional intranet. It enables organizations to transform into digital workplaces, bringing together employees and resources to nurture an employee-centric culture and create a more productive and engaged workforce.
Igloo Software has many pre-built solutions so that HR can start configuring their intranet right away without the help of IT. In addition, Igloo Software is constantly pushing the boundaries, coming up with new features that make your intranet future proof and scalable. By combining state-of-the-art Igloo Software technology with platforms like Achievers, companies can stay ahead of the curve and continue to create an exceptional digital employee experience.
6. Lessonly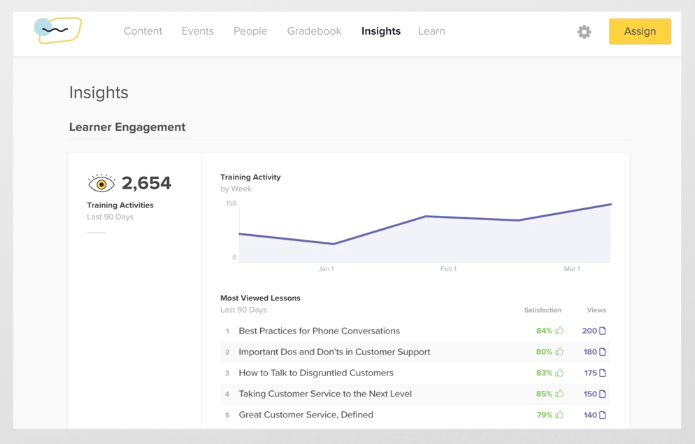 Lessonly is an eLearning platform that empowers teams to learn and practice like never before. By reimagining the training and onboarding experience, Lessonly helps companies deliver meaningful, purpose-built training that gets employees excited to go to work. Lessonly can be fully customized to the needs of any organization, down to the company logo, fonts, images, and brand colors. Administrators can quickly create lesson plans by dragging and dropping to add text, images, videos, documents, and quiz questions. Managers can then assign lessons to their teams or certain individuals who can take courses on their desktop or their mobile device.
7. Limeade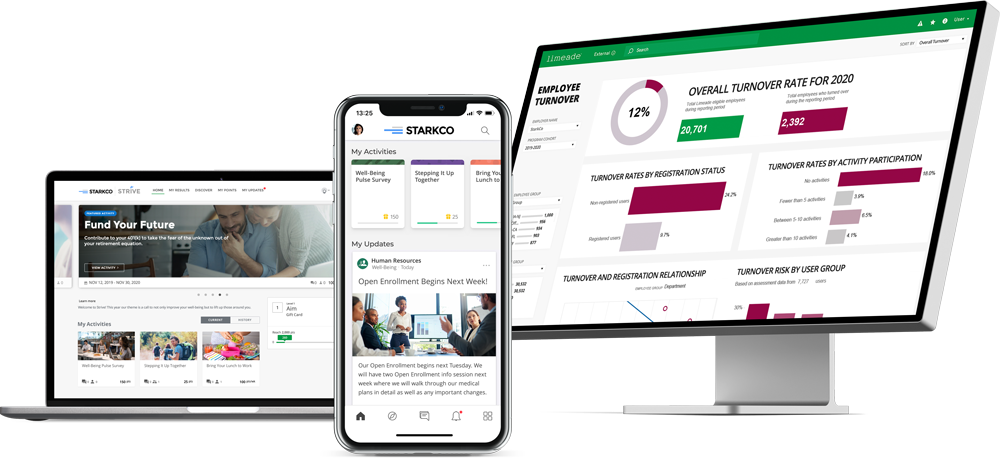 Every organization should have a wellness platform to support employee well-being all year round. Limeade is a wellness solution that helps you make long-term investments in your employees with career development and cross-functional training. It encourages employees to prioritize wellness and health through well-being activities for everyone at the company. In addition, Limeade has content to help employees become better people, offering tips on money management, stress reduction, and exercise.
Limeade's research shows that well-being is a precursor to engagement, so it's critical to implement an easy-to-use wellness solution across your organization.
8. SnackNation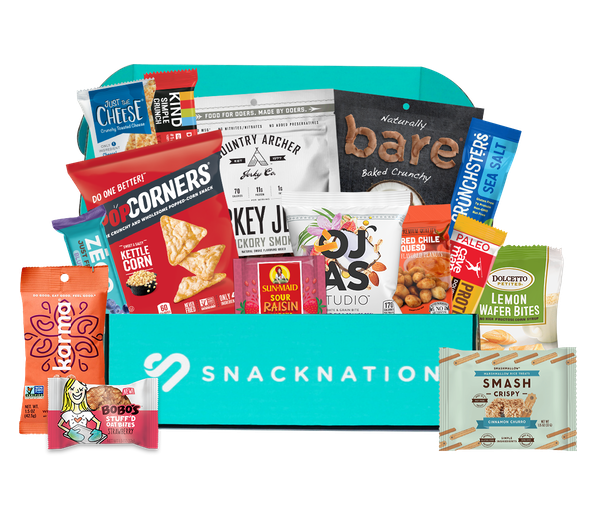 Not all employee engagement software has to be online. SnackNation is a subscription snack box service that nourishes and engages your employees with healthy snacks, coffee, and fruit. Even at a time when many employees are working from home, SnackNation offers a work-from-home box to give employees a delightful experience no matter where they are. SnackNation has an automated process that makes it easy for office managers to feed everyone and personalize packages to fit dietary needs. This reduces employee stress and keeps morale high, which are critical components of employee engagement.
Although snacks are always a morale booster, SnackNation makes food so much more meaningful: with each snack box, employees are donating a meal to a family in need.
9. Staffbase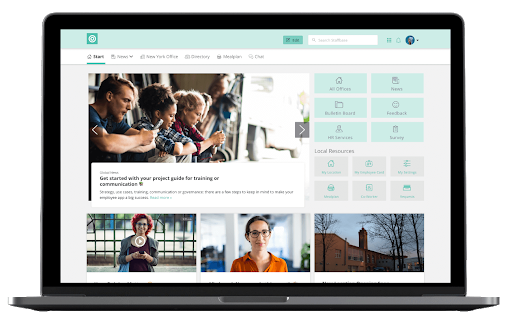 Staffbase is a platform dedicated to improving the employee experience through better communication. Staffbase provides fast and simple digital internal communication that is ideal for companies with frontline employees, remote workers, or both. With employee apps and an intranet that can deliver a personalized experience for every employee, Staffbase is an excellent choice for facilitating on-the-go employee engagement initiatives.
10. WeSpire
WeSpire is a mobile and web platform that specifically measures the impact of purpose-driven employee engagement programs. WeSpire differentiates itself by connecting a company's mission to campaigns that promote social impact and sustainability. With gamification and personalization, WeSpire caters its platform specifically to each employee's values. Overall, WeSpire hopes to inspire behavior change around causes that matter at work and in employees' communities.
Discover how to build a value-based culture that drives business performance.
Employee engagement software features
Employee engagement software can have many features, but a great UI, reporting, customer service, and scientific backing are essential features to look for in an engagement tool.
Great user experience
If software is easy to use, employees will be much more likely to engage with it frequently. An intuitive user interface makes it simple for employees to figure out how to recognize their peers, share their feedback, and redeem rewards without much training required.
Onboarding center
When a new employee is onboarded, it's helpful to house all of their HR forms, digital paperwork, apps to download, training and reference materials in one place. The onboarding center introduces new hires to their company and role, and if an employee's is a positive one, they're more likely to feel engaged with their new organization and colleagues.
Usage analytics
Insight into how often your employees are interacting with the platform includes analytics on activation rates, monthly average usage, recognitions sent and received, etc. This is important information for program admins to understand if, when, and how the platform and program is being used by employees.
Real-time reporting
Engagement tools with dynamic dashboards quickly highlight departments or regions doing great work and pinpoint areas of the business that could use some help. When any employee initiative is launched, leaders can measure the difference in engagement and pivot as necessary.
Chat
Individual and group chat features within, or that integrates with, your platform is great for encouraging communication and connections. Team members can easily post questions about projects, rather than waiting for an email reply. It's also great for connecting remote employees who don't get a chance to have the in-office type of casual conversations throughout their work day.
Mobile support
Many teams work remotely, travel often, or work in the field, so it's crucial for them to be able to participate in their engagement programs on the go. Mobile-friendly applications also usually have built-in multilingual functionality, which is critical for international organizations.
Notifications
Your employee engagement software platform should be equipped to send push notifications to your entire employee population. This is an important feature for company-wide announcements, instructions, or actions to take during emergencies. Ideally, you'll also be able to see who has read the message— something that's important when sending out safety notifications.
Performance management
Employee assessment and coaching tools, as well as channels for employees to comment on their professional development progress, is important. Following 1:1 meetings between managers and their team members, goals and KPIs can be entered into the platform, then monitored and measured as the employee works towards them. The coaching sessions that leverage this information should include actionable tips and suggestions to help the employee.
Exceptional customer service
A customer service team should be available to support program admins and the success of the program itself. Your employee engagement software provider should be eager to assist with user has questions, when a bug needs to be fixed, and when you need to brainstorm promotional campaigns to increase program activity.
Intuitive admin console
Configuring permission settings, groups, integrations, and reporting should be straightforward out of the box. Administrators should have the flexibility to customize the solution to fit the goals of their organization. It's crucial to choose a partner that will be by your side every step of the way to ensure a smooth implementation process.
Employee Surveys
Surveys play an important role for measuring and improving employee engagement. Some employees may be hesitant about approaching their managers directly. Offer employees a variety of ways to provide their feedback, including anonymous employee surveys, to help identify areas of improvement for the company.
Backed by science
Employee engagement software should be supported by science, credible institutions, and thorough research. Relying on tested and true solutions ensures that you're taking effective action rather than wasting time and effort. The Achievers platform is backed by its research and insights arm, the Workforce Institute, which provides key data and thought leadership to keep Achievers' solution rooted in workforce science.
Start your employee engagement journey today
Picking the right employee engagement tool can be overwhelming, but this is not the time to stall. Today's CHROs and executive HR leaders believe that employee engagement platforms that leverage data, build interconnectedness, and drive engagement are more important than ever before. All employees want is to feel valued, to be heard, and to do meaningful work. As stated by Cecilia McKenney, SVP and Chief Human Resources Officer at Quest Diagnostics, "it's very important that we define and invite employees to be part of this evolving partnership–this employer employee partnership."
The best employee engagement software platforms emphasize recognition and feedback in order to tackle employee criticism, celebrate employee achievements, and help their employees feel connected to their organization's mission and values. Achievers Listen and Achievers Recognize do just that, together encompassing all aspects of a winning employee engagement program.
What is Achievers?
Using a single provider for multiple aspects of engagement also maintains consistency in messaging and insights, consolidates programs, and it guarantees you VIP service for the entire platform. And Achievers enables providers to integrate with other employee engagement software platforms like Igloo Software, Limeade, and WeSpire.
Reach your highest potential when it comes to employee engagement  by requesting a demo of Achievers Listen or Achievers Recognize today.

*Information and pricing in this blog post was sourced from each vendors website
Employee engagement software platform FAQ
What are employee engagement tools?
Employee engagement tools are software, apps, or practices that a company uses to motivate employees and improve their satisfaction and engagement.
Why use employee engagement software?
Employee engagement software helps organizations collect, understand, and action employee feedback, recognize their achievements, encourage engagement, and drive productivity.
Who uses employee engagement software?
Organizations of all sizes, and across all sectors, use employee engagement software to motivate their workforce. While any size of company can benefit from employee engagement software, the solutions offered may different somewhat based on the company size.
What are different kinds of employee engagement software platforms?
Some employee engagement software platforms are designed to primarily be communications tools, others are used for recognition programs, motivating employees with points and rewards, while others focus more on collecting actionable employee feedback, or improving the employee experience. The best platforms accomplish all of these things.
What are elements of employee engagement?
Elements of employee engagement help create a strong organizational culture. The top 8 elements of employee engagement are: leadership, communication, culture, rewards and recognition, professional growth and development, accountability and performance, vision and values, corporate and social responsibility.