Live Webinar
Building Belonging: The North Star of Employee Engagement
It seems like every week we have new headlines highlighting how tight the labor market truly is. With unemployment numbers at near historic lows, resignations still at incredible highs, and Quiet Quitting rampant from coast to coast, what can we do that will help us not only thrive in the future of work but also build incredible teams along the way? The answer lies in creating a true sense of belonging, the foundation of great, resilient teams.
In this engaging and insight-filled webinar, hear from workplace expert Eric Termuende as he shares Achievers Workforce Institute's research from their 2022 culture report as we will uncover the key to belonging, how to build it, and why organizations need to build it now.
Join us to learn:
How to foster a deep sense of belonging
Why the labor market is so tight and what to do about it
Why the best attraction strategy is a good retention strategy
What employees are looking for at work in 2022 and beyond
How to drive productivity and engagement
Speakers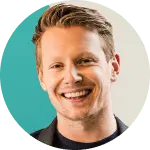 Eric Termuende
Author, HR Expert and Co-Founder, NoW of Work Inc.
Eric Termuende is a globally-recognized thought leader, author, and keynote speaker on building tomorrow's greatest places to work. Eric has surveyed and interviewed thousands of leaders about what it takes to create teams that not only win, but enjoy their time at work.
Eric deeply understands the next generation of workers and how to attract and retain the right talent. As co-founder of NoW of Work, Eric advises industry-leading organizations, institutions, and associations on future-proofing their teams, talent management, and rehumanizing the workplace. His best-selling book "Rethink Work" has become a must-read for today's leaders and is available wherever books are sold. Recognized as one of the Top 100 Emerging Innovators under 35 by American Express, his ideas have been featured in Forbes, Thrive Global, The Huffington Post, The Globe and Mail, and more.