Over four years ago, Achievers Workforce Institute (AWI) started researching belonging. Since then we've published the Belonging at Work report in 2021, a DEIB essentials paper in 2022, and included belonging in almost every report from the past few years. Now we've pulled that together into the Belonging Blueprint — the ultimate compendium of our research to date.
Part one of the blueprint, the Belonging Basics, focuses on the foundational data about what belonging is and why it matters.
Jump straight to the Belonging Basics report
Why should HR and business leaders care about belonging at work?
HR and business leaders should care about belonging at work for two reasons, one warm and fuzzy and one based on data and ROI. Firstly, you get to live in the culture you help create so when you create a culture of belonging, then you too get to feel like you belong. Secondly, the data shows that a strong sense of belonging can increase engagement, productivity, retention, wellbeing, and more. A focus on belonging is a focus on business results.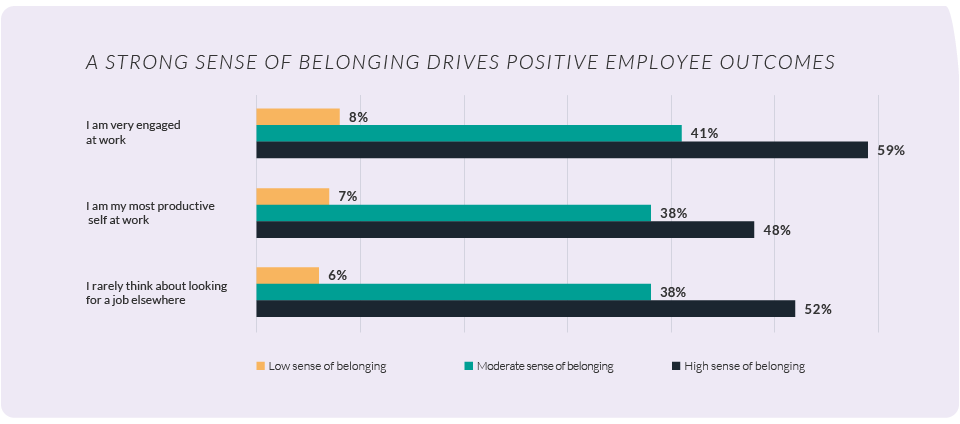 Understanding the five pillars of belonging
Built on academic research and confirmed repeatedly with business and primary data, the AWI Belonging Model TM introduced HR leaders to the five pillars of belonging:
Welcomed: introduced to, and incorporated within, the organizational culture and community
Known: understood, motivated, and celebrated as an individual
Included: valued and accepted without reservation
Supported: consistently and meaningfully nurtured and developed
Connected: developing and maintaining relationships across a diverse population
Employees who strongly feel any one pillar, e.g. they feel consistently supported at work, are twice as likely to have a strong sense of belonging. When all five are activated, likelihood of belonging triples.
Download the full Belonging Blueprint today for part one and two, plus introduction from Workday's Kumari Williams and appendices for different workplace groups including managers, offline employees, and those from marginalized communities.
Belonging throughout the employee lifecycle
While it's natural to focus on the impact belonging has on engagement and retention, the truth is it supports the entire employee lifecycle. Belonging plays a significant role in every step of an employee's journey with your organization — from before they join the team to long after they depart.
For example, according to Glassdoor research, two-thirds of job seekers research a company online and one-third say they won't apply if there's no information about the company online. Employees with a strong sense of belonging are twice as likely as average to say they would recommend their company to others, helping create a strong employer brand.
Ready to take action? Get part two of the Belonging Blueprint for 10 toolkits to help make meaningful change.
Belonging is not just a buzzword. Fostering a sense of belonging for every employee in your organization ensures happier, healthier, more productive workers who see a long career at the company. From recruitment to offboarding, a focus on belonging helps managers and leaders prioritize the actions that are going to drive individual, team, and organizational results.
We encourage HR leaders to align existing and planned initiatives to the Belonging Model TM and identify areas for improvement. Focus on just one pillar at a time to make meaningful change and foster a culture of belonging for every employee.
Get the Belonging Basics report today to strengthen your understanding of belonging and the employee experience.