Get engagement insights delivered to your inbox
Email address
Your employee retention strategy should always be a priority. A staggering 35% of employees may leave their jobs each year. And with the new normal of remote work, employees have a wider range of potential employers to evaluate than ever before.
HR leaders need to develop a range of strategies to positively impact employee retention. With open feedback channels, building a culture of recognition, and other key techniques, you can boost your retention efforts this year and beyond.
What is employee retention?
Employee retention is an organization's ability to prevent employee turnover, and it includes the strategy used to keep employees in their workforce.
Why employee retention matters
Employee retention needs to be top of mind for any company, as the cost of losing top talent is great. SHRM estimates that it costs $20,000 to $30,000 in recruiting and training expenses to replace a manager making $40,000 a year. This doesn't even account for losses in terms of interview time, knowledge, productivity, or cultural impact. And low retention rates also impact motivation, productivity, and performance. Before employees quit, they may become less of a team player, do the minimum amount of work, and fail to commit to long-term deadlines.
HR isn't powerless, though — 77% of the reasons behind employee departures are preventable. The key is to pinpoint the issues that may be driving employees to leave and address them before it's too late.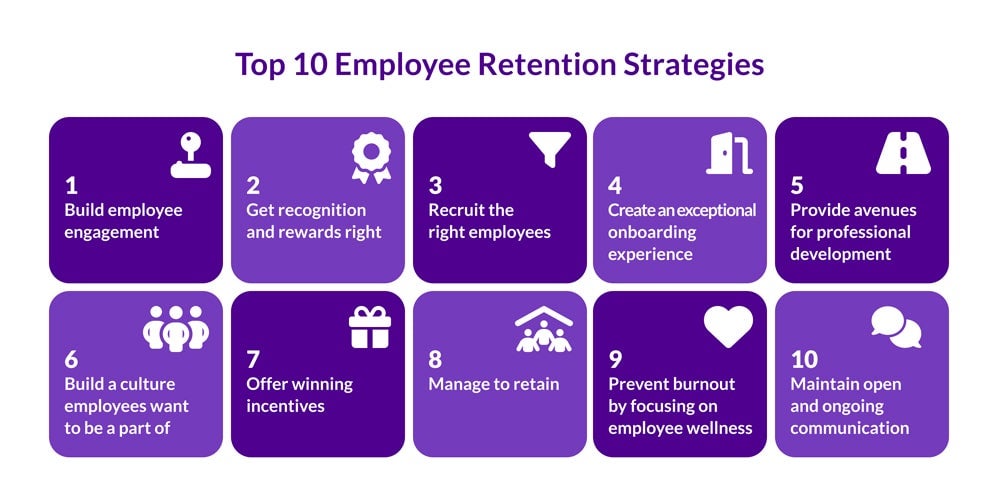 The best 10 employee retention strategies
Here are 10 ways to remedy existing retention problems and prevent new retention issues from cropping up in the future.
1. Build employee engagement
Unfortunately, only 21% of employees say they're very engaged, and disengaged employees cost the U.S. over $450 billion per year in lost productivity. Failing to give employees a voice brings down engagement.
Using an engagement platform that helps you ask the right questions to reveal how employees truly feel about their role, team, and manager. In place of long annual surveys that aren't actionable, try pulse surveys, short sets of questions sent on a recurring basis to measure employee engagement in real time. Outside of surveys, HR chatbots are a great way to create an always-on channel for employee feedback.
2. Get recognition and rewards right
Employees who feel appreciated work harder and stay longer, but over 80% of American employees say they don't feel recognized or rewarded. Building a culture of recognition requires frequent, specific acknowledgment. The Brandon Hall Group found that companies that recognize employees multiple times a month are 41% more likely to see increased employee retention and 34% more likely to see increased engagement.
To make consistent recognition a reality, prioritize both social recognition and monetary rewards, by using a recognition platform that lets employees — in-office, remote, and offline — accumulate and redeem points for rewards that actually matter to them.

3. Recruit the right employees
Find ways to attract first-rate candidates who align with your culture, such as emphasizing your culture on your careers page — things like monthly massages, onsite fitness centers, or generous parental leave policies, or highlighting awards like being a "Best Places to Work".
Build relationships with professional groups, community college career offices, and other relevant associations to get a more diverse applicant pool. Cater to different generations' needs by offering professional development, flexible schedules, and remote work. Spotlighting a strong culture of recognition is important, too. And spotlight a strong culture of recognition, because almost half of millennials prefer to be rewarded or recognized for their work at least monthly.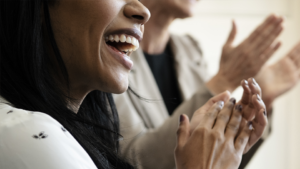 4. Create an exceptional onboarding experience
Help new employees by educating them on their responsibilities, giving them the agency and resources needed to complete their work, and creating an environment where they feel accepted. Introduce new hires to their teammates, and set them up with a mentor so that they have someone on-hand to answer questions. You should also ensure that remote employees aren't left behind when it comes to onboarding.
Remember to find ways to integrate groups who are returning to work, including new parents, people coming back from extended leave, or contract workers who are signing on full-time.
Discover the top 3 Employee Retention Best Practices
5. Provide avenues for professional development
Unsurprisingly, there is a direct link between low investment in employee development and staff turnover. On the flip side, supporting professional development and continuous learning uplifts your employees and boosts retention.
Educating your employees, setting up clear career paths, and instituting coaching programs makes everyone more creative, engaged, and effective at work. You can also host internal knowledge sharing sessions where employees teach one another new skills.
Ask managers to take chances on employees who have shown interest in a other areas. It demonstrates that managers care about their career trajectory and trust them to bring their expertise to other areas of the business.
6. Build a culture employees want to be a part of
Culture is paramount to attracting and retaining top talent. Glassdoor found that 77% of workers consider a company's culture before applying, and the Associated Press reports that nearly half of employees would leave their current job for a lower-paying one at an organization with a better culture.
Developing a standout culture involves rewarding people who act on your company's values every day. These values should be meaningful to every employee and communicated in a way that everyone can internalize and understand. And if you're rewriting your core values or trying to establish more company alignment, ask your employees for help.
7. Offer winning incentives
Eighty-five percent of workers feel more motivated to do their best when an incentive is offered. There are endless ways to incentivize your employees. First, ensure that the compensation your organization offers is appropriate 一 it's a major reason behind employee departures. Then think about other monetary incentives like referral programs, tuition reimbursement, and profit-sharing. Bonuses and raises are always appreciated as well.
Wellness rewards like gym memberships can help your employees unwind and take care of themselves. Giving managers a stipend to put on fun events each month, letting employees choose what projects they work on, and providing extra paid time off to rest and recharge are also excellent motivational tools.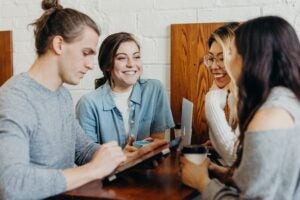 8. Manage to retain
Manager and employee relationships matter. Almost half of employees quit their job because of a bad manager, and 60% think their managers need training.
The best managers act as coaches and focus on getting the best out of their direct reports. They're optimistic, assertive, recognize employee value, and provide actionable feedback. Gallup found that workers who know and use their strengths average 10 to 19% increased sales and help boost their organization's bottom line.
Managers who recognize employees consistently improved employee confidence and engagement. Fifty percent of employees say that being thanked by managers improved their relationship and built trust.
The secret sauce of engagement and retention – A one-page guide for CHROs
9. Prevent burnout by focusing on employee wellness
Employee burnout is on the rise, with 76% of employees feeling its effects. Burnout symptoms like a lack of energy, negative emotions, and feelings of isolation are tough to overcome.
The good news is that your organization can intervene. Try giving employees more flexible hours, and make sure that responsibilities and expectations are clear and appropriate. Teach managers to look for signs of burnout and reach out to people who might be struggling and encourage employees to use vacation time, take up a hobby and lead a healthy lifestyle.
Finally, ask your employees for feedback. They probably know exactly what is causing burnout in your organization and have ideas on how to combat it.
10.
Maintain
open – and ongoing – communication
Authentic, honest, and transparent communication from an organization to its employees, whether they work on-site or remotely, is critical for letting them know what is happening within the organization, what to expect, and what the expectations are. This is especially important during turbulent times with the business or the economy. Employees want to feel supported and connected, and not be caught off-guard by changes within the organization.
In turn, employees should be encouraged to share their feedback, ideas, and concerns with their managers. Employees should feel free to share their opinions and experiences around their workload, job satisfaction, etc.
Boost employee retention with an employee experience solution
Implementing all 10 strategies above may seem overwhelming, but there are tools to make the process easier. Achievers Recognize is an award-winning recognition platform that helps organizations retain employees through frequent appreciation. Rooted in science, Achievers Recognize is designed to make recognition intuitive and fun for any user. It encourages frequent, meaningful appreciation that will transform your organization's culture.
Global brands like General Motors and McDonalds rely on Achievers to power their recognition programs. Their trust is well-warranted 一 Achievers customers are:
2.5 times more likely to see increased employee retention
36% more likely to see an increase in employee engagement
54% more likely to give their culture of recognition a high rating than customers of other technology providers
3.6 times more likely than customers of other providers to give recognition multiple times each month
Achievers Recognize works hand-in-hand with Achievers Listen, a comprehensive engagement tool that gives employees a voice through engagement surveys and always-on chatbots. Its built-in analysis features show where you stand when it comes to employee retention and how to address the key engagement factors that keep employees with your company. Achievers Listen guides managers through the collaborative process of working with their team to address issues that impact engagement and retention, resulting in effective action plans that everyone believes in.
Start prioritizing employee retention at your organization by signing up for a free demo today.