Get engagement insights delivered to your inbox
Email address
Recognizing employees is something every organization needs to prioritize. Organizations that rate their culture of recognition highly are:
3 times more likely to see increased employee retention.
2.5 times more likely to see increased employee engagement.
2.25 times more likely to give frequent recognition.
79 percent more likely to give their employer brand a high rating.
But knowing how to express recognition can be difficult, especially when putting your thoughts down in writing. And that's without taking into consideration tailoring recognition to fit the many digital channels now available. To write a great recognition letter, you need to understand why and how employees want to be recognized, as well as how to draft letters for every situation. The recommendations and examples here will get you started with providing meaningful messages of recognition in no time.

What is a recognition letter?
A recognition letter is a message of appreciation sent to an employee. It can be anything from sharing a note of thanks, acknowledging a recent win, or sending a message of congratulations. And it's one of the most effective ways to recognize employees: 85 percent of professionals want to receive thanks on a daily basis, and 36 percent of women, along with 28 percent of men, prefer that thanks to be in writing.
When creating a recognition letter, keep the principles of R.I.S.E. in mind: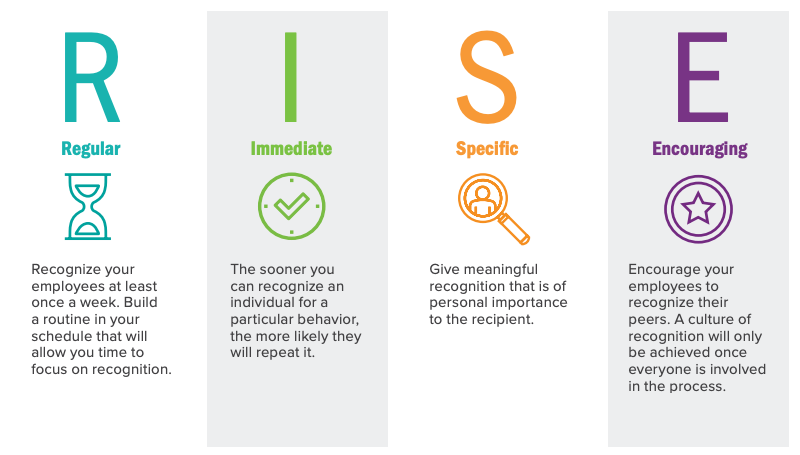 You should also take advantage of all available tools to make writing and sending recognition messages as easy and fun as possible. For example, with an employee recognition platform, you can send recognitions in a matter of seconds and recognize multiple employees in a single message. You can even tie each recognition to a company value, which can pay huge dividends — organizations that have cultures aligned with their values are six times more successful than their competitors.
Make sure you choose an employee recognition platform that offers all the features you need to make both giving and receiving recognition a great experience.
Bonus tip: For more information on best practices for recognition, take a look at these webinars by HR expert Meghan M. Biro on the importance of frequent recognition and how to shape a culture of recognition.
5 sample recognition letters
Here are 5 sample employee recognition letters that could be sent personally as a note or publicly on your employee recognition platform. Remember to always keep R.I.S.E. in the back of your mind when writing a recognition letter, and make an effort to ensure each message is both specific and encouraging.
1. Recognizing a peer
Fostering peer-to-peer recognition is a fundamental part of incorporating recognition into your organizational culture. Gartner has found that peer recognition can boost employee performance by up to 14 percent. After all, peers know each other the best and have the most opportunities for showing appreciation.
Encourage your team members to recognize each other in the spirit of this example letter:
Hi Evan,
Thank you for the incredible assistance with putting the finishing touches on my presentation yesterday. The tips you provided for introducing new team members to our development platform are going to make the onboarding process much more efficient. And the technical details you provided completely changed my perspective on how to structure the tutorial on using the platform for the first time. I can't say how much I appreciate you sharing your expertise on such short notice.
You've always been our technical guru, and your passion for your work is clear to me every day. Some people might think that "Go Beyond" is just a phrase in our mission statement, but you really live it. That means something.
The presentation was a hit with our CTO, and he's interested in producing more training presentations for all the tools we use. I made sure to call out your contributions, and I'd love to keep working together on this exciting new project! It wouldn't have been possible without you.
Sincerely,
Sarah
This example specifically calls out the colleague's behavior and ties it to a company value, which helps incentivize further positive actions and build your culture. And by noting that the writer called out their colleague's contributions to leadership, the letter builds trust and strengthens relationships between the two peers.
2. Recognition from managers
Managers are the individuals most employees look to for recognition, and with good reason. Your supervisor is responsible for understanding your talents and putting them to use, and seeing that they appreciate the results of your hard work is incredibly important. There's a reason that "people leave managers, not companies" — managers are responsible for 70 percent of variance in employee engagement.
Recognition from managers is visible and serves as an example to the rest of the team. In fact, 28 percent of employees say that recognition from their manager is the most memorable, and 58 percent of employees think they would have a better relationship with their manager if recognition were practiced more frequently.
See how meaningful recognition from management can be in this recognition letter:
Hi LeeAnn,
Wow — the way you contributed in the client meeting earlier today was incredible!
 I was really looking forward to how you handled taking the lead on laying out our new marketing campaign, and you knocked it out of the park. You laid out justifications in detail for each step we'd taken in their previous campaign, and your mastery of the data we've collected let you list the impressive results we've achieved clearly and concisely. Not only did you demonstrate the positive impact our work has had, you had a plan prepared that married our winning strategy to their specific concerns, and you were ready to lay it all out. I've never seen a team member exemplify our core value of driving success so well.
 You were an absolute rock star. I'm confident that with the roadmap you laid out today with our client, we're on the path to success. We're lucky to have you on our team. Keep going above and beyond and big things will be coming your way.
 I'm encouraging everyone else on the team to recognize you as well. I know that you'll find a great reward in the catalog to redeem the many points coming your way!
 Thanks for all that you do,
Phoebe
The letter is centered around recognizing a single achievement, and it carefully notes exactly why the employee's actions were so successful. This kind of encouragement is key for keeping employees motivated and continually driving success. If your company has a points-based recognition program in place, remember to include the note above about finding a "great reward in the catalog to redeem" when including points with your recognition. This reminds team members that they have the opportunity to select a reward that actually matters to them rather than making do with yet another years of service award or branded mug.
3. Recognition from the C-suite
Leaders should prioritize recognition to serve as an example for team members throughout the organization. And recognition from the highest levels of leadership is the most visible and has the greatest impact: 44 percent of employees most value being recognized by leaders above the supervisor level.
Here's a real-life example of a meaningful recognition letter from the C-suite recently drafted by Achievers' CEO and President, Jeff Cates.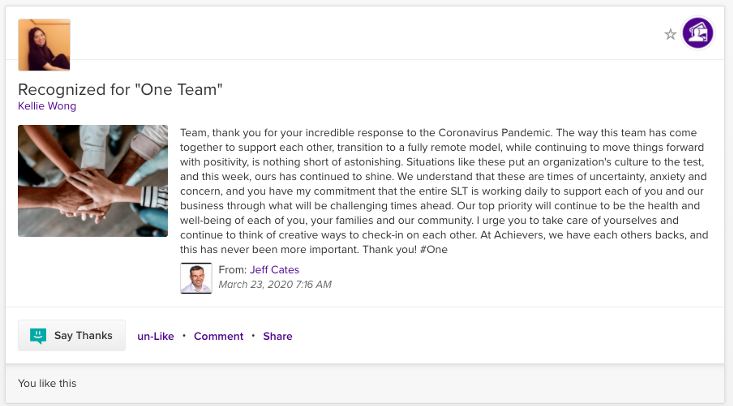 Jeff sent the recognition above to all employees on Aspire, Achievers' recognition program, through a company-wide newsfeed. Note how it clearly prioritizes the health and well-being of all team members — exemplifying Achievers' core principle of "It's the People" — and focuses on how leadership can support the rest of the organization, rather than the reverse. Using a recognition platform makes it easy for all employees at Achievers, including the C-suite, to recognize other team members daily.
4. Recognizing a milestone
While recognition should be a daily occurrence, that doesn't mean that recognizing milestones and anniversaries is unimportant. Showing employees that your organization appreciates their major achievements makes all the difference and makes employees feel noticed. You can even consider providing this recognition in the form of a digital celebration card that allows all team members to add special messages or even fun images and GIFs.
Take a look at this thoughtful message recognizing an important milestone:
Hi Bill,
Congratulations on your first work anniversary as an Account Manager. I wanted to take a moment to let you know that I've noticed and appreciated your excellence in the role so far.
I had worked with you previously as an analyst on many client accounts, so I knew that you were well-suited for this new position. I've seen you adjust to your new focus on client success and satisfaction quickly and adeptly. And I've heard the many positive customer comments in the meetings we've both been in. Serving with you on our product committee has also allowed me to see that you're as eager as ever to take on additional responsibilities. In particular, I really appreciated your help with identifying and resolving inefficiencies in the company's sales handoff process, which I think will have a big impact across the company for years to come.
It's been a privilege to work with you during the last year, and I'm looking forward to seeing you continue to do great things here.
Best,
Lacy
This message of recognition is appropriate for anyone, whether they're a colleague, manager, or even an executive. It's important to take a comprehensive look at all the accomplishments related to the milestone while still taking the time to zoom in on some specific details. This example is also encouraging and highlights the parties' joint involvement in a committee, which shows that the author truly appreciates her connection with the recipient.
5. Recognizing a new hire
Recognition should be part of the entire employee experience, starting from the day someone joins the organization. Prioritizing culture when hiring and during the onboarding process helps positively shape an employee's thoughts and feelings about their new employer. You then need to get team members involved with giving and receiving recognition as soon as possible so they understand this important part of your company culture. Including them in this important company practice will create a sense of belonging and connection that improves employee engagement and helps counter modern trends of disconnection.
Provide your recent hires with recognition letters like these early and often:
Hi Kelsey,
You've only been with us for a couple weeks, but I'm already seeing your impact here on a daily basis. You've excelled in training, and your quick grasp of your responsibilities has paid early dividends. Your work yesterday debugging the latest version of our email marketing tool was especially impressive and helped us roll it out earlier than anticipated.
But it's not just your work — your attitude and fit with the team are exceptional. I've noticed that other new team members are coming to you frequently with questions, and their trust in you speaks volumes. I also really appreciate you joining the celebration planning committee and taking an active role on it. Living by our values of teamwork and community will take you far.
If there's anything I can do to help you as you're progressing in your first year here, please don't hesitate to reach out. Thanks again for hitting the ground running.
Sincerely,
Tyler
It's never too early to start recognizing a new employee. You can even consider sending a message within the first day or two to start incentivizing behaviors you've noticed and want to see more of. The letter above calls out specific positive actions and offers the support new hires need to excel.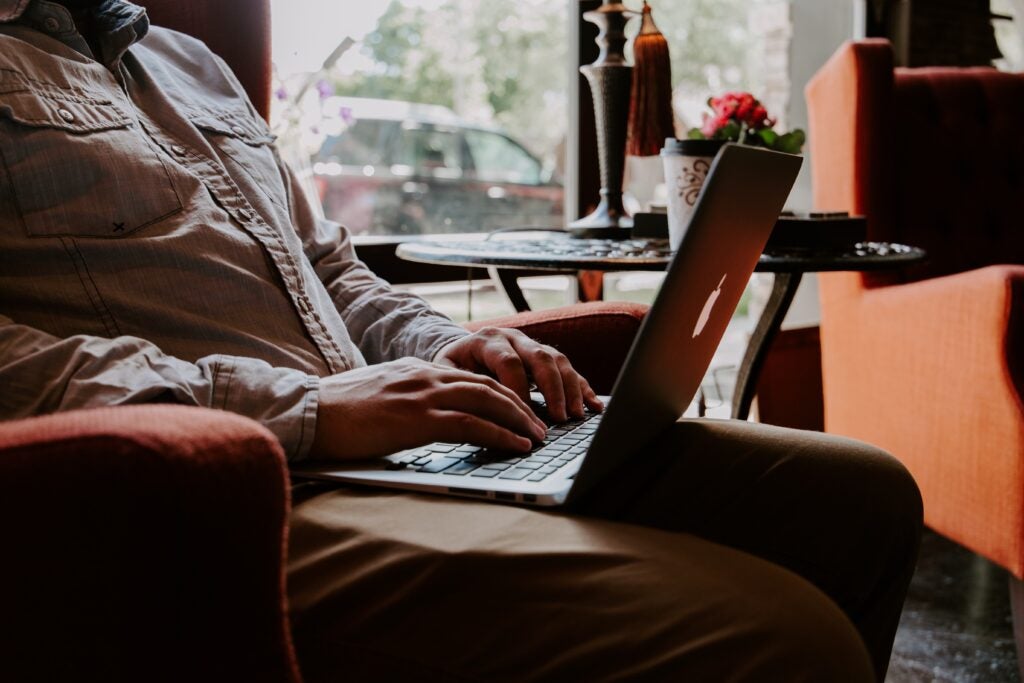 Make recognition easy with the right platform
Social recognition is an integral part of any recognition program. According to a recent Achievers survey, nearly one in three Americans want recognition from a manager or colleague, whether it's personal recognition or public recognition. And the best way to provide timely, frequent messages of recognition is by using an employee recognition platform like Achievers Recognize.
Achievers Recognize is an award-winning platform that all employees can use to easily send and receive social and points-based recognition from anywhere, with the goal of fostering a real culture of recognition. It features a company-wide newsfeed, digital celebration cards, and robust reporting capabilities that give HR and managers insight into recognition activity across the workplace. It also incorporates the principles of RISE by encouraging frequent recognition — team members won't be satisfied with an annual pat on the back — and letting employees explicitly tie recognitions to company values.
Achievers Recognize consistently beats the competition, and the data shows it. Achievers customers are:
107 percent more likely to give their culture of recognition a high rating than organizations that don't use recognition technology.
3.6 times more likely than customers of other providers to give recognition multiple times per month.
2.5 times more likely to see increased employee retention.
36 percent more likely to see an increase in employee engagement.
Interested in making recognition easy? Take a test drive of Achievers Recognize today to get started.