Get engagement insights delivered to your inbox
Email address
These days, a good manufacturing industry employee is like struck gold. Even though the manufacturing sector pays an average hourly wage of $29.34, good workers are hard to find. Eighty percent of manufacturers say they've had trouble finding qualified workers. Jobs in this sector require high levels of skill, training and the ability to use new technologies, and applicants simply don't have the right skills manufacturers need.
Meanwhile, turnover is highest for those with fewer than four years on the job. This means newer hires may leave after you've invested in their training and waited out their productivity ramp-up time, which is a big investment.
What's a manufacturer to do?
Build engaging employee incentive programs for manufacturing
Your employees are challenging to obtain and too valuable to lose. Retain them by building an engaging employee incentive or rewards program. Start with recognition to reinforce a positive culture and promote safety in the workplace.
With the right platform, you can customize your own employee incentive programs for manufacturing, and engage everyone in your company. By creating a recognition program, employees can easily give and receive praise on a frequent basis and collect points that can be redeemed for a reward of their choice. Recognition and rewards can help engage and retain your best people for the duration of their careers.
Harness the power of recognition
By applying the power of recognition, you can solve a range of manufacturing industry pain points. Utilizing a recognition platform can benefit you in the following ways:
1. Heightened engagement
While the manufacturing industry has recently seen job growth, new members of the growing workforce feel disengaged. And when you have a large workforce, it becomes even harder to connect with individual employees in a meaningful way. But the right recognition program gives your employees the power to connect with another. Also, recognition happens to be the leading driver of employee engagement.
2. Strengthened retention with Gen Z and millennials
As the average age of the manufacturing labor base creeps toward retirement, it's essential to attract fresh talent. A culture of recognition is attractive to younger job candidates. Generation Z and millennials seek recognition at work, with 79 percent saying that an increase in recognition and rewards would make them more loyal to their employer.
3. An increase in skilled workers
There are various reasons why manufacturing faces a workforce shortage. There aren't enough STEM program graduates, and the younger generation may perceive the industry as being outdated, unsafe, unclean, or stagnant. Recognizing and appreciating employees on a regular basis for their contributions and growth in skills can make your firm very attractive to qualified candidates; even when they are few in number. According to recent Achievers report, 91 percent of workers "strongly" or "somewhat" agreed a strong recognition culture makes a company attractive to work for.
4. Established sense of belonging
Recognition is a powerful thing. It's the human element that's missing in so many jobs. A lack of recognition makes many good employees quit. The simple act of leaders and peers expressing appreciation for a job well done gives workers a deep feeling of connection and sense of belonging. It lets them know they're an important part of an effort greater than their individual roles. Employee recognition can vastly improve or get ahead of many challenges, from lowering turnover and improving morale, to driving company culture.
5. Improved workplace safety
Did you know 92 percent of workers agree when they're recognized for a specific action, they're more likely to take that action again in the future? Recognize and reward employees for displaying behaviors that promote workplace safety. This will help reinforce key behaviors and improve workplace safety across your organization. Incorporating recognition into the employee experience results in a positive feedback loop that can lead to greater levels of workplace safety and job satisfaction.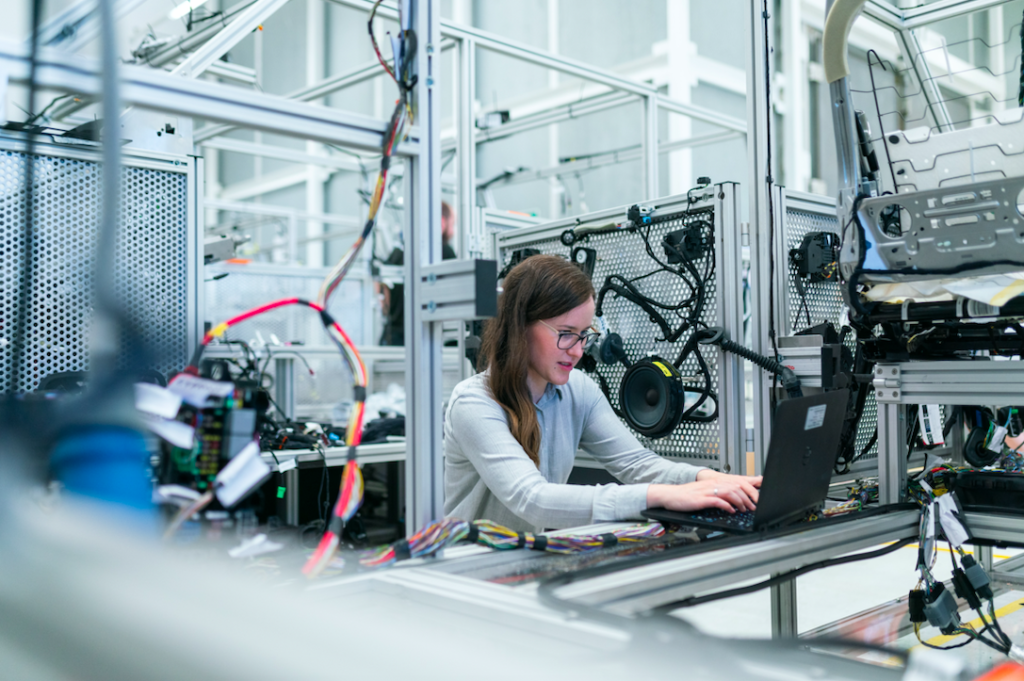 It's the carrot, not the stick
Frequent and positive recognition and rewards can reinforce key, goal-reaching behaviors. To coin a phrase, it's the carrot, not the stick.
Your employees are people. So, connect with them! Find the right tools to get employee incentive programs for manufacturing right.
The right recognition platform can benefit your manufacturing business by enabling:
Reinforcement of key behaviors
Recognition that can be given on the go from a mobile device
A friendly user experience
A means of tying daily job responsibilities to overarching company values
Real-time data and analytics
Greater trust between employees and their management or leadership teams
Stronger relationships between teams or departments
Improved employee engagement across your organization
Bonus tip: Build a business case for a recognition platform. Get started by accessing this free recorded webcast. In this webcast, Breanne Woodrow provides insights on key components needed in constructing a business case and evaluating an employee recognition platform.
Engage employees with Achievers today
Skilled manufacturing personnel are hard to find, and other firms are competing for top talent. Get ahead of the curve with employee incentive programs for manufacturing. Stand out as a top company to work for using Achievers' award-winning recognition platform. It has the power to engage your entire workforce and spread appreciation on an everyday basis.
To learn how Achievers can help your manufacturing business build a culture of recognition, request a demo with our retention experts today.