Create a culture that means business™
Email address
Employee Appreciation Day is right around the corner. This is the perfect opportunity to show your employees that you value their contributions and that you've been paying attention to their needs.
Why should you bother with Employee Appreciation Day? Because low employee morale will tank your productivity — costing America's businesses up to $550 billion each year. Ouch! Also, 82 percent of employees wish they received more recognition for their work.
This year, go beyond the basics to show your employees that you really get them. Try these outside-the-box Employee Appreciation Day ideas to get your creative juices flowing:
Fun celebration and event ideas

1. Turn Employee Appreciation Day into Employee Appreciation Week
If one day is good, five days are better! Consider expanding your celebration to add some fun every day. You could provide breakfast, coffee break snacks, and/or lunch on different days, dedicate one day to revealing a gift, etc. Spread out the joy for maximum impact!
2. Declare a Spirit Week
Remember Spirit Week in high school, when each day was given a theme and you dressed accordingly? If this is the type of activity that would energize your creative employees, go for it!
Pro Tip: Make one day about your business, and provide new t-shirts or other apparel as an employee appreciation gift so everyone has new duds to wear.
3. Gamify your recognition program
If you already have an employee recognition program in place, give it a boost with a friendly competition among departments to see who can send the most recognition messages throughout the week. This will remind employees of the power of recognition and build plenty of good will.
4. Offer in-office self care
Mental health is a big priority for employees, but it often goes overlooked in the workplace. In addition to long-term changes to support mental health, consider bringing in a yoga teacher or meditation expert to teach a class during Employee Appreciation Day.
5. Craft a special message
Take a cue from Achievers' customer Bill Gosling Outsourcing and create a heartfelt video from the CEO — bonus points if you include bloopers from the filming! Hearing from leadership is an important way to show employees that their work really counts.
Pro Tip: Check out more excellent Employee Appreciation Day ideas from our customers here.
6. Informal face time
Another way to make employees feel good is to empower them by listening to their ideas. Only 11 percent of employees are asked their opinions more than once per year, and that's just not enough. Host small groups or short individual conversations with employees and C-suite execs to show them you're listening.
7. Regular pulse surveys
To gather even more regular feedback, consider implementing pulse surveys to allow your employees to provide feedback on a frequent basis. Using Employee Appreciation Day as the kickoff will ensure you get high participation.
Pro Tip: Be sure to use all that feedback to make changes to show your employees you care about their ideas!
8. Day of service
There's nothing like the feeling of giving back to the community, so consider a service outing on Employee Appreciation Day. Whether you landscape a women's shelter or cook meals at a soup kitchen, this is a meaningful bonding experience for all.
9. The gift of laughter
Instead of the typical business-oriented motivational speaker, why not hire a comedian to give the keynote address? This is especially great if you set it up as a surprise for a post-luncheon treat.
10. Improv comedy workshops
Another way to bring the funny is to engage your workers in an onsite improv workshop. This is a popular new form of professional development, since it teaches people to think on their feet and bond with each other. It's also a ton of fun.
Unique rewards and gift ideas

Of course, everyone loves presents! Here are some of our favorite gift ideas for Employee Appreciation Day:
11. Choose your own gift
Offering a catalog or selection of gifts makes everyone happy, especially if you have a large, diverse workforce with varied interests.
12. Gift cards
This is truly the most flexible gift around — your employees will be able to get just about anything their hearts desire!
13. Keep it local
You can also support the local economy by giving gift cards for independent shops, restaurants, and services.
14. Dry cleaning delivery
Partner with a local cleaner to pick up and deliver at work — your employees will wonder how they ever lived without this convenience!
15. Ergonomic investments
If you haven't replaced the office furniture in a while, and upgrade to ergonomic pieces will have your workers saying "ahhhh."
16. Cubicle personalization
On a recent episode of Makin' It, crafters put a personal spin on bland office cubicles. Give your employees a decorating budget and encourage creativity!
17. Give swag that works
Branded gifts can be great, but only if they fulfill a real need. Consider what items would get the most touch time every day to guide your gifting.
18. Time off
Can you close up shop early on Employee Appreciation Day? A free afternoon that comes as a surprise can be a glorious indulgence.
19. Charity cash
Give each employee money to designate for their favorite charity, then take care of all the logistics of the donation for them. Giving feels great, and 64 percent of people wish they could do more of it.
20. Subscription support
Gift cards to streaming services like Spotify or Netflix will definitely get used! You can also consider subscription boxes for an ongoing treat.

Equipped for Employee Appreciation Day
With these fresh ideas for Employee Appreciation Day in your back pocket, you're sure to have a blast and show your workers you care. Don't limit employee appreciation to just one day or week; celebrating accomplishments in the workplace should be practiced all year-round.
Get started by showing appreciation for a colleague today. Customize and send a fun Employee Appreciation Card.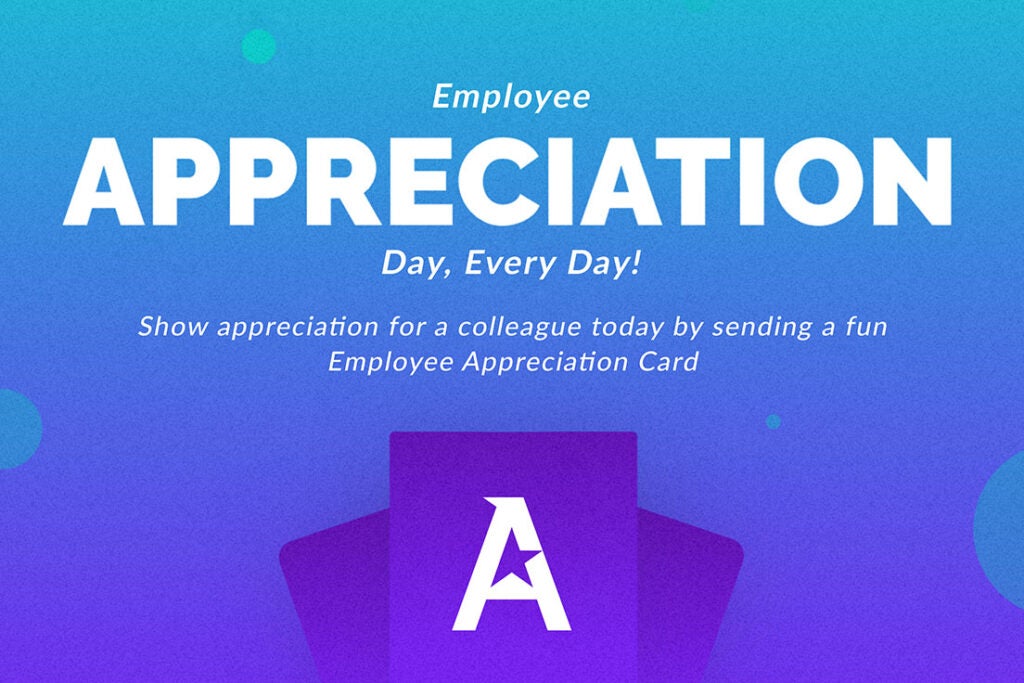 Need help making the case for employee appreciation at your workplace? Download our e-book, "The Power of Employee Appreciation."