Hiring the right people has always been fundamental to the success of every business. Today, getting qualified and dedicated workers on board is more complicated than ever. In the age of remote working, new hires need additional skills. That means things like knowing how to do video conferencing or self-motivation. What's more, how you hire has had to change dramatically. Anything that can make your HR life easier is a godsend. An employee referral program can do just that.
Employee referral programs have grown in popularity for HR professionals and for good reason. According to CareerBuilder, 82 percent of employers rated employee referrals above all other sources for generating the best return on investment. An employee referral program can help reduce both time to hire and cost per hire. Referred candidates are 55 percent faster to hire and employee referral programs can save companies $3,000 or more per hire. If you want to learn how to build a successful employee referral program at your organization, view our quick guide and tips below.
What is an employee referral program?
An employee referral program is a way of finding the correct candidates for your open job roles. Rather than leveraging traditional methods of hiring, such as classified ads or job boards, you ask your employees to recommend new hires. If their suggestion is a strong fit, you then reward them for their help.
The central premise of an employee referral program is that your staff will be better able to judge if an applicant is a good fit. A team member can easily assess if someone they know will gel with the company's culture. That's far from the only reason you may need an employee referral program, though.
Why do you need one?
Finding, interviewing, and onboarding the perfect candidate for a role takes time. Often, lots of time. There are few things more valuable to a recruiters and hiring managers than the hours they can devote to their work. Shortening the hiring process, therefore, is a no-brainer if it's something you can achieve. Having a colleague present an applicant to you is much quicker than trawling the global applicant pool.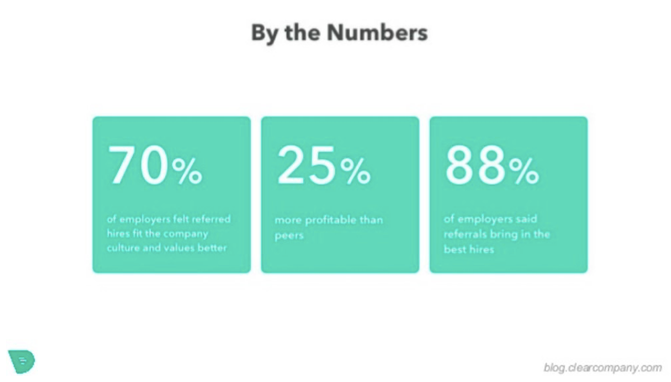 What's more, you're more likely to end up with a higher quality of new hire. Referred employees typically work out better for organizations. There are several reasons for this:
Your employees have a better grasp of what an available job role requires
Referrers will only present good quality candidates. Doing otherwise will damage their reputation.
Those referred will feel obligated to the referrer to do a good job.
The new hire is already working with someone they know. That makes onboarding simpler and provides a strong employee experience right off the bat.
An employee referral program can deliver multi-faceted benefits. Not only can you shorten the hiring process, but you also improve your chances of nabbing the right candidate. If this all piques your interest, read on to learn how to run your employee referral program.
Tips for designing and running your employee referral program
If you're starting from scratch, setting up a fully-fledged employee referral program can seem daunting. Fortunately, there are some straightforward best practice to help you along. The following are four key steps to get started.
Prepare and plan
An employee referral program isn't something you can set up overnight. Not if you want it to be the best it can be. You need to plan and prepare as you would for any significant undertaking. Get your decision makers together and ask the following questions:
How often do you need to hire and for which positions?
Are there open job roles that you've often struggled to fill?
What minimum practical requirements are there for new hires? For example, do they all need to be competent in specific tech, such as virtual webinar tools?
What is your company culture, and which types of candidates will be the best fit?
What do you hope to achieve with your employee referral program? Are you looking to widen your applicant pool for particular roles? Do you need to spend less time on hiring?
The answers to these questions will help you sketch out the shape of your program. They can help you decide how much time, money, and effort to spend on getting it up and running. The insights will also tell you for which roles your new program needs to get optimized.
Clearly define rules and processes
With a broad idea of the shape your program must take, you can get down to brass tacks. That means defining the rules and processes that drive the scheme. Today, there's lots of tech to make this more straightforward. As scheduling software automates a calendar, applicant tracking tools streamline referrals.
Such tools often have features and templates designed for referrals. They will give you an email template to send out to your employees. They will also have analytics to monitor who recommended which candidates. If you don't wish to use specialized software, you'll need to create the processes yourself. Just remember that it's vital to keep track of referrers and keep them up to date on how applications progress.
What's also vital is to be clear and transparent on the rules of your employee referral program. Create a policy document that defines the following:
How an employee can recommend an applicant or share details of a role
When they can expect their reward. For example, will it be after they make a referral, once a candidate gets hired, or after they've done a week at work, etc.?
What the reward for a successful referral is
How you'll resolve complications. For instance, what happens if one applicant gets recommended by multiple referrers?
Promote your program and recognize participation
With your employee referral program designed, it's time to get it rolling. That starts by promoting it to your staff. You need to make everyone aware of the program, as swiftly and effectively as you can. One idea would be to screenshare an example referral during a whole-team meeting.
The next vital step is to recognize all participation in the program. The only way your program will succeed is with employee buy-in. Every time an employee submits a referral, publicly recognize and reward their participation. Doing so encourages employees to continue submitting referrals. After all, 92 percent of workers agree when they get recognized for an action, they're more likely to retake it.
Mix up your incentives
The rewards you give employees for taking part in your referral program can change. It's up to you to be creative and think about what your staff will appreciate. You could opt for a tiered points-based rewards structure. For instance, a worker might get 1000 points (equal to $10) for submitting a referral that goes no further. The reward could then rise to 2500 points (equal to $25) if their recommendation reaches the interview stage, and so on. Employees can later redeem their points for a reward of their choosing that is most meaningful to them.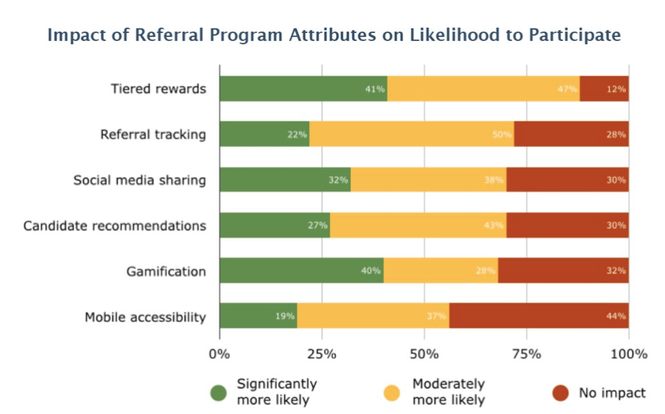 Many organizations choose to avoid cash entirely. Gift cards are by far the most common form of reward available through most recognition programs. Almost three-quarters of employers offer this type of bonus. Your team might even want to have professional growth opportunities as an incentive. It really is up to you, and it will pay to experiment with different options.
Build an engaged workforce with an employee referral program
Many businesses find the hiring process challenging. It has many aspects, and the stakes are always high. Making a misstep when bringing a new hire on board can damage team morale and waste lots of time and effort.
A well-optimized employee referral program can take away some of the stress. Finding applicants gets much more straightforward, and the quality of those candidates rises. Providing a seamless interview and onboarding process for new hires and rewarding current employees for referrals will only boost employee engagement levels across the board. As a result, workers will stay loyal to your company for longer.
To learn more hiring best practices, access this insightful webinar, "Becoming an Employer of Choice: Best Practices to Recruit, Retain, and Shine."