Get engagement insights delivered to your inbox
Email address
No manager wants to see rolling eyes when pitching fun games for team building. It's tricky to figure out fresh and exciting ways to bring your team together without being invasive or treating them like children. Any activity you set up has to respect people's privacy and allow shy employees to participate equally. Done right, interrupting the daily routine for a collaborative game is a great way to refresh your employee engagement.
Why fun games for team building are important
Fun games shouldn't just be an excuse for employees to take a break. The right games for team building serve a much larger purpose. Fun games give employees an opportunity to let loose and be themselves. Your team will be able to learn more about another, both professionally and personally. How your team interacts with another on a regular basis directly impacts how they work together on a project or new company initiative. Fun activities are a great way to foster healthy work relationships and develop trust amongst co-workers. Here are 10 guaranteed-not-annoying options for real team building:
1. Escape rooms
It's not often that a genuinely new concept arrives on the scene, but that's exactly what escape rooms are. This fresh activity checks every box on the ideal team-building list: It draws on a wide range of collaborative skills, offering a participation niche for every personality type. Unlike ropes courses or other athletic activities, escape rooms are fully accessible to people with physical limitations. They're an adventure, a puzzle and a good story all rolled into one — what's not to love?
2. Volunteer projects
When you get your people together to work in your local community, you'll receive as well as give: Your employees will enjoy the good feeling that generosity brings without having to sacrifice free time or income. Your brand will also benefit from being noticed in a helpful community role. If you're not sure how to fit your whole team into a local organization, you can get help from companies like Right Hand Events, which can "manage all aspects of your corporate volunteer project."
3. Two truths and a lie
The next time you're brainstorming fun games for team building, don't forget the classic game two truths and a lie. This game allows people to share information about themselves while letting each person set the level of disclosure they are comfortable with. The full outline of the game is described here, but the main idea is that your group sits in a circle and each person tells two true things about themselves and one fake thing. After these disclosures, the group has to vote on which statement isn't true. Revelations may be funny or poignant, but they're guaranteed to hold everyone's attention.
4. The great egg drop
Okay, so this one's a little bit elementary school-ish, but there's a reason it's been around the corporate world for so long. It forces people to cooperate on an absurd task, without making anyone feel embarrassed. Two or more teams each collaborate on creating a package to hold a raw egg, so that it can be dropped without breaking from a height of about eight feet. Team members have to brainstorm how to utilize limited materials, and they genuinely get invested in how well their team's contest entry will do. This three-minute video shows how it works.
5. Potluck lunch
Who said games for team building couldn't involve a delicious potluck lunch? After all, food is a universal way to establish bonds between people. You can always take your team out for a special meal or provide catered snacks, but there's a uniquely personal quality to bringing food from home. HR Partner notes, "we have found real team-building and workplace-enhancing benefits from the simple activity of holding informal, friendly potluck lunches." Of course, not everyone cooks, but team members whose diet consists of ramen and take-out can still participate by bringing in their favorite beverage to share.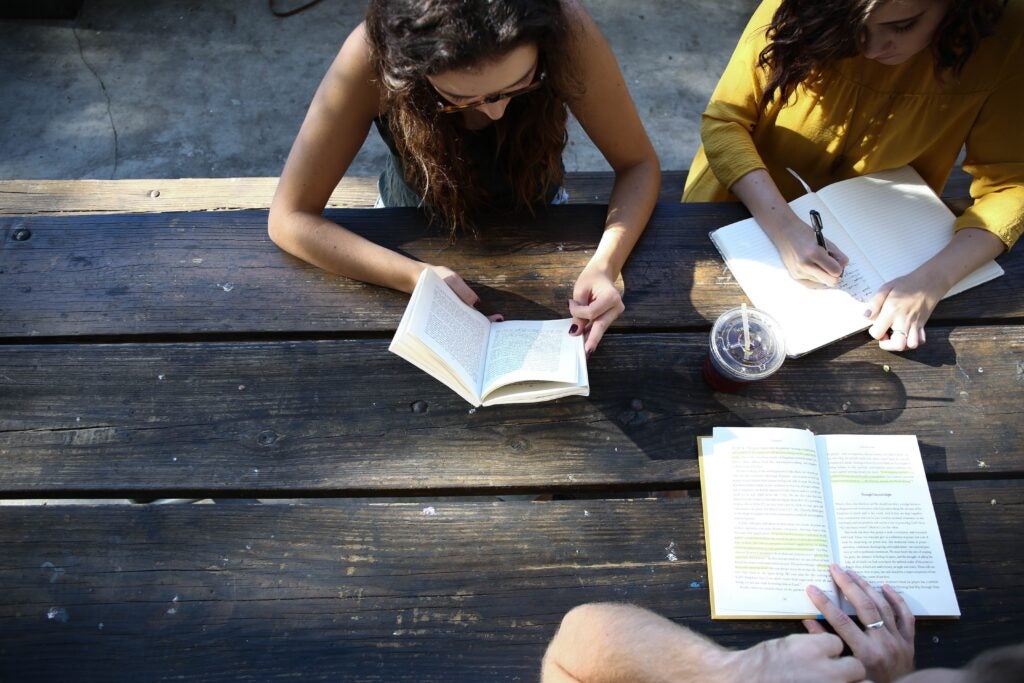 6. Airbnb experiences
Another new bundle of team-building possibilities can now be found in larger cities via Airbnb. If you browse through "Experiences" in the San Francisco Bay Area, for example, you'll find affordable group opportunities across an unimaginably wide spectrum of interests. These include everything from wine tasting tours to guided walks through the redwoods and classes on fishing for crabs, painting and making sushi. Don't limit yourself when it comes to fun games and think outside the box.
7. Brown bag lunches
This traditional game for team building offers workers a chance to sit and eat their lunch while enjoying an interesting presentation. Expert speakers can introduce topics related to work (in which case the program should be on the clock) or they can offer purely recreational topics. These events can additionally include randomized seating and discussion groups so as to build new connections between coworkers.
8. Perfect square
Like the egg drop, this is a fun game that can be set up easily onsite and isn't so simple-minded or invasive that it will provoke resistance. Your whole team stands in a circle, and you give them blindfolds to put on. You then hand them a rope with its ends tied together so that everyone is holding onto it. Then you ask them to move so that the rope forms a perfect square. Since no one can see, everyone will have to participate by thinking and speaking clearly in order to accomplish the task.
9. Hobby clubs
The Job Accommodation Network notes that workplace clubs focusing on hobbies such as knitting, model building, walking or yoga have a measurable effect on stress. Participants in these activities reported 34 percent less stress and 18 percent less sadness. Furthermore, their heart rates dropped, and these good effects lasted even after the activity had ended.
10. Peer-to-peer recognition
Appreciating each person for their contribution is the heart of true team unity. If you encourage employees to notice and express appreciation for each other's efforts, it will pay dividends in the future. Innovation consultant Annabel Acton states, "Peer-to-peer recognition is not only motivating to employees, it reinforces a culture of support, collaboration and achievement."
Employees will look forward to coming to work when they're part of a unified team, working alongside people they respect. Now that you've read our list of fun games for team building, we hope you feel well-equipped for your next team outing or activity.
To learn more about how to enhance the employee experience, access our white paper: "Personalization: The Missing Link in Employee Experience."