Get engagement insights delivered to your inbox
Email address
We've all been there. Your coworker Sam is moving on to a new opportunity. Goodbyes are being said. Personal email addresses are being exchanged so everyone can "stay in touch". Sam's cardboard box is filled with the usual suspects: family photos, a mousepad with the Dallas Cowboys logo, years of service awards, the chrome stapler he secretly lifted from the supply closet and a Ziplock bag full of client business cards he has gathered over the years.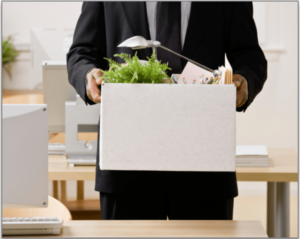 Now, here is where the real fun begins. Sam's footsteps can still be heard in the hallway when the vultures swoop in at his desk. The Pilot 2.0 pens, the ones that draw the super clean lines without smearing, go first. The post it notes and desk calculator go next. Bill from accounting grabs the XXL Chili Cookoff sweatshirt for his 6'4" nephew who plays nose tackle in Idaho. By the time the dust settles, inventory has grown scarce. However, a few items have remained unclaimed despite numerous scavengers passing by. Sam's three "Account Executive of the Half" service awards have zero bids. What is Sam supposed to do with numerous years of service awards? Set them up on his desk at his new gig? Another drawer holds the faux leather briefcase with the company logo stitched on it that he received for his five-year work anniversary. Sam only had three options for his award and he selected the briefcase over the whiskey decanter (he already has one) and the cherry wood desk clock (his watch works fine). Sam won't need it in the future as this company is now firmly in his past.
Why would Sam leave his years of service awards behind?
These type of service awards are meant to be a reward for the culmination of five years of hard work! Does an unused briefcase truly represent the appreciation his previous company had for him? Sam has worked his tail off for 260 weeks and his big thank you comes in the form of a pleather bag to carry to work – the same bag that has been gathering dust in his desk drawer since the day he received it. To make matters worse, every employee next to Sam receives the same type of service awards at their five-year work anniversary which makes the gesture less personalized. Whether your work performance is the strongest or the weakest in the company, everyone gets the same reward. Logic would assume that a costly rewards program would focus on performance yet 87 percent of recognition programs focus on tenure.
This brings up a legitimate question –  is a tenure of 5 years the benchmark to define loyalty? Do employees not take actions on a monthly, weekly or daily basis to benefit their company and confirm their commitment? For Sam, there were dozens of moments during that time span that were worthy of recognition. Like the time he renewed his biggest client despite them having given a verbal commitment to his competition. What about the time Sam worked 10 hours on Thanksgiving Day to finalize the forecast projections the CFO dropped on everyone at the last minute? Or maybe the 11 folks he acted as a mentor to when they were new hires. If you demand Sam's loyalty, you must recognize him in the moments he displays it. After all, 59 percent of employees are not recognized at their preferred frequency. Nobody is sticking around for half of a decade just to get a lapel pin, gold watch or acrylic service awards. In fact, the high majority of employees will never make it to a 5-year anniversary at a company. According to the Bureau of Labor Statistics, the average job tenure in the US is just 4.2 years. And the millennial workforce, who is expected to make up 75 percent of the workforce by 2025, will switch jobs four times in their first decade out of college!
What's the solution? How do you build loyalty in the modern job-hopping workforce? The secret lies in building a true culture of recognition. Employee recognition should be given frequently and in the moment. This can include performance achievements, learning and development accomplishments and even celebrations such as birthdays and work anniversaries. Below are six keys to a successful recognition strategy.
Six keys to a successful recognition strategy
1. Speak to employees in their preferred language
The modern employee wants convenience and information delivered in a manner that is easy to use, available via mobile and in the flow of work.
2. Increase the frequency in which you recognize to drive behavior
Letting employees know that their positive contributions are noticed drives discretionary effort because what gets recognized gets repeated.
3. Celebrate milestones in the moment
Find reasons to show employee appreciation such as finishing an onboarding checklist, completion of modules in a learning management system, birthdays, service anniversaries, etc.
4. Integrate multiple programs into your recognition and engagement platform
Make your recognition and engagement platform into a one-stop shop. Integrate other company programs such as HRIS, LMS, Wellness, Charity, Innovation and Referrals.
5. Incorporate a non-monetary recognition strategy
Not all recognitions have to include a monetary reward. Allowing for social recognitions increases frequency and drives incremental effort.
6. Research successful employee recognition programs
You're not alone when it comes to building an impactful recognition strategy. Take a look at how other companies are successfully engaging their workforces through employee recognition. For example, you can gather inspiration from Shop Direct's and General Motors' success stories. Access more HR success stories from leading companies here.
As the modern workforce shifts from year of service awards to sophisticated recognition and engagement platforms, it's important to keep in my mind my six keys to a successful recognition strategy. From now on, avoid having the next Sam walk out your door by showing him appreciation from the start and on a regular basis.
To learn more, download Achievers eBook Recognition Culture: The MVP of Employee Experience.