Get engagement insights delivered to your inbox
Email address
Employees make your organization run, and it's essential to reward them for their hard work and dedication. Unfortunately, more than 80% of American employees say they don't feel recognized or rewarded, and only 33% feel their organizations are prepared to address this problem. By incorporating rewards into your employees' everyday lives, you can reduce turnover, boost productivity, increase overall job satisfaction, or achieve almost any other goal — offering the right reward leads to a 79% success rate when it comes to meeting your company's objectives.
Since all employees are different, it's important to provide them with rewards that are ideal for their unique preferences and interests. After all, a one-size-fits-all mug or t-shirt won't deliver a personalized experience that keeps them motivated and engaged. Employees who get rewards they actually want are seven times more likely to be engaged than those who don't.
Here you'll find over a dozen meaningful rewards your employees will love, as well as several tips on how to make your rewards program more impactful.
12 rewards that employees actually want
Not all employee rewards are created equal. You need to choose rewards that your employees will truly appreciate. Let's take a closer look at 12 rewards that your employees are likely to value.
1. Redeemable points
A points-based recognition system allows your employees to accrue points that they can later redeem for a reward of their choice. This is a great way to integrate recognition into employees' everyday lives and to ensure employees receive rewards that matter to them. You can tie points to each recognition to make them more impactful, or let employees "boost" others' recognitions that they find especially meaningful — which immediately rewards additional points to the recipient. With redeemable points, employees will enjoy watching their balance rise and feel motivated to keep up their good work.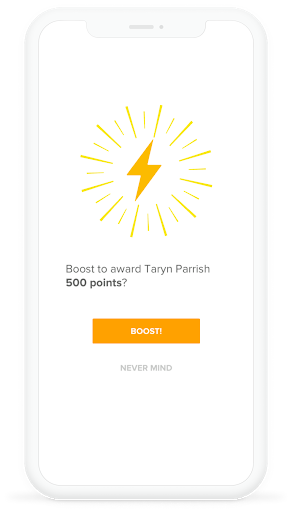 Boost feature
If you go this route, it's a good idea to provide your employees with an extensive rewards catalog for points redemption. The catalog may feature various products or experiences from categories like electronics, fashion, or travel. Another option is to allow employees to transfer their points onto a prepaid card that can be used toward just about anything. Regardless of what reward employees choose, it will remind them of the constant recognition they received to redeem it. This type of rewards experience will make employees more likely to repeat their positive behavior time and time again. In fact, 92% of employees agree when they're recognized for a specific action, they're more likely to take that action again in the future.
Learn why points are an essential part of any recognition and rewards platform.
2. Charitable donations and volunteering
Promoting volunteer events and charitable donations within your organization can increase employee morale and improve company culture. Reward your employees by providing them with additional time to volunteer, donating to the charities of their choice, or matching their donations.
Achievers practices what it preaches through the Achievers CARES network, a staff-led, volunteer-run group. Their mission is to provide employees around the globe with different ways to give back that are meaningful to them through year-round programming of volunteer initiatives, fundraiser events, and donation campaigns. Achievers provides employees four volunteer days per year to help an organization of their choice, whether it be blood drives, code camps, or food drives. If your organization values giving back to the community and supporting those in need, creating a similar employee network may be worthwhile.
3.  Gift cards
It's no surprise that almost three-quarters of employers offer gift cards to their employees. Gift cards are incredibly flexible, as they can be used toward a variety of purchases such as dining, entertainment, and apparel. With a gift card, an employee can visit a merchant online or in-person and buy whatever they please. And unlike cash, which employees are more likely to spend on bills, debt, and other necessary expenses, gift cards allow for relatively guilt-free spending, so employees can treat themselves for their hard work.
You can offer closed looped gift cards, which must be redeemed at a certain store or brand. Or you may opt for open looped gift cards that can be used at any business that can process them. You can also provide options like wellness gift cards that let employees shop at a group of related stores. You may find that allowing your employees to choose from a variety of gift card types is the best option.
4. Paid time off
Many employees value paid time off (PTO) and a healthy work-life balance more than tangible rewards. In a Gallup study of about 7,500 full-time employees, 23% of employees reported feeling burned out at work very often or always, while 44% reported feeling burned out occasionally. And one study discovered that employees who took vacations were more productive and less exhausted than those who did not. So if you offer PTO as a reward, both you and your employees are likely to reap the benefits.
Due to the rise in employee burnout and stress as well as feelings of disconnection in our new normal, PTO is more valuable today than ever before. Employees need time away from work so they can take care of personal responsibilities, escape from their everyday routines for a bit, and spend time with their friends and family. Paid time off can do wonders for both their physical and mental well-being.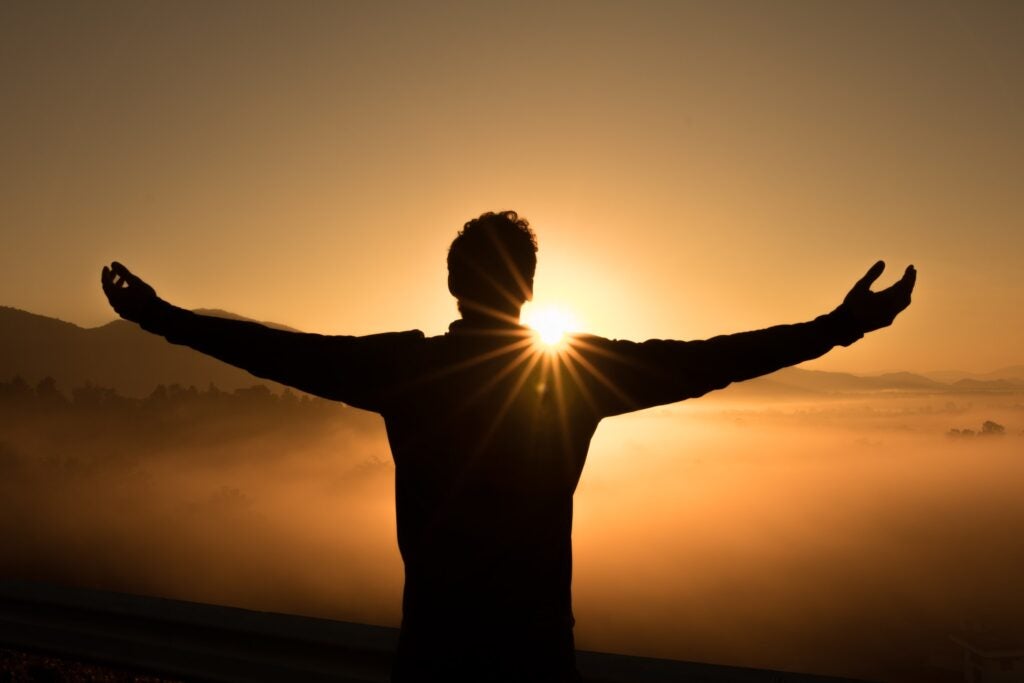 5. Meaningful experiences
Gift cards and other tangible rewards are great, but sometimes your employees want to be rewarded via meaningful experiences. In fact, 65% prefer non-cash incentives. A multiple day getaway or vacation to a ski or beach resort is something they'll never forget, but you don't have to break the bank to offer experiential rewards. Look for something that the team member has always wanted, and then give it to them. This might be the opportunity to learn how to cook, a gym membership, or tickets for their favorite sports team. Even something as simple as a trip to the spa or enjoying a great restaurant can mean the world.
Experiences like company outings and vacations may empower your employees to try new things, discover new hobbies, and step outside of their comfort zone. They're likely to remember these experiences for years to come.
6. Wellness rewards
In a study by Ginger, 7 in 10 employees reported that the current crisis is the most stressful time of their entire professional career. Figures like these prove the growing need for wellness rewards. In addition to easing the stress, anxiety, and depression that some of your employees may be experiencing, wellness rewards can reduce absences from work and lower healthcare costs.
Employee wellness rewards come in a variety of forms. They may involve purchasing wearable activity trackers for your employees, providing fitness classes or other gyms services on-site, or offering healthy lunches and snacks. At Nike's headquarters in Beaverton, Oregon, for example, employees can enjoy yoga, a rock climbing wall, and a swimming pool. You can even establish a set day of the week, like "Wellness Wednesdays," where you support your employees' healthy habits.
A centralized rewards marketplace that lets your employees earn points for participating in wellness activities and challenges is an excellent idea as well. Look for a wellness platform like WellRight that integrates with a recognition and rewards solution to encourage the adoption of healthy habits at both work and home.
Once your employees take advantage of wellness programs, they're likely to become healthier and happier. You'll notice that these employees become more engaged and productive, and you'll see the difference carry through to your bottom line.
7. Coaching and professional development
Employees want to grow in their careers and develop the skills they need to do so. By offering employee rewards that promote professional growth, you can allow them to do just that. For instance, reward employees with one-on-one time with an executive. This coaching can provide them with the personalized guidance they need to secure promotions, earn more money, and enjoy greater satisfaction in their professional lives. You could also cover the costs of continuing education, membership in professional organizations, or helpful industry resources. However you choose to encourage professional development, your team members will find these opportunities some of the most valuable rewards available.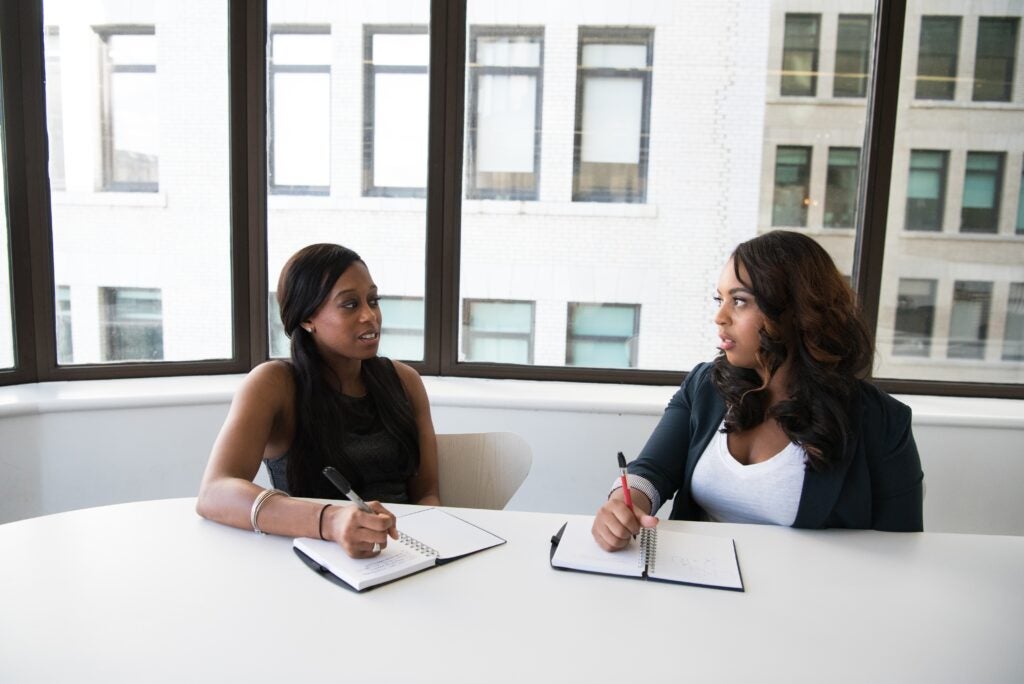 8. Swag
Company swag, whether branded or unbranded, is a great way to reward your employees and motivate them to stay loyal to your organization. Opt for interesting, useful swag that your employees will actually use and enjoy. Items like pens and notepads with your logo may be perceived as boring and fail to show your team that you truly appreciate their hard work and efforts. Some of the most popular swag items include water bottles, shirts, tech accessories, and fitness gear.
You should also choose swag that aligns with your brand and values. Wistia, a video software company offered their employees custom bike bells that were unique and quirky, just like them.
No matter what type of swag you offer, make sure you choose quality designs and materials that allow your products to stand the test of time. You don't want to reward your employees with poor quality swag that quickly stops working or falls apart.
9. Tech gadgets
Technology plays a key role in our lives, so tech gadgets can serve as attractive rewards, especially for employees who are unable to or don't want to purchase these pricey items on their own. While tech gadgets are costly, they're almost always worth it, as employees may use them frequently in both their personal and professional lives.
Some ideas for tech rewards include tablets, laptops, Bluetooth speakers, headphones, cameras, smartphones, and charging cubes. If your employees are working remotely, prioritize gifts like laptops and smartphones as they can allow them to stay productive and communicate with their team, vendors, and customers while away from the office.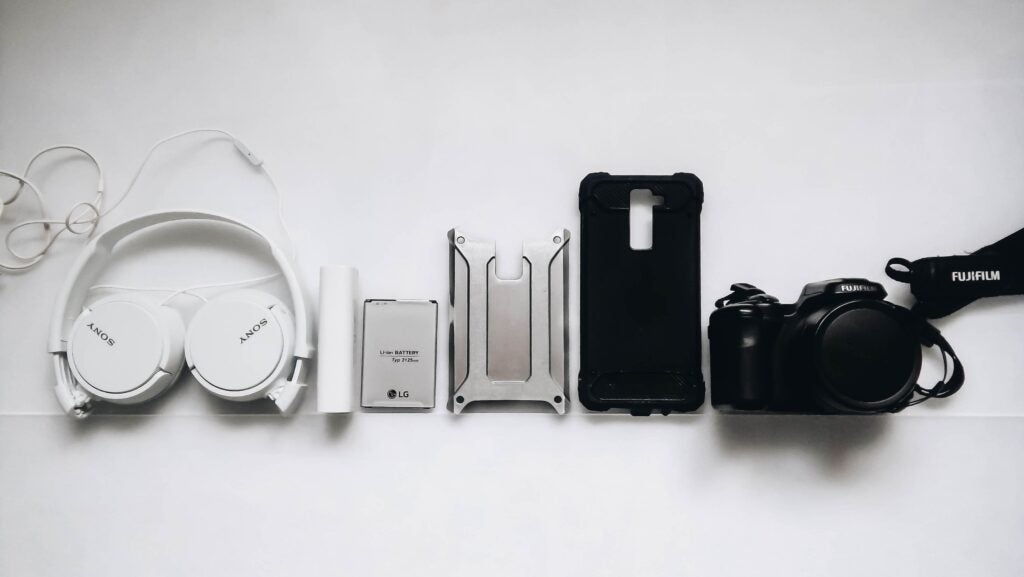 10. Cash
Cash is not the be-all and end-all to rewarding employees, but it's still a great way to show appreciation. Believe it or not, more than one third of organizations offer cash rewards. Many employees appreciate cold hard cash because they can use it for anything. Some may prefer to put the cash toward debt or bills while others will spend it on a product or experience they've been longing for.
Cash may be particularly useful to employees now, as their spouses may have lost their jobs or had their hours cut. WalMart realized this and decided to offer a $300 cash bonus to full-time workers and $150 to part-time workers.
11. Control over when and how they work
One survey found that 16% of employees are searching for a new job because they prefer a flexible work schedule. And 80% of respondents stated that their loyalty to their employer would increase if they had flexible work options. It's clear that employees crave flexibility over when and how they work, especially now, when many are balancing work with childcare, virtual schooling, and household responsibilities.
If you'd like to offer flexibility to your workplace, consider flextime, an arrangement where your employees can choose their work hours as long as they work a certain amount within a specific time period. Another option is a compressed schedule, where your workers work a standard 40 hours a week over a period of fewer than five days in one week. Some employees may choose a four-day workweek so they can enjoy three day weekends.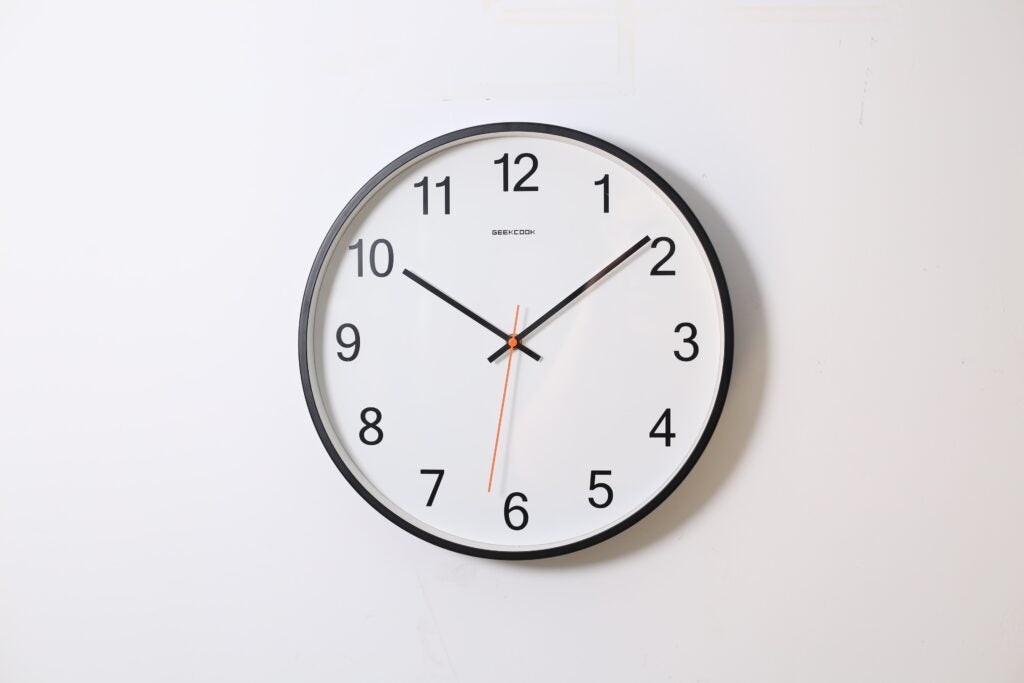 12. Great food
Great food gets employees excited about working. One study found that providing food to your workers increased the proportion of happy employees from 56% to 67%. Providing something delicious for your team shows that you're serious about creating a supportive environment.
You can offer snacks and beverages in your office, pay for lunches during special meetings and holidays, or take employees to local restaurants to reward them for a job well done. If your employees are working remotely, you may want to send them gift cards for food delivery services like Uber Eats and DoorDash — or offer them stipends — so they can enjoy the meals or snacks of their choice.
If you decide to offer food, make sure healthy options are available, as these encourage healthier lifestyles which lead to less sick days and improved performance. A snack pantry full of granola bars, dried fruit, and bottled water is more likely to keep your employees in good shape than one with chips and cookies. Asana, a productivity software company in San Francisco, has a culinary team on-site that prepares daily breakfasts, lunches, dinners, and snacks for its employees. These meals are nutritious and designed to leave employees feeling nourished and energized.

How to make your employee rewards impactful
Now that you've got some great ideas for rewarding your employees, let's discuss how you can put them into practice.
Don't delay rewards
The timing of a reward can be more important than its size. Research from Cornell University found that an immediate bonus as opposed to a delayed one led to a 35% boost in productivity after the reward was received. A larger reward led only to a 19% increase. And almost half of employees want to receive rewards spontaneously.
It's all too easy to provide rewards and go weeks or even months before doing so again, or to reward behavior months after the fact. So rather than delaying employee rewards, make sure you offer them frequently and in real time to keep employees motivated and engaged time after time. Instead of offering annual years of service awards, embed the rewards experience into your everyday culture. Implement a points-based rewards system where employees can watch their points accrue regularly and then redeem them for something that they actually want.
Complement rewards with recognition
Recognition is an integral complement to rewards. Employees love recognition because it helps them feel appreciated while increasing their engagement. In fact, it's the number one ask from employees as they adapt to our new normal. It's important to recognize and reward your employees on a frequent basis — employees recognized in the last week are three times more likely to be engaged than those recognized in the last year.
Recognition can be as simple as announcing an employee's accomplishments during a meeting or sending your team an email that calls them out. Using a recognition and rewards (R&R) platform is a great way to do this, as it lets all team members easily recognize each other from anywhere at any time. Every recognition can be displayed on a company-wide newsfeed for employees to follow and participate in, whether it be adding a "boost", like, or comment, and employees crave public recognition. In a survey of 2,000 people, public recognition was listed as the second-most popular work award. Encouraging recognition with an R&R platform will pay off in leaps and bounds. Organizations that use R&R technology are 72% more likely to rate their culture of recognition highly than non-users.
Listen to your employees to discover what they truly want
Every team member is unique and wants different things. But there's no reason to guess which types of rewards they'll appreciate most when you can simply go straight to the source and ask them. Gathering feedback from your team is the best way to discover which rewards will have the most impact. It will also help you come up with new ideas for rewards you otherwise might not have thought of.
Most employees (77%) are more likely to provide honest feedback in response to an anonymous survey than in conversation with their manager, and 58% of employees want to be surveyed more often. Look for a platform that supports frequent pulse surveys so you can stay on top of changing trends and preferences. It should also include an always-on feedback channel that lets employees easily share feedback at any time. After you've got your survey results, take advantage of the platform's analytic capabilities to identify hotspots that show areas your employee rewards program could be improved and then create a collaborative action plan with your team to deliver an unbeatable incentives program.
Assess your company's listening goals with a complimentary one-on-one readiness consultation with Gil Cohen.
Choose the right recognition and rewards platform
The right R&R platform can take the guesswork out of creating the ideal employee rewards experience. It lets you streamline every aspect of the process and centralize all your recognition and reward programs in one location.
When shopping around for a platform, there are a number of things you need to consider. Beyond basic requirements like a secure environment and compatibility with all your other HR systems, your platform should offer an intuitive interface, tools for budgeting, and real-time reporting. The most exceptional platforms will be supported by a vendor who can help you educate leaders at your company and integrate the platform with all your R&R initiatives.
Most importantly, however, it needs to make rewarding and recognizing other team members easy and fun. Mobile capabilities and the ability to include reward points with recognition go a long way, as does the ability to showcase recognition across the organization using a company-wide newsfeed where employees can freely like and comment on recognitions. When everyone has the capability to show appreciation at the click of a button, you're well on your way to creating a culture of recognition.
Make employee rewards part of your everyday culture
To ensure your rewards program pays off, it's imperative to provide employees with rewards they actually want and make rewards an ongoing part of their employee experience. Achievers Recognize is the platform to make it happen. It lets all team members recognize each other from anywhere, includes a points-based reward system, and features a rewards marketplace with over 2500 global brands. Achievers Recognize also comes with a real-time reporting tool that can help you understand trends and gain valuable insight into your teams' recognition activity, rewards redemptions, and awards.
Discover why Achievers secured ranking as a top provider in the latest HRO Today's Baker's Dozen Customer Satisfaction Survey for Recognition by requesting a free demo today!