According to research completed by Global Workplace Analytics, there were five million people working from home at least 50 percent of the time in 2018. This represents an increase of 173 percent over the course of 13 years and it's only growing at a more rapid rate. As organizations around the world cope with the sudden challenges of the COVID-19 pandemic, remote work has taken center stage. Many employees are performing job functions from home for the very first time, and team leaders are focused on helping with the transition, supporting continued engagement, and keeping productivity up despite the uncertainties that come with the current crisis.
From developing virtual relationships to collaborating and producing quality results, this guide offers the guidance you need for building and engaging a successful remote workforce.
What is remote work?
At its most basic, remote work is the completion of work-related tasks and activities outside of a traditional office setting. Employees often use home offices, but they can just about work from anywhere that offers an internet connection.
Of course, there are a number of jobs that simply can't be done remotely – for example, being a front-line worker in the healthcare or retail industries. However, despite these exceptions, there are plenty of jobs that don't require a physical presence. In an analysis of BLS data, Global Workplace Analytics determined that 56 percent of all employees could perform at least a portion of their work-related tasks remotely. That covers more than 75 million individuals.
The success of working from home and virtual teams depends in large part on the availability of technology. Communication between employees and employers is critical, both for the purpose of getting the job done, as well as for keeping relationships strong and engagement levels high. That requires access to appropriate hardware and software, along with supporting infrastructure.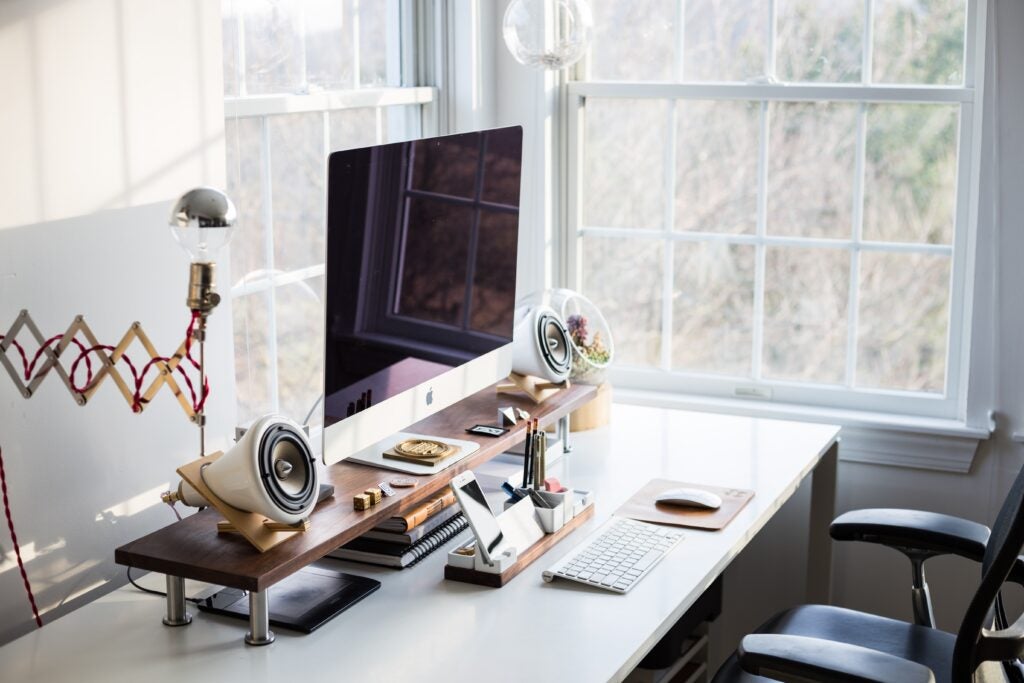 Why is remote work valuable?
Remote work adds value directly and indirectly, boosting bottom line profits for companies in a variety of ways. Generally speaking, this population is happier, more engaged, and more productive than their office-based peers. That means less turnover and reduced recruiting costs, not to mention the savings associated with reducing the number of offices necessary to house employees.
A survey conducted by Owl Labs offers compelling data to illustrate how employees regard remote work opportunities. Highlights include the following:
71 percent indicate they would choose a job that offers work-from-home capability over one that does not
74 percent stated that the opportunity to work remotely would make them less likely to leave their current position
81 percent said that the ability to work remotely would increase the likelihood that they would recommend their employer to a job seeking friend
81 percent also said that working from home would reduce challenges associated with work-life balance
82 percent said they would be happier if they had the option of working from home
Employees are willing to put a price tag on the value of remote work opportunities, and as it turns out, that figure is surprisingly high:
34 percent of those surveyed would agree to a five percent pay cut in exchange for working from home
24 percent would agree to a 10 percent pay cut
20 percent would agree to a pay cut of more than 10 percent
Clearly, there are benefits for both employers and employees. While some organizations have hesitated to expand remote work opportunities, the sudden transition to virtual work due to COVID-19 may set the stage for permanent changes in how these options are made available when the crisis ends.
With that said, employees who are not accustomed to the very real challenges that come with remote work are focused on finding solutions, and managers who haven't led virtual teams are focused on making modifications to communication, collaboration, and workflow that will drive productivity and keep engagement strong.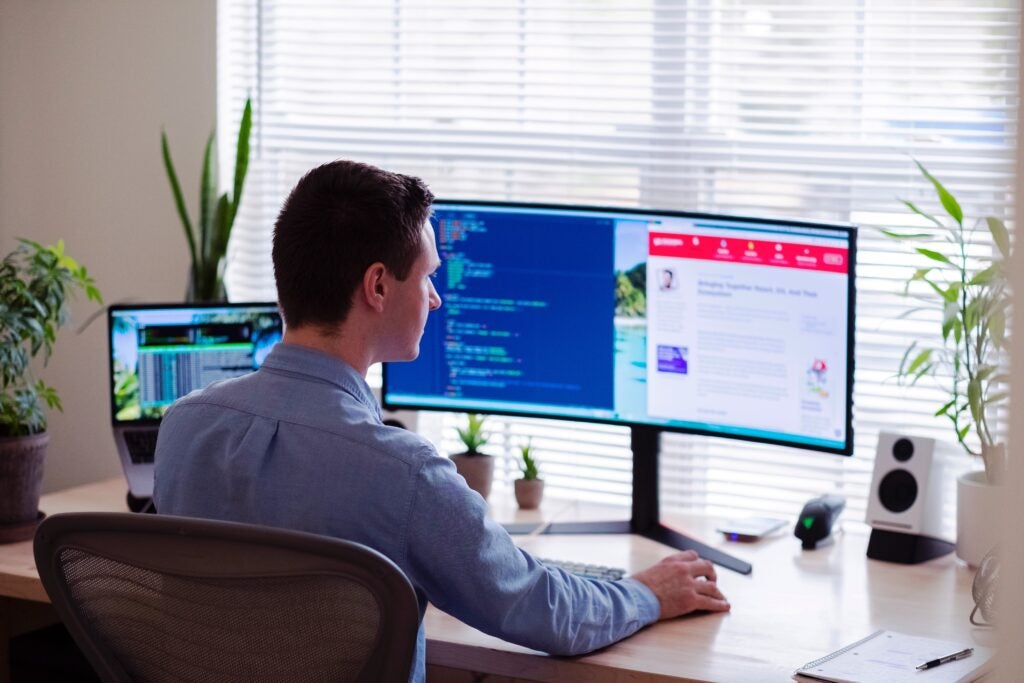 See our Article on 10 Tips for Remote Workers
Top 5 tips for remote workers
If you are new to working remotely, the transition can be surprisingly difficult. After all, you have spent years trying to disconnect from the office while home with your family, and you have become accustomed to having strong relationships with the colleagues you see in-person every day. These are five tips from seasoned work-from-home veterans to make things easier:
Create a designated workspace
Depending on your living situation, you might be successful working from the dining room table. However, if you have a busy household, distractions are constant when you are centrally located. Set aside a dedicated workspace – preferably with a door that closes – and establish house rules around when interruptions are and are not permissible.
It's tempting to step away from your work to handle household chores or check in with loved ones, but try to stick to a schedule with defined work and non-work times. Otherwise, you are likely to discover that the day has slipped away and your work isn't done, because you were busy starting dinner, putting in a load of laundry, and so on.
Keep motivation up
Working from home offers lots of freedom, but it reduces the amount of interaction you have with peers and leaders. For many, that also reduces motivation to get the job done, because there is less accountability and less recognition when you make critical contributions.
You can keep your motivation strong by maintaining connections with your colleagues and managers, as well as setting your own individual goals. Pick a task or project to complete and challenge yourself to do it fully and well by a certain time.
Connect with your team
Isolation is one of the biggest obstacles to success for remote workers. Less face it – being on your own is lonely. The good news is that there is plenty of technology specifically designed to build and maintain connections, and you don't have to wait for your company to offer it.
If you aren't already using a video conference platform at work, keep up connections through Skype, Google Hangouts, FaceTime, and similar. Using the video feature ensures your relationships stay strong, because you can react and respond to body language as well as spoken words.
Build relationships
One of the benefits of working from home is that you can build your business relationships more evenly. Instead of limiting your conversations to those you see every day, reach out to a wide range of people in your network. Take the opportunity to form new connections and get to know other people in your organization. This pays off in the short-term by reducing feelings of isolation, and in the long-term, an expanded network can only help your career.
Keep professional etiquette top of mind
If you are working from home in your pajamas, and all of your communications are electronic, it's easy to get a bit too casual in your professional interactions. Don't fall into this trap. Phone conversations should be free of background noise, and you should avoid trying to multitask (i.e., washing dishes or doing laundry). These sounds can quickly give the person on the other end of the line the impression that you aren't fully engaged. In short, if you wouldn't do it in the office, don't do it when working from home – at least not when others can see or hear you.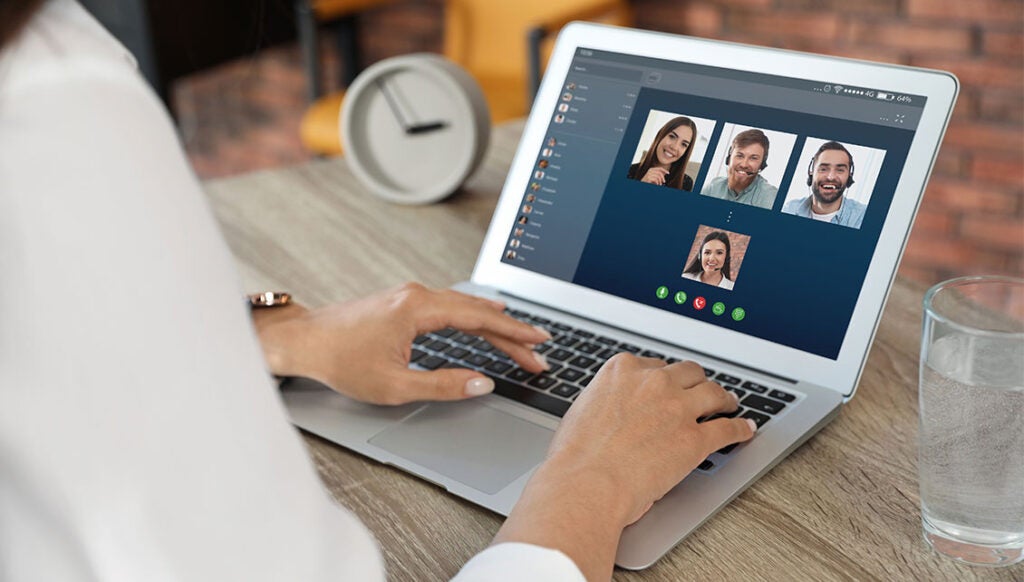 Top 5 tips for managers of remote teams
Managers of remote teams have to overcome a number of obstacles when it comes to supporting their staff. Employee engagement, recognition, productivity, and collaboration must be handled differently if you want to be effective. These are five tips for successfully managing a remote workforce:
Video conferencing
When at all possible, encourage the use of video conferencing tools over voice-only. While voice lines are useful, they don't build relationships as effectively as video conferencing. Video tools allow you to see each other, put names with faces, and gather information from body language and expressions.
Many companies already have these applications installed – for example, WebEx and Skype for Business. However, there are plenty of options for connecting with your team outside of traditional business applications. Some of these include Google Hangouts, Zoom, FaceTime, or Facebook Messenger.
Maintain productivity levels
Until recently, many employers resisted the transition to remote work, primarily because they were concerned that productivity would fall. However, researchers have shown time and time again that this simply isn't the case. One survey found that remote workers average 1.4 more days of work per month than their in-office peers. That translates to 16.8 additional days of work per year. The same survey also found that in-office workers average 37 minutes of idleness per day, while remote workers average just 27 minutes of unproductive time.
With that said, there are steps you can take to encourage engagement and maintain productivity, particularly among team members who are new to working from home.
Establish productivity expectations early and often, so team members can evaluate their progress independently
Schedule regular check-ins, daily if necessary, to ensure employees stay on track and focused
Prioritize your company's adoption of multiple communication and collaboration channels, and ensure you have reliable, user-friendly technology – video conferencing and instant messaging, for example, encourage the casual professional relationships typically built in an office setting
Ultimately, you will find that employees who are high performers in the office take that motivation with them when they transition to remote work. These team members will be better able to maintain their productivity as long as you keep them engaged. On the other hand, team members that struggle with productivity in the office are more likely to struggle with remote work. They may require additional structure and more support from you to be successful in a virtual work environment.
Encourage collaboration
One of the biggest obstacles that remote workers face is the feeling that their voices aren't heard. This is particularly problematic when you have a few individuals on the phone and the rest of the team together and in-person. Be deliberate about creating space in the conversation so everyone can speak, whether the meeting is virtual or face-to-face. If necessary, develop an agenda or set out meeting standards to ensure the entire team understands expectations for ensuring everyone can contribute.
Ask for feedback
In addition to encouraging inclusion during team interactions, it is critical to gather general feedback from your remote team members. While encouraging open communication is a plus no matter where your employees are located, there are certain challenges specific to remote work. Your team members may be shy about bringing up concerns, which makes it all the more crucial that you offer a variety of opportunities.
During one-on-one conversations, ask direct questions about obstacles your team members are facing so you can partner on solutions. Consider leveraging pulse surveys that give employees the opportunity to provide their feedback anonymously and on a more regular basis.
Get your hands on an employee feedback platform that allows for pulse surveys, chatbots, data collection, and more. A combination of these tools makes it possible to ask for feedback monthly, weekly, and even daily, which is far more effective than having just an annual engagement survey.
Of course, just gathering feedback isn't enough. Creating action plans and following through to resolution are equally as important. What you do with the feedback shows your remote employees how much value you place on it, so failure to act can be detrimental to your team's engagement.
Prioritize recognition
Out of sight shouldn't mean out of mind when it comes to recognizing your remote employees. Make sure that you continue to publicly praise accomplishments on a frequent basis. This is particularly important during times of change, as recognition of daily wins boosts everyone's spirits and inspires continued productivity.
Data shows that there are direct benefits to productivity and bottom line results when it comes to recognition. For example, an Aptitude Research Partners report shared the following:
Companies identified recognition as having the greatest impact on employee engagement
Social recognition is twice more likely to improve individual performances and NPS scores
Social recognition is four times more likely to improve stock prices
You can create a culture of recognition by creating an impactful employee recognition program that makes it easy for all employees send and receive recognition. Have all recognitions display on a company-wide newsfeed so remote employees can feel a strong sense of belonging and appreciation.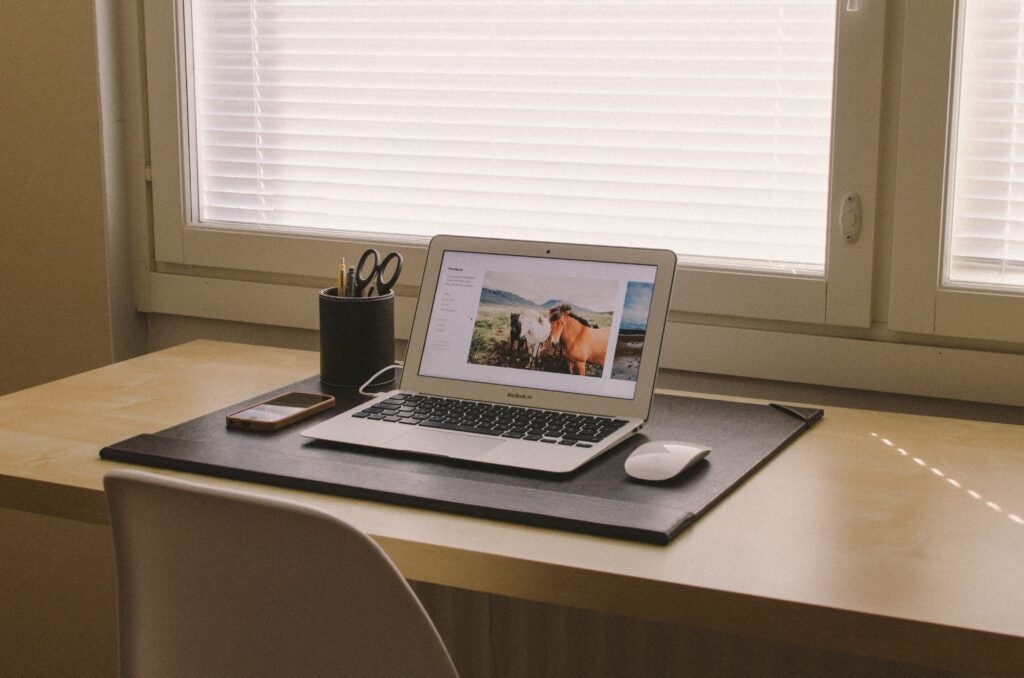 Remote work is the new normal
The bottom line is that remote work is the new normal. Employees value the flexibility that comes with getting the job done from home, and employers must have the capability to support and engage their remote workforce. When remote teams are managed properly, employees are more productive and more engaged than their office-based peers. The secret is communication, feedback, recognition, and an on-going focus on building strong connection.