Manager effectiveness is crucial for driving business results, from engagement and belonging to productivity and retention. We know it's top of mind for most HR leaders, but what does it take to really move the needle and increase the number of effective managers at your organization?
New research from Achievers Workforce Institute identifies four factors that impact manager effectiveness, as well as the key actions HR can take to empower managers in their organization.
Jump straight to the Manager Effectiveness report
How can you measure manager effectiveness?
There are many ways to measure manager effectiveness. Achievers Workforce Institute used a manager net promoter score (mNPS), which is a measure of whether or not an employee would recommend their manager.
The answer is stark — only a quarter (28%) say they would.
Why does manager effectiveness matter?
Manager effectiveness matters because employees who would recommend their manager are 64% more likely to be engaged and 75% more likely to have a strong sense of belonging, compared to the overall average.
Its importance becomes even clearer when we look at the difference between effective and ineffective managers. The performance gap between those that would recommend their managers and those who would not is huge. Compared to those that would not recommend their managers, those that would are four times more likely to be engaged and five times more likely to have a strong sense of belonging.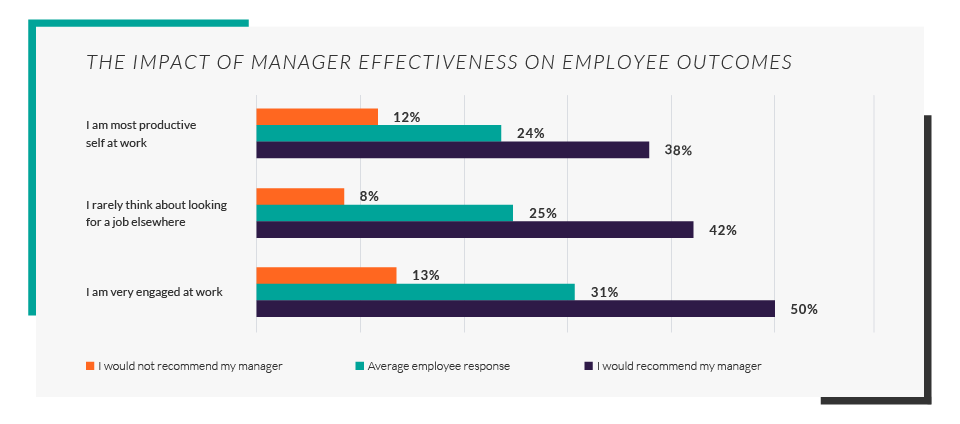 How can I improve manager effectiveness?
Improve manager effectiveness by focusing on the four factors identified by research: contact, recognition, coaching, and professional development. When employees say their manager is good at any one of these, it doubles the likelihood that they would recommend their manager. When all four are present, mNPS scores almost triple.
The HR-manager disconnect
The latest AWI research on manager effectiveness shows a gap between the support HR leaders believe they are providing, and what managers say they receive.
Half of HR leaders say their company runs quarterly manager training, but just one-third of managers say that's how often they receive training. In addition, just 1% of HR leaders say their manager does not have any training for managers, but 19% of managers have never received training from their company.
The four factors of manager effectiveness
AWI found four key factors that drive manager effectiveness. Each factor alone doubles the likelihood that an employee would recommend their manager (mNPS), and when all four are present then mNPS almost triples.
Contact: My manager supports my success through regular 1:1 meetings.
Recognition: My manager regularly provides me with recognition that makes me feel valued.
Coaching: My manager provides me with coaching that helps me to be more effective in my role.
Professional development: My manager supports my personal and professional development goals.
Investing in manager empowerment
To empower managers in all these areas, HR leaders must introduce clear metrics of success, consistent training, effective feedback cycles, and set career progression processes.
Learn more about the four factors and what you can do to improve manager effectiveness at your organization. Download the Foundations of Manager Effectiveness report now.